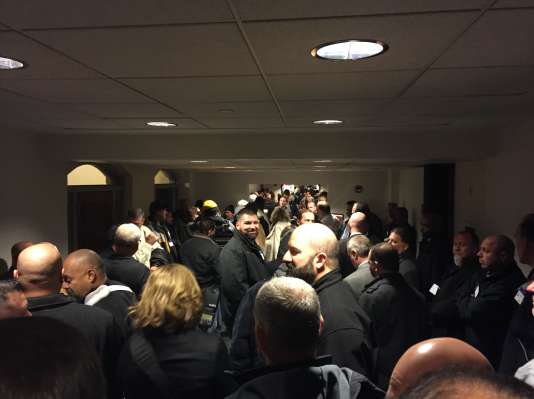 TRENTON – Amid the crush of building trades workers gathering to support Senate President Steve Sweeney's (D-3) bill to expand casino gaming into North Jersey Monday morning, PolitickerNJ caught up with Assembly Majority Leader Lou Greenwald (D-6). The South Jersey Democrat said he believes today's votes on North Jersey casino expansion will see versions of Sweeney's bill in both houses.
Asked whether Prieto's competing bill will be posted this afternoon, Greenwald said he wouldn't hold out hope. He does, however, think a resolution is coming.
"I don't think that Prieto's will get posted," said Greenwald. "I think that it will be some version of Steve Sweeney's bill and I think the conversations continue to focus around that. And I'm sure a deal will be coming.
"It's definitely going to pass in the Senate, and we have the votes in the Assembly, but we continue talking and I'm confident it will get worked out as it always does," Greenwald added.
Assembly Speaker Vince Prieto (D-32) has refused to budge on his own bill to amend the constitution and allow new casinos outside Atlantic City, but the loss of key Middlesex votes and Governor Chris Christie's official endorsement for the Sweeney bill have made it unlikely that Prieto's version will survive.
Sweeney's bill would allot a greater share of the new casinos' revenue to Atlantic City and require that one of the two locations be owned by an existing New Jersey operator. Prieto's would leave both locations open to new bidders.
Many see the competition between the bills as a proxy war between Jersey City mayor Steve Fulop, a Prieto supporter, and Sweeney for the 2017 gubernatorial nomination.