SAYREVILLE – The late Ray Durkin liked to deadpan that when you see a parade, jump in front, and so it was that the prince of Parlin leapt jauntily into the role of head trapeze artist above this raucous Bernie Sanders circus, somersaulting impeccably into New Jersey's 2016 public consciousness as undisputed leader of a ragtag statewide progressive movement.
[youtube https://www.youtube.com/watch?v=VRIRbzopF78&w=420&h=315]
Assemblyman John Wisniewski's (D-19) unpredictable sudden move into Sanders's camp with the rest of the elected officials in his party backing former Secretary of State Hillary Clinton for president prompted off-the-record growls from those who sized up Wiz as more pragmatic than progressive over the course of his two decades in the Legislature. And it was true that even in his four years as state party chairman, the Assemblyman from Sayreville issued the usual lizard tongued press release sound bites in response to Gov. Chris Christie, arguably with a tad more panache than most, but seldom waded into dangerous political combat.
[youtube https://www.youtube.com/watch?v=yJIKGjCr-F4&w=420&h=315]
Still, Bridgegate brought out the incisive investigator and intellect in Wisniewski, the guy who went to Seton Hall Law School at the same time as Christie and would go on to conduct critical hearings examining the role of the Christie Administration in the closing of the George Washington Bridge.
In another state, in a more progressive and less machine dominant state, that role alone might have catapulted Wisniewski into an easy pole position to succeed Christie. But those close Democratic Party ties to the sitting Republican governor make the crusading assemblyman's Bridgegate role less of an asset to those still dependant on the sitting Republican and arguably more of an obstacle.
Those anti-establishment supporters of Bernie Sanders for President have another point of view, however; and tonight, in a big room packed with Sanders devotees (425 people, including four from as far as Cape May), Wisniewski grabbed a podium in front of interfacing panels that could be seen through the showroom glass windows as far away as the other side of the enormous Shop Rite parking lot in Wisniewski's home town.
He received a huge hand when he ran up onstage and formally kicked off the New Jersey for Bernie Sanders Campaign.
"Looking around… I see a lot of people who have the marks of wisdom, shall we say," he grinned.
The happy faces staring back included Hetty Rosenstein, state director of the Communications Workers of America; Analilia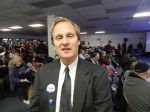 Mejia, the director of the Working Families Alliance; David Robinson, a martial arts instructor and early avid Grassroots Bernie Sanders backer, former state Senator Ellen Karcher, Kevin McCarthy of the Turnpike workers; Jim Keady, former LD30 candidate; CD7 Democratic challenger Peter Jacob; CD11 Democratic challenger Richard McFarlane; Bertin Lefkovic of the 2004 Howard Dean Campaign; Sayreville Councilmen Steve Grillo and Dan Buchanan; and Bob Grant, who worked in the administration of the late Paterson Mayor Marty Barnes.  It was a room bubbling over with receptive energy, excitement overlaid with unnamed Bernie backers tired of Wall Street bankers recklessly speculating with other people's money and depending on the middle class and working poor to bail them out because the government deemed them too big to fail.
No banker ever went to jail, said Wiz.
"And that's wrong," he added. "That has to change."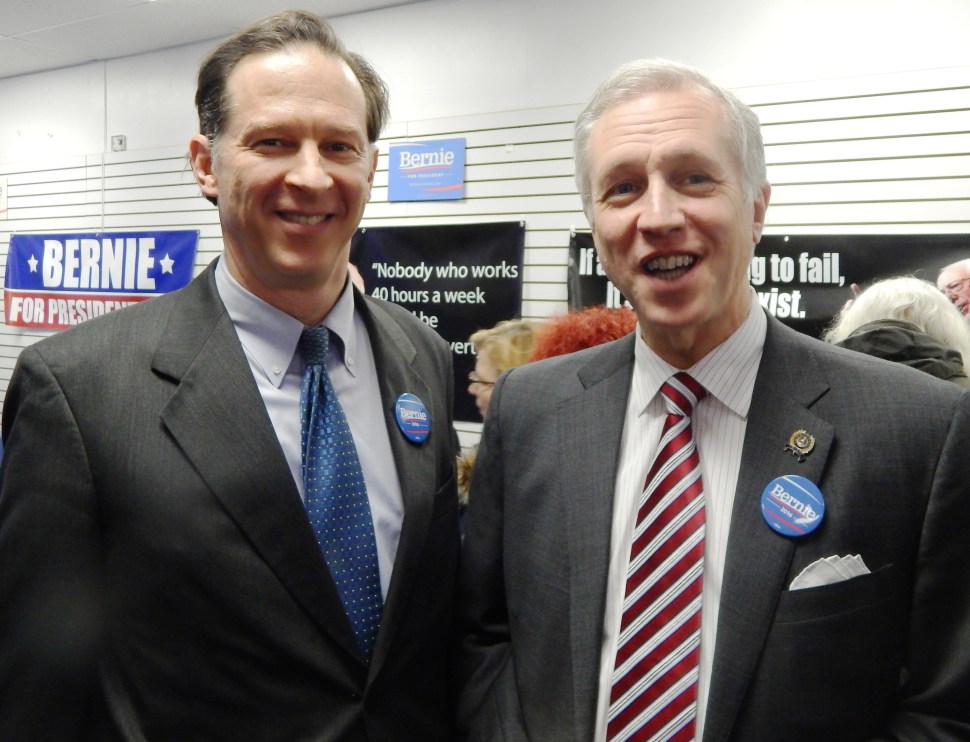 "I had a conversation with my oldest daughter, a college graduate who works in Washington, has a good job," said the assemblyman. "But her age group – her friends out working their first jobs, they're not buying cars. They're really struggling coming out of college, and owing $100,000 for their college education."
Sanders has the most progressive platform, his statewide rep. noted. He's the candidate who will address the needs of 29 million uninsured or under-insured, building on the 17 million newly insured Americans under the provisions of Obamacare.
"We are Democrats, aren't we?" Wisniewski said to roars.  "We were there when it was time to fight the fight for civil rights act the Voting Rights Act." Heading toward 2017, he sounded like a candidate for governor, and if Boston native Phil Murphy was supposed to be the guy who could credibly corral and wrap himself in the trappings of RFK iconography, Wiz at the front of the room barged bullishly in on Bobby.
"'Some men see things as they are and ask why. I dream things that never were and ask why not?'" he quoted.
"Banks shouldn't gamble with other people's money," Wisniewski added.
Energy abided.
"Feel the Bern," the assemblyman said. "We're going to build a revolution."
He acknowledged those critics and cynics who point out that Sanders, a Democratic socialist, would reawaken Republican opposition like no one else ever in the White House, and accomplish far less than President Barack Obama.
But Wisniewski said the energy is real, and potentially transformational.
"Wherever I go for a Sanders event, I see packed rooms like this, rooms packed with enthusiastic voters like all of you, and that's the only way we're going to change Congress," he said to a growing chorus of cheers. "This is the first event of many."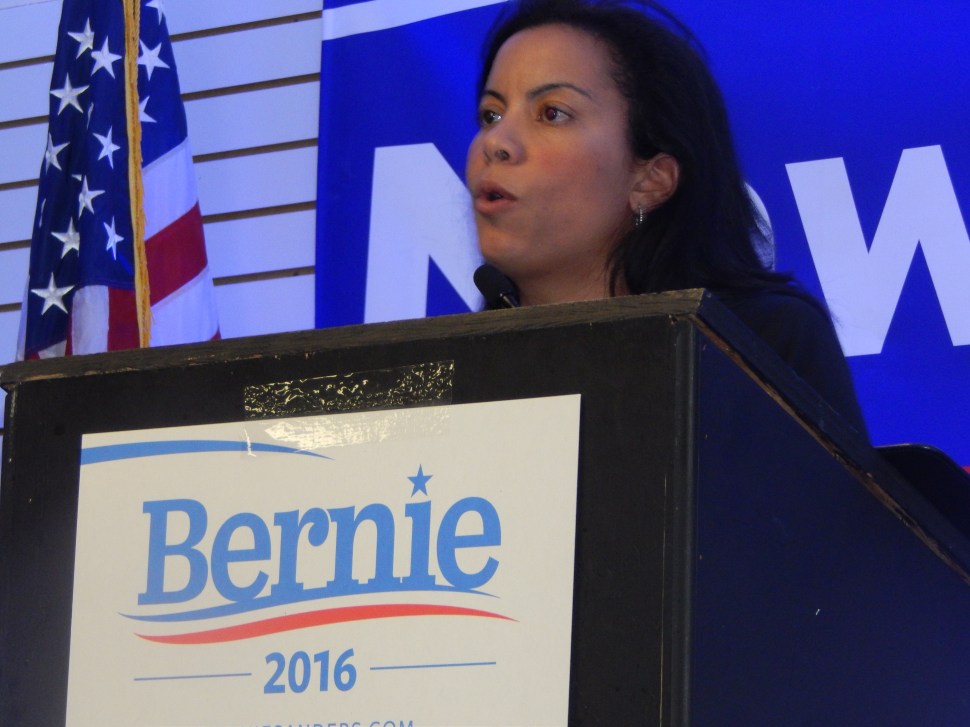 Rosenstein doubled down.
Mejia (pictured above) doubled down.
[youtube https://www.youtube.com/watch?v=44UnHc7MPvs&w=420&h=315]
There's something more authoritarian, more racist and more women-hating going on in the country right now, said Rosenstein, a nod to the GOP Primary.
Hate and authoritarianism, she repeated.
She narrowed the attitude down to New Jersey and Christie, a candidate for president; while nursing a favorite Wiz narrative.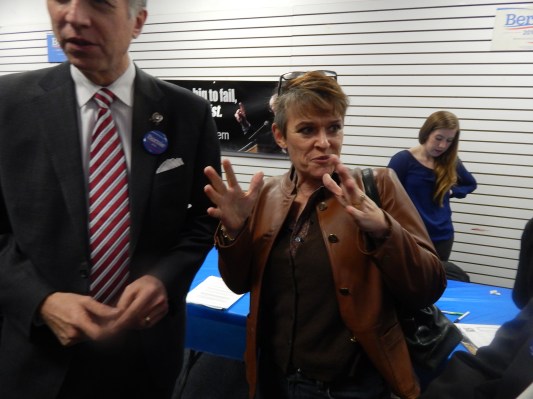 "The culture of retribution was so acceptable that the governor thought he could shut down a bridge as revenge," said the labor leader. "We will win. We will make 2016 the historic moment of change and then we will do it again in New Jersey in 2017."
Grant has been going up to New Hampshire to volunteer for Sanders in Portsmouth.
"I haven't seen energy like this since Bobby Kennedy," he said.
"Well actually," Jim Devine corrected, "it was Eugene McCarthy's supporters who had all the energy."
The debate about 1968 failed to incorporate the 2008 progressive tidal wave behind Obama, and underscored that one obvious gnawing defect in the Sanders movement: a relative dearth of African-American and Latino backers – primary voters who will help propel Clinton past Sanders for the nomination, her supporters argue.
It was evident in a sea of mostly (but certainly not all) white faces. In that regard, the campaign indeed bore a strong resemblance to McCarthy's movement, which hinged on college students opposed to Vietnam and suburban liberals; and tonight in New Jersey, building toward some future collision beyond June 5th, Wisniewski in a perfectly tailored suit played that part of personally conservative but no less apparently committed revolutionary.