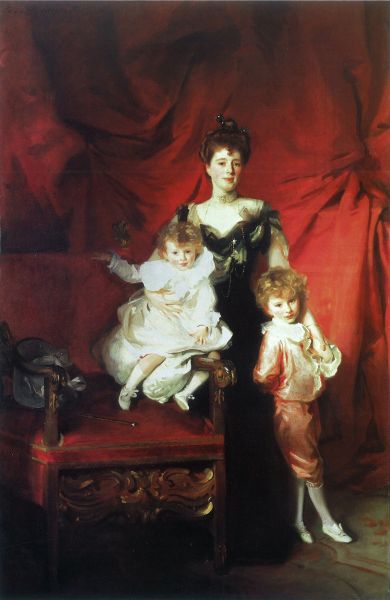 King George III is often thought of as the Mad King, but he was sane enough to appreciate New World painter Benjamin West, commissioning the artist in 1779 to create Portrait of Prince William and his Elder Sister, Princess Sophia.
That oil entered the collection of the Virginia Museum of Fine Arts recently, the result of a convoluted financial arrangement involving cash and the sale of 220 parcels of New Hampshire real estate owned by the J. Harwood and Louise B. Cochrane Fund for American Art.
Why all the fiscal legerdemain? It might seem an ordinary portrait of a king's niece and nephew, but according to Susan Rawls, the Virginia Museum associate curator of American painting, it tells a fascinating story. At the time of the commission, the children's father (Prince William) was ill and feared near death and it was worried that the motherless children might become orphans. King George III pushed through Parliament a law to provide the children with a life-long annuity. In the painting, the 3-year-old William holds a purse in one hand and his 6-year-old sister's hand in the other, while she points to a sculptural relief of a lion (symbolizing the King) as their protector.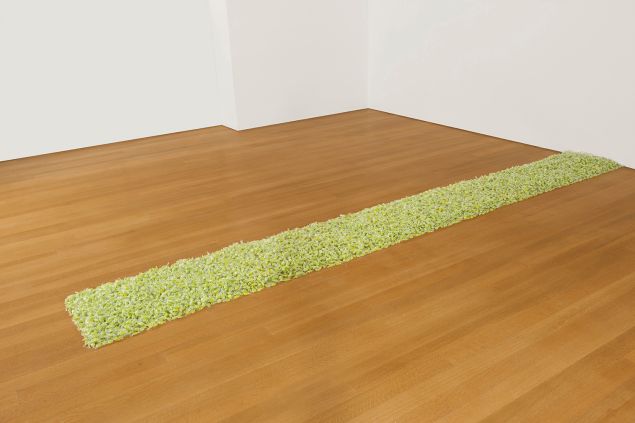 "King George felt that he had expended a great deal of money protecting the American colonists during the French and Indian War and had won the colonies for Great Britain," Ms. Rawls explained. "West often conflates personal domestic subjects with historical and political issues. In this portrait, these children recognize that they owe their allegiance to the king—and so do the American colonists."
It's just one of the literally thousands of artworks, each with its own story, added to the collections of American museums in 2015, works that were either gifts—from big donors that included Barbra Streisand, investment banker Kent Logan and Marie Josee-Kravis—bequests, or acquisitions meant to address historical or topical holes in various collections.
The Art Institute of Chicago, for example, has "been historically poor in collections of classic Pop Art," according to the museum's curator of Contemporary art, James Rondeau, but a whopping $500 million gift of 42 Pop and postwar art paintings—including canvases by Andy Warhol, Jasper Johns, Roy Lichtenstein, Gerhard Richter and a Cy Twombly sculpture—from Chicago art collector and retired plastics mogul Stefan Edlis and his wife Gael Neeson may change that.
Mr. Edlis, a life trustee and longtime donor at the Museum of Contemporary Art Chicago, made this gift to the Art Institute after receiving promises that the artworks would not just go into storage but actually get seen. "I have donated works of art to museums for years but have been frustrated by their lack of exposure," he said in a statement. "The fact that the Art Institute proposed keeping the works on permanent view for 50 years…was a totally convincing argument."
The Los Angeles County Museum of Art turned 50 in 2015, receiving notable presents. Among those were an eight-foot-tall 1900-01 oil portrait by John Singer Sargent, Mrs. Cazalet and Children Edward and Victor. Ms. Streisand, a LACMA trustee from 2007 -2014, approached the museum about donating the Sargent and was "asked to make it part of this campaign to build the collection which celebrates LACMA's 50th, and I was thrilled to be part of this larger effort," she said in a statement. "I love this painting and am delighted to have found it a great home."
Courting and pleasing donors is key because, with art prices skyrocketing, the bulk of the new additions to museum collections are gifts not purchases. According to the Association of Art Museum Directors annual report, released the first week of January, 85 percent of the works acquired by museums in 2015 were donated: 67, 871 objects versus the 11,934 objects that were purchased.
What museums choose to add is scrutinized by art historians, artists and, not incidentally, by art-market speculators for clues as to who matters now and, by entering a museum's permanent collection, who might still matter later. By that analysis, the things museums considered particularly historically important in 2015 included those by African-American artists, classic Pop Art, vintage jewelry and decorative arts—and works by a few breakout art stars.
2015 was both a good and frustrating year for Cuban artist Tania Bruguera, for example, who was under house arrest in Havana for part of the year for staging an artwork that encouraged free speech, but whose performances and video installations were exhibited and praised in the United States and Europe. The Museum of Modern Art purchased the artist's 2000 Untitled (Havana 2000) piece with funding from The Modern Women's Fund Committee and the Committee on Media and Performance Art Fund.
Marie-Josee Kravis, the Modern's president, purchased for the museum Jasper Johns' Painted Bronze (the famous image of an old Savarin coffee can jammed with artist's paintbrushes), which had until recently been on long-term loan from the artist to the Philadelphia Museum of Art. The Modern itself purchased Richard Serra's 2015 Equal (consisting of eight blocks of steel, one block on top of another) that had been on exhibit last summer at David Zwirner Gallery.
LACMA turned 50, and birthday presents included an eight-foot-tall Sargent painting from Barbra Streisand, while Chicago won 42 Pop Art masterworks by promising they'd remain on 50-year view.
"It had been on our minds that we owned no work by Serra made in the 21st century, notwithstanding our superb and deep holdings of his works in all mediums from the '60s through the '90s," said Ann Temkin, chief curator of painting and sculpture, at the time of the addition.
"Equal has an astonishing presence, it overwhelmed us when we first saw it, and immediately seemed the obvious answer to our wish to represent in our collection this most recent phase of his career."
Another active museum buyer was the Crystal Bridges Museum of American Art in Bentonville, Ark., (founded by Walmart heiress Alice Walton) which purchased, among other works, two sculptures and two paintings by artist Louise Bourgeois and a wall-mounted sculpture Silver Upper White River (2015) by Maya Lin.
The museum also purchased Felix Gonzalez-Torres' 1991 Untitled, an installation piece composed of 50 pounds of plastic-wrapped candy strewn about the floor and available for viewers to eat, for $7.7 million at Christie's, setting a new auction record for the late artist.
On New York's Upper East Side, the Frick Collection acquired a 16th-century French ceramic pitcher, likely from the Saint-Porchaire factory in France, which had been owned by the French branch of the celebrated Rothschild banking family. And, speaking of the Rothschilds, a huge collection of 186 objects that had been originally owned by Baron and Baroness Alphonse and Clarice de Rothschild of Vienna, were donated to the Boston Museum of Fine Arts. Among the objects is a late 18th century Portrait of Emma Hart, later Lady Hamilton by George Romney and a 1750s French snuff box with the inscription (translated) "The hope of your fidelity is my sole happiness."
The back story of this collection is rich: The Nazis confiscated 3,500 works of art from the Rothschild collection after Austria became part of the Third Reich in 1938, and many of those were picked to enter the Fuhrermuseum, the art museum that Adolf Hitler planned for the Austrian city of Linz.
After the war, Baroness de Rothschild located a number of crates containing her former belongings, with help from the Allied armies' "Monuments Men," and these items were restored to her. However, the Austrian government required 250 of the finest artworks to be given to the Austrian state. After she died in 1967, her daughter Bettina pursued legal efforts to regain those works in Austria. Last year, many were given to the MFA by her heirs.
BESbswyBESbswyBESbswyBESbswyBESbswyBESbswyBESbswyBESbswyBESbswyBESbswyBESbswyBESbswyBESbswyBESbswyBESbswyBESbswyBESbswyBESbswyBESbswyBESbswyBESbswyBESbswyBESbswyBESbswy
But the U.S. museum that has added the most artworks to its permanent collection this year is actually the National Gallery of Art in Washington, D.C. As a result of its 2014 takeover of the Corcoran Gallery of Art, approximately, 8,000 pieces have been acquired including masterworks by Jean-Baptiste-Camille Corot, Honore Daumier, and Peter Paul Rubens.