As the lights dimmed at NYU's Skirball Center for the Performing Arts on Friday January 15th, a contortionist seductively licked her own feet while a pre-recorded narrator sang about her repeatedly sodomizing a well-endowed horse. Symbolized onstage with a children's rocking horse tangled in ropes and aerial silks, the animal soon no longer satisfied the woman, and she started a brothel to satisfy her sexual appetite. A quartet of nude contortionists waiting in the background soon became her whores for the rest of the performance, skillfully twisting and writhing their bodies at the whims of their new mistress.
Indeed, the circus just came to town, with nary an elephant or clown car in sight.
Andréane Leclerc's The Whore of Babylon was one of the evening's three performances curated by Circus Now, an international organization established to spread awareness of contemporary circus. Circus Now brought together six circus companies for three nights of performance that merged traditional circus feats with multi-disciplinary artistry. Before the show, a panel of academics in the circus arts and high-ups from Cirque du Soleil discussed the state of contemporary circus.
"Contemporary circus deals with exception and virtuosity, what the French call 'la prouesse,' " noted Dr. Louis Patrick Leroux, director of circus research at Montreal Working Group on Cirque/Circus, something of a think tank. "[There is] more of a concern for dramaturgy in that sense, allowing performers to take a certain agency of their actions, not only to be performers or interpreters, but creators."
The flamboyant Dr. Charles R. Batson, an associate professor of French and Francophone Studies at Union College in Schenectady, N.Y., with bleached blonde tips and a sky blue cardigan, advanced the panel's conversation on the cultural obligations of contemporary circus, a focus of his research.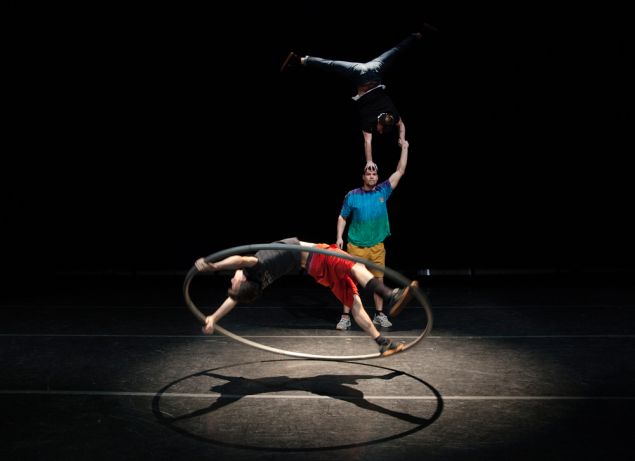 "We're looking at where some of the normative ideas happening outside in the world might still be happening in the avant-garde world of contemporary circus," he said. "Are we repeating the same heteronormative gender codes onstage? Are we repeating the same racial dichotomies and power plays?"
Some of Dr. Batson's questions were addressed later in the night with the performance of Bromance, a dramatic and acrobatic piece by the Barely Methodical Troupe from England that told the story of a love triangle between three young men. Portrayed at first through the physical comedy of awkward handshakes and personal space, the stunning acrobatic feats evolved gradually and cathartically. When one performer slowly got inside a giant hoop on the floor, grabbed onto it with his arms and legs and spun it around for a transcendent solo, the hoop transformed from a set-piece dramatizing proximity into a circus prop. Whether intentional or not, the acrobat resembled Leanardo da Vinci's iconic Vitruvian Man.
Caitlann Maggs, head of artistic training for Cirque du Soleil, told the audience at the panel that achieving such stunning poignancy of vision with physical feats is the challenge faced by modern circus troupes. "Is contemporary circus," she asked, "just based on the 'acrobatic wow,' or can we find an 'artistic wow' that will touch people as much as seeing that wonderful feat?"
"That's the particular challenge for programmers and artists," agreed Dr. Batson, "to work with the 'wow' factor, but then connect with the audience beyond the floodlights."