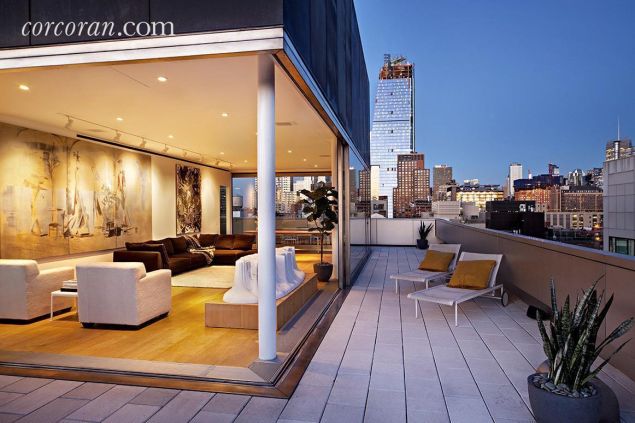 "No one ever has to see where you live," Corcoran broker Irene Lo told us. We were standing on the top floor of the Neil Denari-designed 515 W. 23rd Street, which is currently configured as an expansive, 993-square-foot living room hugged on three sides by a 1,173-square-foot terrace. She was speaking of the penthouse duplex's two distinct elevator entries—perfect for the host who doesn't want guests rifling through the medicine cabinets or scrutinizing one's bookshelves.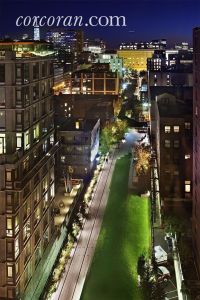 Of course, living in a building that cantilevers directly over the High Line—as HL23 does—means that in some respects, practically the whole world sees where you live. Indeed, as we gazed from the dining room windows at the tourists meandering below, one man stared up at us so fixedly that we raised a hand in greeting. He returned the gesture.
Thankfully, the windows are all equipped with motorized shades. The seller, Belgian hedge fund honcho Pierre Lagrange, also equipped the three-bedroom condo with an extensive art collection, including a piece that doubles as a photo booth and a pair of highly impressive Hermès sheepskin chairs. (Alas, the art is not included in the $22.95 million asking price of the listing, which Ms. Lo shares with Corcoran colleague Laurence Carty.)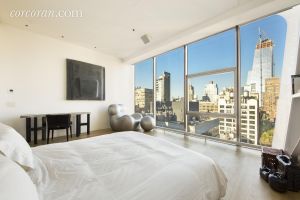 The wood-burning fireplace does, of course, come with, as do the wall panels that conceal flat-screens throughout the apartment. Not even stunning city views, a steady stream of High Line amblers and an impressive art collection can, it seems, wholly eliminate the desire to watch television sometimes.