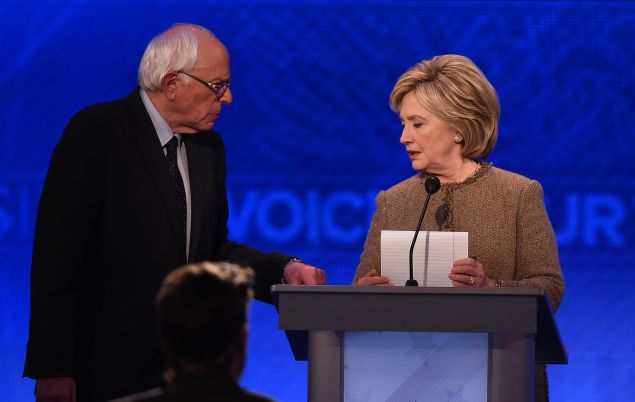 As Sen. Bernie Sanders threatens to upset Hillary Clinton in Iowa and New Hampshire, the first two states to vote in the Democratic Primary, Ms. Clinton's campaign has criticized the Vermont senator's past votes on gun control bills, hoping to expose a rare weakness in his hard-left voting record. Now the Clinton camp is picking a new front—healthcare.
Mr. Sanders, an independent seeking the presidential nomination, has consistently supported a version of universal healthcare that would entail an unprecedented expansion of Medicare. His campaign, reacting to Ms. Clinton's belief that his proposed bolstering of the social safety net would cost "middle class" taxpayers too much, released a chart today explaining how he would seek to pay for certain aspects of his platform like the rebuilding of infrastructure and free tuition for all public universities.
Not included, as the Clinton campaign pointed out in a press call with reporters this afternoon, was how a President Sanders would fund his universal healthcare plan.
Brian Fallon, a spokesman for Ms. Clinton, said it was "alarming" Mr. Sanders had not chosen to release the details of his Medicare-for-all plan before the Iowa caucuses on February 1. Jake Sullivan, a senior policy adviser, said it was "simply not possible" to implement Mr. Sanders' healthcare plan without raising taxes on the middle class.
Ms. Clinton's daughter, Chelsea, recently blasted Mr. Sanders' plan as well, somewhat inaccurately claiming he would seek to dismantle Medicare, Medicaid and Obamacare, along with private insurance. The Sanders campaign was predictably irked.
"Every proposal Senator Sanders has introduced in this campaign has been paid for," said Michael Briggs, Mr. Sanders' spokesman, this morning. "We hope the Clinton campaign will stop engaging in false and misleading attacks and instead provide similar clarity on how their proposals will actually be paid for."
In a follow-up release, Mr. Briggs pointed to past comments Ms. Clinton made about Democrats attacking each other's healthcare plans. Ms. Clinton, tangling with Barack Obama for the Democratic nomination in 2008, said fighting over healthcare "undermines core Democratic values" and "gives aid and comfort to their very special interests and their allies in the Republican Party."
The Clinton camp is hoping to gain traction on the likelihood that individuals making under $250,000 annually would have to pay higher taxes to fund the single-payer plan. Mr. Sanders, meanwhile, has delighted in highlighting the purity of his liberal record in comparison to her own.
Despite claiming the high road, both candidates have engaged in negative attacks of late.
Ms. Clinton is facing the distinct possibility of losing the first two states, where white progressives are expected to turnout in droves for Mr. Sanders. She still remains the front-runner, however, and could end up routing Mr. Sanders in states where the nonwhite electorate is far greater.