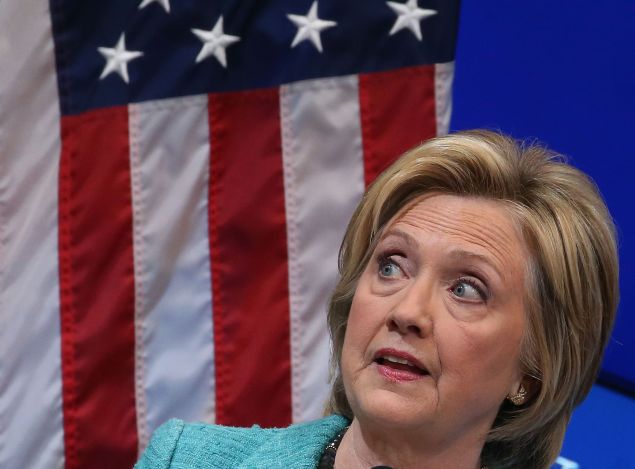 Hillary Clinton's campaign manager and chief strategist decried this afternoon a new 30-second TV ad from the Bernie Sanders campaign, and accused the Vermont senator of engaging in the negative advertising he vowed to avoid.
"We were very surprised today to see that Bernie Sanders had launched a negative television advertisement against Hillary," said Robby Mook, the Clinton campaign manager, in a conference call with reporters. "We were particularly surprised because he had personally pledged and his campaign had pledged to never run a negative advertisement."
Mr. Sanders' campaign denied the ad, which never mentions Ms. Clinton by name, is negative. Speaking in the ad, Mr. Sanders describes "two Democratic visions for regulating Wall Street," a topic the two presidential candidates have clashed over repeatedly as the Iowa caucuses loom.
In the ad, Mr. Sanders revisits the themes he excoriated Ms. Clinton over in a Wall Street reform speech he delivered in Manhattan last week. Unlike Ms. Clinton, Mr. Sanders, a self-described democratic socialist, wants to reinstate the restriction between commercial and investment banking and break up large financial institutions. Ms. Clinton, a traditional Wall Street ally, advocates for more incremental reforms, including increased regulations on derivatives and other complex financial instruments.
"This advertisement does something that Senator Sanders said he wouldn't do," said Joel Benenson, Ms. Clinton's chief strategist. "It's very clear there are two principal leading Democratic candidates in this race right now."
Adding that he expected an ad like this one, given how little time was left until the first primaries and caucuses, Mr. Benenson said the Vermont senator "would have to explain to voters" how he had broken his pledge. He also noted Mr. Sanders had previously pulled an anti-Clinton web ad out of circulation.
Mr. Sanders has long boasted that he never won any of his campaigns in Vermont by running negative advertising, but he has been on the attack of late against Ms. Clinton, who is also taking him to task on his weaker gun control record and the cost of his healthcare proposal. Clinton campaign surrogates have held several conference calls with reporters this month to hammer home their criticisms of Mr. Sanders' record. The clashes are reminiscent of her testy exchanges with Barack Obama, the young senator who defeated her in the 2008 Democratic primary on his way to the White House.
Tad Devine, a top Sanders adviser, told the Observer last year that the "the day he would have to get into a negative exchange with Hillary Clinton is the day the campaign is over."
Mr. Sanders, surging in Iowa and New Hampshire polls, hasn't quit yet.