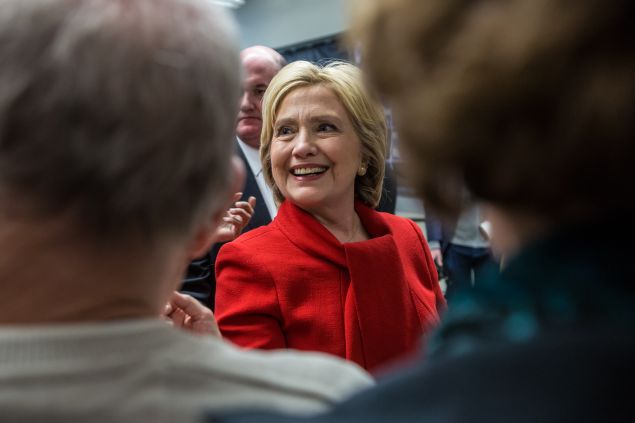 If my stomach churned throughout the six years Hillary Clinton supported the Iraq war, which only changed weeks before the Iowa caucus in 2008, it churned even more when Ms. Clinton charged—falsely and without shame—that Bernie Sanders would destroy Obamacare and undermine Medicare, which is the exact opposite of the truth.
The incontrovertible fact that virtually all of Mr. Sanders' supporters know, and a huge majority of the almost unanimous Democratic establishment that supports her privately believes, is that Ms. Clinton is plagued by a trust gap and an enthusiasm gap that is the wider than the Grand Canyon and deeper than the Atlantic.
Just in the last few days Ms. Clinton said with a straight face the Wall Street firms that paid her huge fees for private speeches—that by contract include her words that are still being kept secret today—and which have donated vast sums of money to her campaigns over more than three decades, do not expect anything in return for their generosity to her good fortune.
If you believe that, Dear Reader, raise your hands!
Also in recent days Ms. Clinton stated, also with a straight face, that Mr. Sanders is the candidate of the establishment and she is not, because he served longer in the Senate than she did!
The truth is that Mr. Sanders is running against the Democratic establishment, the Republican establishment, the financial establishment, the corporate media establishment, and the establishment of most of the so-called Democratic consultants and contributors you see on television, many of whom take money from Big Pharma and big banks when they aren't taking money from Democrats or television networks.
When was the last time you saw a professional Democrat who supports Mr. Sanders—except his campaign staff—on an "all star" panel on television?
Does this make her look more sincere and authentic, or less? Is this the best she can do for a vision for America and the great dreams she has for what she can accomplish in the presidency?
For Ms. Clinton to claim that she and not Mr. Sanders is the anti-establishment candidate is is so transparently false that only a voter who is non compos mentis would believe it, which is another reason she faces a trust gap as wide as the Grand Canyon.
Ms. Clinton has engendered such high levels of public distrust because she makes statements such as these, and more.
When Mr. Sanders says he wants universal healthcare through a system of Medicare for all, he wants to expand Medicare, as he says, not destroy Medicare, as Ms. Clinton charges, with an attack that would make Pinocchio proud and only makes her Grand Canyon trust gap grow wider.
When Mr. Sanders proposes a free education for students at public colleges, and says he will pay for it through a transaction tax on Wall Street speculation, and Ms. Clinton repeats the GOP attack line that he is a tax and spend liberal who does not pay for his programs, she is bearing false witness. Does anyone believe that Ms. Clinton's opposition to a tax on Wall Street speculation, and breaking up big banks as Mr. Sanders proposes, is unrelated to the largesse she has received from Wall Street firms who she claims want nothing in return for the money they give her?
Ms. Clinton has been a player in politics through the 1970s, 1980s, 1990s and 2000s. And suddenly, out of nowhere barely days ago, like dew on the grass during a springtime morning, she discovers that her vision of the presidency is to serve President Obama's third term!
Make no mistake, President Obama has accomplished some good things and should be commended for them. Set aside that a candidate running to serve the third term of any president of the same party is running against the historIcal lessons of most past presidential campaigns. And set aside that those "in the know", including yours truly, know that the relationship between Hillary Clinton and Barack Obama is (in truth) something other than mutual adoration.
What does it tell us that after decades in politics, the guiding proposition of the Clinton campaign for president is a newly discovered adoration for Mr. Obama? Does this make her look more sincere and authentic, or less? Is this the best she can do for a vision for America and the great dreams she has for what she can accomplish in the presidency?
It is no secret to those who have read my columns in The Hill and the Observer, or seen me on television, that I believe that in many ways Hillary Clinton has the potential to be a very good president. Nor is a secret that I have written publicly and advised people close to the Clintons privately that she must offer her own uplifting and powerful vision for the presidency and the nation—which she obviously has not done—and should avoid like the plague running negative attacks against Bernie Sanders, advice that also has obviously not been heeded.
What is most disturbing to me about the Clinton campaign, and what contributes mightily to the distrust she generates among many liberals, is the cynicism of her attacks against Mr. Sanders when he champions causes dear to the hearts of liberals.
When Ms. Clinton says Mr. Sanders is naive or unrealistic in championing widely supported progressive positions like the public option, or single payer healthcare, or free public college education, or higher social security payments, or dramatic Wall Street reform, this is the height of cynicism.
My hope, though without extravagant optimism, is that Ms. Clinton straightens up and flies right and runs the kind of campaign she should run, and can run—not the kind she has run.
Would Ms. Clinton have attacked Teddy Roosevelt for being naive for promoting his trust-busting? Would she have attacked Franklin Roosevelt as naive for pushing and enacting the original Glass Steagall and Social Security? Would she have attacked John Kennedy and Lyndon Johnson for proposing Medicare and making it the law of the land? Would she have criticized Martin Luther King and other civil rights leaders for being naive dreamers and demanding the Voting Rights Acts?
Ms. Clinton is right in saying the Sanders program faces immense uphill challenges, but she is wrong in suggesting the great dreams of Democrats should be surrendered and abandoned before the first vote is cast in the Iowa caucus!
My hope, though without extravagant optimism, is that Ms. Clinton straightens up and flies right and runs the kind of campaign she should have run, and can run—not the kind of campaign she has run. Don't her negative attacks against Mr. Sanders in 2016 look a lot like her negative attacks against Mr. Obama in 2008?
Mr. Sanders is running as the conscience of the Democratic Party, and Ms. Clinton is running as the cynic of the Democratic Party. It is this cynicism that did so much damage to the Democrats that during the Obama presidency, whatever its virtues and shortcomings, the Democrats lost control of the House of Representatives, the Senate and governorships and state legislatures through the nation.
What happened in the midterm elections in 2010 and 2014, which were mega-catastrophic for Democrats, was that the Republican and conservative voters were motivated to vote and the Democratic and liberal voters were far too often motivated to stay home—resulting in huge GOP victories.
Mr. Sanders is the antidote to the Democratic dilemma of voter depression. He stands for the policies that most Democrats believe in. He motivates the voters that Democrats need to turn out on election day. He lifts the spirit of Democratic voters and elevates the soul of the Democratic.
If Mr. Sanders is nominated he can expand electorate and bring out new voters who want big change they can truly believe in, and want to end a game that is fixed and a system that is rigged against them.
If Ms. Clinton is nominated she will need the enthusiastic endorsement of Mr. Sanders and every one of his supporters on election day November.
This is why Ms. Clinton's negative and cynical attacks on Mr. Sanders are so destructive to her candidacy and to the Democratic Party.
This is why the legions of voters who create the Grand Canyon of distrust towards Ms. Clinton will be joined by increasing numbers of Sanders supporters if her negative and cynical attacks against him continue.
This is why she should immediately stop doing so much damage to her prospects for the presidency and to the prospects of Democrats running for every office throughout the nation.