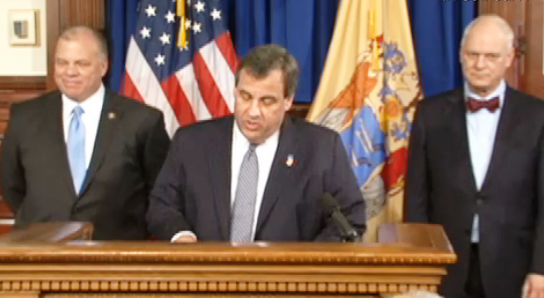 Hair unruffled by storms or inter-state travel and a day ahead of a scheduled campaign stop in Iowa, Gov. Chris Christie this afternoon updated his schedule with a state-takeover statement about Atlantic City in his outer Trenton office.
Inevitably, the subject of the press conference morphed into that delicate and dicey topic of Christie's much-scrutinized same-time campaign for president while he attempts to appear in 24-7 winter storm mode, and the aftermath of his juggling act.
In managerial mode, Christie front-end-loaded local associations in the context of his storm-assessment, replete with references to "folks."
Regarding the ostensible matter at hand, Atlantic City; the embattled seaside resort town faces a $100 million structural deficit, and municipal finances represent the greatest threat, Christie said. The state must expand its role in trying to salvage AC, Christie argued.
"The urgency cannot be overstated," said the governor, flanked by Senate President Steve Sweeney (D-3) and Atlantic City Mayor Don Guardian.
The three men have barked at one another publicly, teeth gnashing that was hardly on display at today's presser.
Partly encompassing the PILOT plan Christie vetoed earlier this month, the newly proposed legislation backed by the three men – targeted for February passage – would empower state government, specifically the Division of Local Government Services, to lead the restructuring of municipal debt.
"To do what the city can't do," said Christie, who praised Sweeney for playing a key role in working with Guardian on the local piece.
"Everybody's going to be working off the same sheet of music," the governor added.
"We do need the force that the state brings with it to restructure our debt," Guardian affirmed.
A question concerned another mayor, not in the room.
A reporter asked the 2016 prez candidate about his head butt with the North Wildwood Mayor over storm damage.
"I apologized to him," Christie said. "I got carried away at a town hall meeting. I called Patrick this morning privately."
He fleshed it out, seeking to smother those howls sent in his direction as he tries to bulldoze into the early GOP caucuses in Iowa and New Hampshire.
"What I was objecting to was any kind of characterization that Jonas [was worse than Sandy]," Christie said. "Jonas was not even close to Sandy. Now, if your house is flooded, that doesn't matter to you. The conversation was mostly driven by the media," added the governor, who claimed he had heard several "worse than Sandy" characterizations.
"You get some water going down a street in Wildwood and North WIldwood and you hear in the media 'worse than Sandy,'" Christie complained.
He didn't want that mistaken narrative out there.
Christie in his press conference repeatedly referred to North Wildwood Mayor Patrick Rosenello as "an old friend," whom he called on his cellphone after a night of sleeping on it to personally apologize for having called the mayor "crazy."
Christie could not resist flashing a national-sized grin when acknowledging his endorsement for president by the Boston Herald. "Good day for me," the prez candidate beamed.
Regarding a town hall interlocutor who quizzed the governor about why he was in New Hampshire instead of head-down on storm-socked New Jersey, Christie said he thought she might have been a plant, noting her reluctance post-event to give her name to reporters. "Either she's a very shy person or something else was afoot, I suspect it might be the latter," Christie said.
As for the mop comment, "It was a joke," the governor explained.