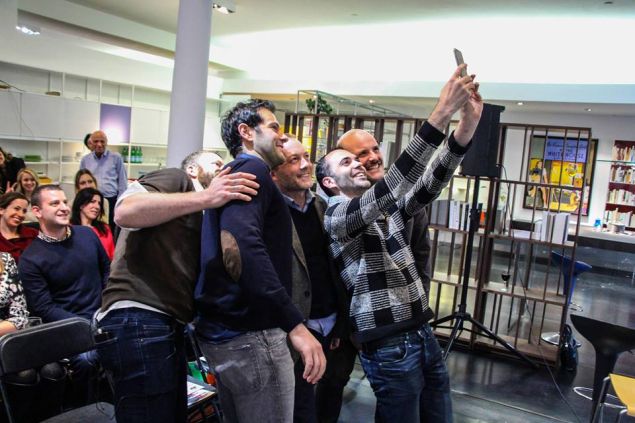 There was never a moment when I actually decided I wanted to be a chef. No illuminating calling or deep self-discovery. Growing up in one of the poorest neighborhoods of France, I was just trying to find a job and earn some income for the family. A "For Hire" sign in a small restaurant passed my view one unspectacular day and I landed my first job in the kitchen. But ever since then, it has been a profession that's become my life. You don't work as a chef, you are a chef.
Every year, a new group of fresh converts take on the same journey I did more than 20 years ago. And if it's of any help in making that road a little less rocky for you than it was for many of us, I hope these five small lessons I've collected over the years can help:
Forget work and life balance.
Relax…it's not as dire as it seems. The food world is all encompassing; the hours are intense. It's impossible to separate work and play. But if you find enjoyment in your daily work, then it no longer just work but also something you take pleasure in. I've always thought it was unhealthy to think that life begins when you're off the clock. Learn to consciously make the most if time at work and out of work. Your job doesn't have to be a sacrifice; it can very much be a form of satisfaction.
I always say: don't cook like a chef, cook like a mom.
It's not about you.
Chefs adore food, and we're opinionated about what we like and don't like to eat. Never forget that the menus are created for the guests and not the chef. I always say: don't cook like a chef, cook like a mom. When it comes time to make something special for dinner, moms know what their kids and husbands love—and they cook for their family, not themselves. Have love and respect for people that enjoy your food, and let their tastes and preferences trump your own.
Circles, not lines.
True growth in the food industry isn't linear. It's cyclical. Think about it—every season you have to throw away of your old menu and begin at the bottom. Look at it positively. It's this constant creation and re-creation that gives you freedom to start fresh and keeps you on your toes.
Welcome criticism.
Don't get me wrong, I've had some critiques that I didn't agree with and many that stung because I saw the veracity behind it. The key is in not ever being too insecure to hear them. Whether you believe they're right or wrong is a different story. There is one truth and it's that things can always be better. Use every criticism as fuel toward that goal.
Be the cheerleader, not just the captain.
I was trained the old-fashioned way, with bullying and intimidation. Many days I walked to work with a knot in my stomach. That's not the way I run my kitchens. At the end of the day, it's a team and not an individual effort. But rather than just lead, I've learned that you also need to cheer your team on. The spirit of a kitchen is a reflection of the chef.
It's a work in progress—there will be dropouts, somewhere between working as a cook and truly becoming a chef—but I'm forever grateful that I stumbled upon this profession that is a lifestyle. And I hope it will make your life as fulfilling as it has for me. Here's to learning so much more than just how to cook.
Chef Dominique Ansel is the chef/owner of the celebrated Dominique Ansel Bakery, which opened in Soho in November 2011, and Dominique Ansel Kitchen, his made-to-order bakery that launched in the West Village in April 2015. His first shop outside of the U.S. opened in June 2015 in Tokyo's Omotesando neighborhood. That same month, Chef Dominique was bestowed the prestigious Ordre du Mérite Agricole award, one of the highest honors in France, for his dedicated to promotion French cuisine and culture.