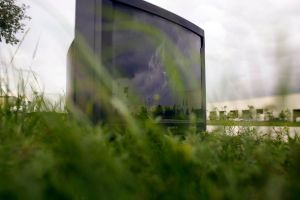 An old school, cathode ray tube television has been sitting in my garage for more than a year, a dusty dinosaur that I keep banging into when I reach for my kids' bikes.
Until this year, when a state law that requires many consumer electronics be recycled took effect, I could have left the TV on the curb for the New York City Depart of Sanitation (DSNY) to pick up. But now I am supposed to drop it off at one of the designated stores that serve as electronics recycling sites. Problem is, those stores won't accept my relic of a TV, and even if they did, I couldn't fit that 60-pound behemoth in my four-door sedan.
Many people in Staten Island have shamefully taken to dumping their unwanted TVs and other electronics in parks and woodlands. It's inexcusable—but lawmakers should have seen this coming when they made compliance with this law so onerous.
The city's recycling rate has long hovered around 15 percent. That's shameful.
The fact is, New York City isn't good at recycling. The United States municipal recycling rate is about 35 percent, according to EPA data. It is significantly higher in many large cities—San Francisco recycles 80 percent of its waste, while Chicago recycles at a 58 percent clip. Meanwhile, New York City's recycling rate has long hovered around 15 percent. That's shameful.
Recycling is not just an environmental issue; it is sound fiscal policy. Recycling saves the city money on future disposal costs—the city spent nearly $2 billion in 2014 to cart away trash, and that number continues to grow. The city also actually makes millions each year recycling its paper, and there is a growing market for recycled electronics and plastics.
Well-intentioned but poorly crafted laws and policies, like our electronic waste recycling law, block our way.
That is why I worked with Department of Sanitation commissioner, Kathryn Garcia, to allow residents to bring their e-waste to any of its five Special Waste Drop-Off sites—one in each borough—to ease compliance with the new law. Now people can bring their old TVs, computer monitors and ancient fax machines to their local DSNY drop-off site every Saturday and the last Friday of each month, and know for certain their items will be accepted. I have also asked Commissioner Garcia to determine the feasibility of a designated household e-waste pick up day, which, even if done once a year, would make recycling even easier.
A DSNY working group is exploring how to implement an incentive program to get residents to create less waste and recycle more. The basic idea would be to provide a monetary credit to each resident that would offset the cost of special bags for the collection of refuse. The fewer bags you use—either by recycling more or wasting less—the more credit you keep.
Such an incentive is critical, because trying to fine residents into compliance does not work. Last year, there was a nearly 45 percent spike in recycling fines—including a whopping 200 percent surge in my borough of Staten Island—but the recycling rate remained stubbornly unchanged.
Many of these fines are for mixing paper and plastic in the same recycling bag—which, to me, seems counterproductive and counterintuitive. Why penalize residents who at least make an effort? Instead, we should switch to "single stream" recycling, which allows residents to place all non-perishable recyclable materials in one bin or bag for pick-up, to be sorted at an off-site facility. With new technology and sorting techniques, single-stream recycling programs have proven to increase recycling rates—because, again, they make it easier and more convenient—and to significantly reduce recycling costs.
Our city is so ahead of the curve on so many things, but we seem to be stuck in a rut on recycling. We need better education, better community outreach and innovative programs to make recycling so convenient for residents and businesses in this city that it becomes as ordinary as taking out the garbage.
Steven Matteo is minority leader of the City Council.