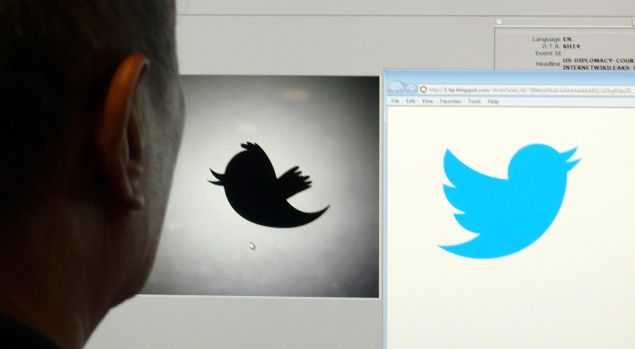 For about as long as Twitter has existed, there have been social media addicts writing pained essays about leaving it, either because it interfered with their productivity, caused them to engage in petty online arguments, shrunk their attention span, or all of the above. Most of those people are back on Twitter now—I'm looking at you, Ta-Nehisi Coates—which is fine. There's no rule against changing your mind.
But over the past couple of weeks, a new genre of the "goodbye Twitter" essay has emerged, one that is as baffling as it is annoying. You've probably come across it—the essay in which the writer announces that they are leaving Twitter but then goes on to contradict that claim by saying that they are actually not deleting their account, that they will continue to tweet occasionally, to look at their Twitter feed for news and breaking updates about the world.
This is not quitting Twitter. It is just downsizing.
Though Rich Juzwiak of Gawker and Annie Lowrey and Abraham Reisman of New York magazine seem to think the opposite. "Twitter Drove Me Crazy, So I Stopped Using It," reads the headline above Mr. Juzwiak's piece, which he published on Deadspin's Adequate Man blog on Tuesday. It's about how Twitter's toxic potential was, as he puts it, "making me dislike people."
It's a good and honest piece with some perceptive thoughts in it. "The core problem with Twitter, given the limitations it imposes on its users, is that it promotes telling over showing," Mr. Juzwiak notes. But then the kicker arrives, undermining the thrust of his piece. "I'm not quitting it entirely—it's impossible for me not to see tweets from time to time, given that I work on the internet," Mr. Juzwiak writes. "Sometimes I still find myself getting sucked down a hole of bad tweets after I read one (tweets are like toxic potato chips)."
So the much less compelling headline, if we're being accurate, should read: "Twitter Drove Me Crazy, So I Started Using It Less."
Over at New York, Ms. Lowrey and Mr. Reisman engaged in an online back and forth, headlined "Goodbye to All That Twitter," which they posted on the website's Daily Intelligencer blog. (As some have sarcastically pointed out, the "goodbye Twitter" piece may as well be the new "why I left New York" essay.)
Ms. Lowrey and Mr. Reisman are, like most of us who use the platform, understandably anxious about what Twitter can do to the human mind. "It was a compulsion, but it was one I chose to continue indulging, time and time again," Mr. Reisman says. "As Walter White so eloquently said, 'I did it for me. I liked it.' " As a woman with opinions on the Internet, Ms. Lowery encountered a lot of misogyny and mansplaining on the service. "I decided to wash my hands of the whole thing when I wrote something about poverty and proceeded to get a flood of nasty, sexist tweets and emails—just days and days of it," Ms. Lowrey writes.
Except neither of them has washed their hands of it completely. The writers' accounts are still active, and they both admit at the beginning of their conversation that they still use Twitter from time to time—to tweet about the presidential debates, for instance, or to promote their own stories—though not as much as they used to. This isn't really a worthwhile point if you're having a discussion about leaving Twitter.
Whether or not you think Twitter is indispensable from your professional life, it doesn't mean you've quit it because you've stopped broadcasting to the world what you had for dinner or what the guy you overheard at your local coffeeshop said to his bro-friends.
It is, of course, easy to get what these writers are saying—that they want to stop caring about Twitter, investing so much emotional energy in such a frivolous distraction whose main form of communication is named after the kind of sound a timid bird makes. That's a very human thing, to take something seriously that isn't very serious to begin with.
But consistency is important, and if you're going to declare you're quitting Twitter, you should just do it. Otherwise, there is no point in writing an essay about it.
There have been so many essays about leaving Twitter over the past few years that it's hard to keep track of all of them. Which is why the best way to leave Twitter, as Richard Lawson of Vanity Fair suggested last year, may be to just do it. Don't write about it. Don't fret over it. Just delete your account and move on. "There is absolutely no need for some big explanation," Mr. Lawson wrote, "because it is, after all, just Twitter."
Some people have done this, like Jaden Smith (of all people) and the comedian Andy Borowitz, who only announced to the world that he had (mostly) abandoned the social media platform after I asked him about it at a party and wrote up our interview.
The best essay I've encountered on leaving Twitter appeared in the New York Times Magazine's Lives column in 2011. Titled "Confessions of a Tweeter," the Brooklyn-based writer and editor Larry Carlat takes us through the psychological stages of his addiction to the service. "It was an obsession," he writes. "And like most obsessions, no good came of it."
Mr. Carlat describes how the service made him anti-social, how it caused him to start thinking in tweets, and how, eventually, it came to feel like a tiresome burden. Over the course of his obsession, Mr. Carlat lost his job, separated from his wife and alienated himself from his son—all due in large part to his social media presence.
About a month before he published his Lives essay, Mr. Carlat tells us, he finally came to terms with the fact that his mania was draining him of energy and deleted his account, committing what he calls "Twittercide."
We never heard from him again—at least not on Twitter.