At any given time, women across the globe are searching for the "perfect item." Some days it could be the perfect pointy high heel, others days it could be a pill-proof cashmere sweater and more often than not, it's an LBD they are searching for.
But in 2013, Nicole Najafi was on the hunt for an ideal pair of jeans. She was working at Balenciaga at the time and she was looking for some denim that was affordable, timeless and simple, but still good quality. Her search proved to be fruitless, so she decided to do something about it. "I often say the businesses that you start are the ones that you want for yourself, so I started the ideal denim line for myself," she told the Observer.
The result is Industry Standard, a small brand that offers simple denim with no bells and whistles. Instead, the focus is on good cuts and premium fabric with prices that hover around the $100 range. The first styles from Industry Standard were skinny jeans in white, black and pure blue denim, but Ms. Najafi recently added the Remi to her range. This white boyfriend jean was inspired by Jacques Dutronc, and in true French style, is a bit more fitted through the waist and rear.
With an increased focus on customer service, which is an important detail Ms. Najafi picked up from her time at Balenciaga, the Industry Standard website is clean and easy to navigate. Although, New Yorkers who would prefer to try on their denim before committing can scoop up a pair or two at FiveStory.
Here, the new denim designer tells us more about her burgeoning brand and why she designs in NYC but produces her product in L.A.
Why did you start Industry Standard? Very simple: I am a jeans girl and I wear jeans everyday. At the time I was working on a fashion salary and I couldn't understand why jeans were $200. I just wanted to find a great pair that would last through one wash and wouldn't be so expensive.
On your site you claim that you were looking for the perfect pair of jeans. Can you define what that is? Well-made jeans that are minimalist with a good price point and have a clean shopping process. I wanted something logo-less and discreet in good quality denim that wouldn't become stretchy or bagged out in the knees.
How does your denim maintain its shape? A lot of stretch denim has 30 percent cotton and a ton of elastaine and polyester, but that won't keep its shape and after five wears it will totally bag out in the knees. We went with a denim that was 90 percent cotton, which is very expensive. They're stretch and they're really comfortable, but they won't change their size.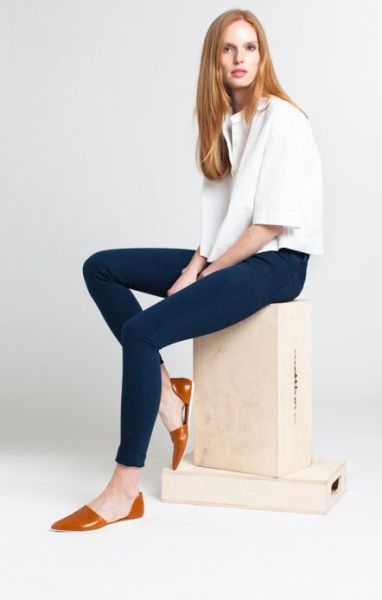 If the denim you use is so expensive, how do you keep your prices so low?
I partnered with Matt Berkson, who runs a denim production company outside of L.A. He manufactures our denim at cost, without any minimum. It makes the price much lower, because he isn't taking a huge margin and it makes it possible to make these small batches. If I was to go to any other factory, they would tell us that in order to start working with us, we would need to order 10,000 units right off the bat. A small brand can't always do that, unless they have a large amount of funding behind them. It's nice that we can be a small brand, but still at a competitive price point.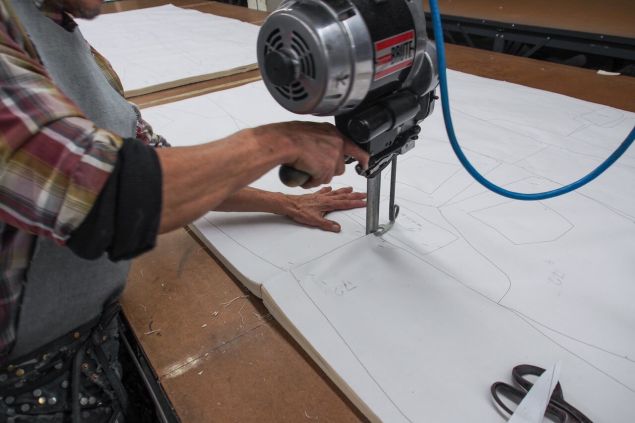 Why is it important to make your jeans in Los Angeles, as opposed to New York where you're based? The denim in New York is mostly ready-to-wear denim, like what The Row offers. It is such a complicated process to make jeans and it can't be done under one roof. It has to be sent out to a number of different places and you need wash houses and laundry facilities that are massive. To do that in New York would be impossible.
Do you have any plans to expand Industry Standard beyond denim? For now I think we're going to stick to denim. We'll always stick to our minimalist aesthetic, with no distressing, no whiskering, just untreated, clean denim. But we're very interested in denim skirts, so we will be doing some in the future.