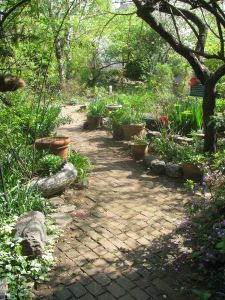 One evening last fall, a few members of the Maple Street Community Garden, in Prospect Lefferts Gardens, Brooklyn, settled into the 6,000-square-foot lot to watch the sunset. Two years earlier, neighborhood residents had taken over the lot, which had been left vacant and seemingly owner-less for 15 years following a house fire. Members built raised planting beds, started a compost program and hosted cookouts in the space. The garden had started to feel like a permanent part of the neighborhood, which like many in Brooklyn was undergoing gentrification and change.
Their evening was interrupted by two men who claimed to be the owners of the lot. The pair began tearing down signs on the garden's fence and ordered the residents to leave. One week later, they sent a crew to break up the raised beds of lettuce, herbs and turnips. A concerned resident called the police, who ordered work to stop. Construction workers tucked an eviction notice in one of the remaining garden beds, and eventually plans were filed to replace the garden with a five-story, 17-unit building.
Garden members weren't about to give up their space, especially after learning that the apparent owners, brothers Michael and Joseph Makhani, had a history of shady real estate dealings. "They probably didn't expect to have so much trouble getting us out of there," said garden member Tom LaFarge. Today, the Maple Street Community Garden is fighting the Makhanis in court: while garden members have never claimed ownership of the lot, the deed presented by the Makhanis "is of dubious validity," according to Brooklyn Supreme Court Judge Mark Portnow. The judge, who appointed a guardian to get to the bottom of the ownership question, allowed the gardeners to stay in the meantime.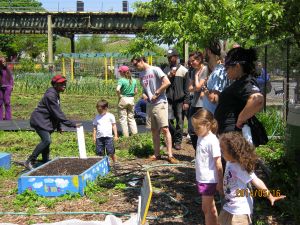 "Either this lot is given back to the Makhanis for development or they find the heir who might have inherited this property," said Mr. LaFarge. "There's still a question of if this garden will continue or not."
Like Maple Street, many community gardens face an uncertain future. Some occupy land with questionable provenance, or face developers with real or phony deeds, itching to cash in by developing. Still others sit on city-owned land, the result of an agreement between gardeners and NYC Housing Preservation and Development (HPD)—but the city still retains the right to sell or develop the land. This relationship dates back to 1974, when HPD approved a lease for $1 a month for what became the first community garden in the city on the Bowery. The city has also taken action: over 600 garden sites on city-owned land were transferred to the Parks Department and are protected under the agency's GreenThumb program, founded in 1978.
Last January, the HPD announced plans to build more than 800 affordable housing units on 43 garden sites citywide. But in December, responding to public pressure, the HPD revised its plan to limit the garden building sites to nine—including two unused ones—while transferring the other 34 gardens under the protection of the Parks Department.
The battle reflects a growing tension, as the development frenzy—at all segments of the market, from luxury to below-market-rate—spreads to previously neglected neighborhoods where gardens, which are typically construction-ready sites that require little if any demolition, tend to flourish. "People often create gardens out of desperation," said Paula Segal, executive director of 596 Acres, a nonprofit that helps New Yorkers identify vacant lots that could be converted to community gardens. "This happens in neighborhoods where the community is at risk," she said. These grassroots gardens prove to be powerful spaces that often double as community centers. "These are places where New Yorkers create their world with people who are different than them," said Ms. Segal.
New York's community gardens have grappled with development threats since the movement took off in the 1970s. Green Guerillas, established in 1973 and still operating today, started throwing "seed bombs" around vacant lots in the East Village and the Lower East Side, which became hubs of the movement. One such Lower East Side garden, known as the Garden of Eden and hailed as "hope in a territory of poverty and drugs," became a sort of poster child for the conflict between gardens and housing. Environmentalist Adam Purple spent 10 years throughout the '70s building a concentric garden that grew to 15,000 square feet, expanding as surrounding buildings were torn down. When the city announced plans to demolish it to develop public housing, artists rallied around the garden and invited architects from around the world to propose alternative designs that integrated the garden with the housing. Despite 30 different proposals to keep the garden as a public amenity within the housing development, the Garden of Eden was demolished in 1986.
Other gardens managed to survive. La Plaza Cultural, now an East Village institution, is celebrating its 40th anniversary this year. But many of those years were dedicated to court battles against incoming development—"We've only recently started to feel like a permanent institution," explained Ross Martin, one of its board members. The garden's final battle was against a 1999 city plan to auction off more than 100 community gardens on city-owned lots to build housing. "It was like [then-Mayor Rudy] Giuliani was pitting one type of social service against the other…you can't have both housing and gardens," said Mr. Martin.
The development frenzy—at all segments of the market, from luxury to below-market-rate—has spread to previously neglected neighborhoods where gardens, which are typically construction-ready sites that require little if any demolition, tend to flourish.
After three years of legal battles and a restraining order from the state preventing such an auction, the city decided to protect 400 gardens, transferring them all to the Parks Department, and build affordable housing on 38—a compromise not much different from the recent one between the HPD and today's community gardeners. "As we build affordable housing and livable neighborhoods across the city, we must make some tough choices—including balancing the need to protect precious green space and the need to house New York families," HPD commissioner Vicki Been said in a statement. "In trying to strike the right balance, HPD with the Parks Department crafted a plan that protects a tremendous number of gardens in perpetuity and provides support to gardeners, while ensuring that working families can afford to stay in their neighborhoods."
HPD claims that the supply of city-owned land is running low, with gardens representing some of the last viable sites to develop. But some community gardeners don't buy it. "The city does not even know how much property they have," said René Calvo, founder of the Mandela Community Garden in Harlem, which will be vacated as part of the HPD's plan. He is fighting for a moratorium on the demolition of the gardens until the city can provide information on how much vacant property it owns. "In the meantime, the gardens are low-hanging fruit," he said.
Since Mr. Calvo received access to the 10,000-square-foot lot in 2014, he and his neighbors de-paved 70 percent of the parcel by hand, then filled the space with wildflowers. "When people saw the flowers growing, they realized that life could exist on this lot, which had been empty for more than 30 years," said Mr. Calvo. The HPD has promised to help relocate the nine displaced gardens within one-quarter mile of their current location; Mr. Calvo said he hasn't been offered an alternative site for the Mandela Garden yet.
There's a similar struggle going on in long-blighted East New York, Brooklyn, where in the 1980s and '90s, incoming residents from the south and the Caribbean—many with farming and gardening experience—established community gardens in empty lots. In 1995, East New York Farms was founded to help increase the organic food production in local community gardens. Today, the organization runs two farmers markets and two local farms. David Vigil, project director at the farm, estimates there are nearly 70 gardens in the neighborhood. "East New York was left to fend for itself, and this was the neighborhood's response," he said.
But change is afoot, as the neighborhood is the locus for the De Blasio administration's ambitious affordable housing initiative, which calls for a major rezoning of the area. Although it's unclear how community gardens will fare with any incoming development, they're emerging as a crucial space for residents to grapple with the neighborhood's future. "The garden community was already organized, but now they're realizing they can be even more organized in the face of these zoning plans," said Mr. Vigil. Just this month, local protesters came to speak against development plans at a City Planning Commission hearing.
Mr. Vigil said that while he doesn't detect any animosity toward the gardeners from the city—unlike previous eras—"Our efforts for more permanency for these gardens feels like it falls on deaf ears." And to protect the gardens, to him, means protecting the very identity of the neighborhood. "There's a historical legacy of gardens in this neighborhood, as a direct response to redlining and neglect," he said. "We just can't put that history behind us as a city."