DES MOINES, IOWA—Last week, Louie Gohmert wanted to talk about the fetus.
"We had a guy—a doctor—testify, I think he did over a thousand abortions, late-term, and it was just meaningless to him and then one day it him like a ton of bricks," Mr. Gohmert, a congressman from Texas, recalled on Wednesday. "He was describing what he said gives him nightmares now, that he would feel for something that he figured was a limb and pull it off, and then find another one and pull it off and find another, and when he had done that four times he felt for something bulbous and would grab it with his clamps and crush it and pull it off."
The hundreds packed into Noah's Event Center, a tony catering hall in West Des Moines, gasped and cringed. Mr. Gohmert, a bald man with a syrupy drawl, was part of the phalanx of endorsers introducing Sen. Ted Cruz of Texas, each one emphasizing one supposed truth about the senator above all else: he means what he says, and he'll fight for the right to life.
While pundits are right to say that national security, the economy and other broad issues are what matter most to the American people, it's important to understand that there is little agreement, among those who identify as Democrats or Republicans, on what the debate should be, let alone about two sides of any given issue.
A right to life at a Bernie Sanders town hall will mean free healthcare and the taxes to pay for it. With Mr. Cruz, a favorite to win Iowa on the Republican side, it means saving unborn babies.
Over the course of 48 hours, I trailed the Democratic and Republican presidential candidates hogging the most headlines and another, Jeb Bush, who thought he'd be in that company. Marco Rubio in a pub. Hillary Clinton in a middle school. Donald Trump, forever himself, giving the metaphorical middle finger to Fox News.
I had never been to Iowa before. I have also never covered a presidential campaign until now.
What I learned is that no place may be more perfectly or ill-suited for the first in the nation honors than Iowa. The Hawkeye State, population 3 million or so, is a throwback to what America once was, and will probably never be again: rural, easy-going, and almost entirely white. Flat, snow-flecked farmland dominates the landscape, and sunsets are Winslow Homeresque: shocking purple fire swallowing the horizon line. There is no such thing as traffic. Everyone says hello. Eye contact does not mean someone wants to rob you. A parking ticket is $15.
There are urban centers, too. Des Moines, where I stayed, is the capital, and a geographical lodestar for the campaigns. On caucus night, most of their parties will be held within its snug confines.
There are many reasons to want to revoke Iowa's cherished status. It doesn't resemble the diverse, increasingly urbanized sweep of the new America. Black and brown faces are in short supply. Ethanol subsidies matter dearly here, and don't elsewhere. Even debates about immigration can ring hollow: yes, many immigrants work on the farmland, but the landlocked state is nowhere near the Mexican border.
If some politicians had their way, the Republican National Committee would allow states like New York, California and Texas to take a turn at picking first. They're far bigger and more representative of what the rest of the country may want. Republicans, Democrats, cities, suburbia, exurbia, the country—it all can be had in those three.
More importantly, for the political junkies from other states, Iowa doesn't always pick winners. The winner of the 2012 Republican caucuses was Rick Santorum, a former Pennsylvania senator who lost the primary to Mitt Romney. 2008's Republican champ was Mike Huckabee. As recently as last summer, Iowa's status was slipping so much that a Politico story wondered whether Iowa was "over," given the decision by some candidates to skip a famed straw poll.
Iowa is a lot of things—cozy, peculiar, fickle—but I can report that it's certainly not over. And given the state of our American body politic, politically schizophrenic Iowa may be the perfect place to start.
"We're Just Lucky"
It may seem like Iowa has kicked off presidential races since time immemorial, but there are plenty of people alive who have no memory of candidates hustling for votes in Adel or Cedar Rapids. It wasn't until 1972, four years after a chaotic Democratic National Convention, that the primary process was reformed from a centuries-old tradition of party delegates nominating candidates in smoke-filled backrooms to what we have today: state-by-state elections to determine the nominee.
When Iowa Democrats moved up their 1972 caucuses to January, the future Democratic nominee George McGovern traveled to the Hawkeye State. McGovern's efforts caught the eye of an obscure Georgia governor named Jimmy Carter, who aggressively campaigned across the state for two years. When he became the Democratic nominee, and later president, the political establishment and media began to recognize Iowa as a crucial gateway in the primary.
"We're just lucky," reflected Steve Dailey, the former chairman of the Jasper County Democratic Party.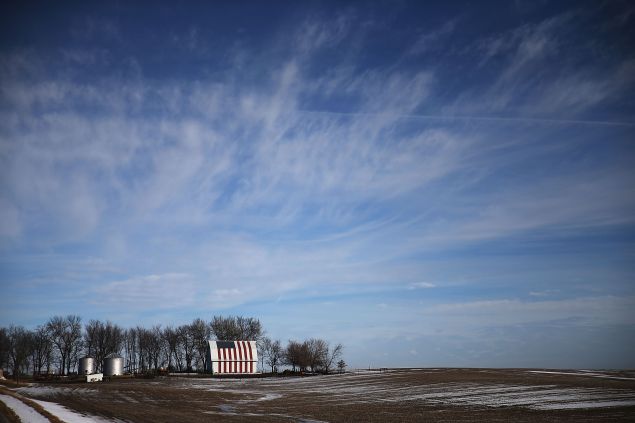 For people who think voting just means showing up at the polls and pulling a lever or squiggling in a bubble, the Iowa caucuses are going to seem revelatory or idiotic. Rather than go to a voting booth at any point of the day, Iowans, if they are so inclined, will travel to local meeting spaces in the evening, listen to speeches from supporters of the candidates and then vote.
Republicans vote by secret ballot. The Democratic process is stranger, with voters declaring their allegiances openly by moving to certain portions of the meeting room. Only candidates receiving 15 percent support from the individuals in the meeting are eligible. Voters supporting a candidate who receives less than 15 percent are asked to join other groups. This could mean that Martin O'Malley, the former Maryland governor polling a distant third in the Democratic primary, playing a real role in determining the winner in Iowa.
The irony of the hype around Iowa is that none of the election results will be official for many months. Voting Monday night will just determine the delegates selected to a county convention in March, which selects delegates to the four congressional district conventions in April, which selects delegates for a state party convention in June that will then send delegates to the national convention. It's not unheard of for an official Iowa winner to be long out of the race by then.
"The caucuses are a completely meaningless event with tremendous political impact," said Dennis Goldford, a professor of political science at Drake University in Des Moines. "They vet the candidates. They reveal unexpected strengths and weaknesses."
America's electorate is remarkably polarized, so much so that a landslide this fall is highly unlikely, no matter who is nominated. People don't identify with political parties as much as hate the other, according to research from Alan Abramowitz and Steven Webster of Emory University. Everyone is locked into their camps.
As American voters retreat further and further into their ideological silos, devouring Fox and Breitbart or imbibing MSNBC, campaign events offer competing versions of reality. Swing voters, genuinely torn between the two warring camps, are an endangered species.
In this regard, Iowa is both a microcosm of the United States and completely alien. The governor and the entire congressional delegation, outside of Democrat Dave Loebsack, are Republican. But swing voters, or those that stay home for midterms and come out every four years, are a reality here: Mr. Obama won the Hawkeye State twice in the general election.
The electorate is stranger. On the Democratic side, almost 43 percent of likely Democratic caucus-goers identify as socialist, according to one recent survey, though Mr. Goldford doubts the percentage is that high. More than half of Republicans say they are evangelical Christians, according to 2008 and 2012 exit polls. By the measure of skin color, Iowa is homogeneous. By ideology, it's remarkably diverse, a motley stew of liberal college kids and fervent churchgoers.
The problem with the caucus system, and maybe the best argument against Iowa, is the anemic turnout. Roughly one out of five voters in Iowa participates. Mr. Obama shocked Iowan political observers when he boosted turnout north of 200,000, drawing about two out of five eligible Iowans to the caucuses.
"They attract a much smaller part of the electorate and ideologically polarized, extreme voters," said Costas Panagopoulos, a professor of political science at Fordham University who studies American elections.
"From that point of view," he added, "one might think they are not such a great thing for democracy."
The argument for Iowa, at least among the political class, is that it's a real testing ground for campaigns. If you subscribe to the belief that building a successful campaign apparatus is some indication that you'll be a serious commander-in-chief, there's no better place than the Hawkeye State, where goading voters to spend hours at a caucus is an accomplishment in it of itself.
"I don't think we just want a tarmac campaign," said Doug Gross, the former chief of staff to Iowa Gov. Terry Branstad, a Republican. "Iowa gives candidates the opportunity to really test their mettle."
"It forces you to have an organization," said Rick Wiley, a Republican consultant who most recently helmed Wisconsin Gov. Scott Walker's presidential campaign. "You can't just go into Iowa and throw up TV ads and think you're going to win the caucuses."
Iowa also, unless you're Mr. Trump, makes a candidate court voters one-on-one, and allows regular people to ask whatever they want of a future president. Iowans could walk up to Barack Obama in 2007 and 2008 at a pizzeria or a high school and ask him anything they wanted. It will never be so easy again.
A $20 Bet
Upon arriving in Des Moines on January 27, I sped off to catch Mr. Bush, the former Florida governor, at a forum downtown. He was set to speak in front of Nationwide employees for a series they do with presidential candidates. Mr. Bush, unlike most candidates, was punctual, kicking off right around the advertised 2:15 start time. He was fighting a cold and coughed several times.
"One of the things I love about Iowa is that it has the lowest per capita credit card debt in the country. You should be proud of that," Mr. Bush opened.
Mild laughter.
"If you think about what's going on in our country, if you just take the federal government and you take generally the indebtedness of our country, it ain't Iowa. We have a $19 trillion debt."
Mr. Bush's overall sales pitch is pretty straightforward: I am the real conservative in this race with a record of getting things done. And this is mostly true. Mr. Bush governed Florida as an unabashed conservative, and the "moderate" label is probably unfairly slapped on his candidacy. He created a vouchers program, all but impossible in New York, and drove an explosive growth in charter schools. He expanded protections for gun owners, including the "stand your ground" law hated by liberals, and is resolutely pro-life. Beyond his support for immigration reform, Mr. Bush has no progressive tendencies, and was once regarded as a front-runner because of his $100 million Super Pac and ability to raise gobs of money for his own campaign.
He also has no chance of winning Iowa. He's staked his fate on New Hampshire, but he was here anyway, and gladly answered questions from the polite Nationwide crowd.
One employee, Shawn Finney, 51, inevitably asked about the man who probably slammed the nail in the Bush campaign's coffin into place, after something else—like his brother's reputation or his milquetoast presentation—put it there first.
"Here's the problem. He's not a conservative and we need a conservative nominated for the conservative party because it just doesn't work any other way," Mr. Bush said of Mr. Trump. "His views on things have transformed miraculously across the spectrum."
Mr. Bush said he bet $20 with a nameless person that Mr. Trump would drop his threat to skip the Fox debate, the last televised showdown before the caucuses, and come running back to the limelight. Repeating a well-worn line, Mr. Bush said you "don't win by insulting your way to the presidency. In order to win, a conservative particularly, has to campaign with their arms wide open. They have to have a belief that our philosophy is a hopeful, optimistic philosophy, it's not an 'end is near' philosophy."
Mr. Bush's Trump answer lasted more than five minutes. He is better on his feet than he gets credit for, but also strained, like he has breathlessly practiced his lines in a closet before walking out in front of people. He oscillates between the chest-thumping brio required of today's candidates and the self-deprecation, more the true Jeb, that American voters don't seem to like anymore. Faux humbleness is out; we don't want a president who thinks "screwed" qualifies as a swear word.  You can imagine Mr. Bush winding himself up, pretending his father and mother are in the audience and waiting for their polite clapping and kisses. You can imagine him delivering his most cutting strike against Mr. Trump yet—Phony conservative! His businesses go bankrupt!—and Mr. Trump rearing back to break his glasses. Somehow, feeling blindly for his shattered lenses on the floor, you can see Mr. Bush apologizing to him.
"You're taller in person," Mr. Bush was told several times when the Nationwide employees ambled up to shake his hand afterwards.
Indeed, he's at least six-three, which never seems to come across on TV. He loomed, almost LBJ-like, over the employees who wanted pictures. After the former governor had chatted with a surprising number of people who were happy to be in his presence, including one who recalled a speech he delivered in 1992, I asked Mr. Bush if the GOP establishment should have done more to stop Mr. Trump.
Mr. Bush—the living, breathing embodiment of the establishment—played dumb.
"I don't know what establishment is," he said. "I don't know what that means."
Does he wish more Republicans were critical of Mr. Trump when he first burst on the scene last June?
"I'm gonna keep pointing out the differences, that's for sure."
On the way out of the room, a conference space just off an antiseptic cafeteria, Mr. Bush reiterated his Trump bet to reporters.
"He'll show," Mr. Bush predicted with a smile.
He owes somebody $20.
"He's Handsome"
Wellman's Pub and Rooftop, a sprawling sports bar and nightclub in West Des Moines, was a fitting place for Marco Rubio to hold a rally. His dad was a bartender. If you don't know this, or forget, he will remind you.
Mr. Rubio, the Florida senator, is a consultant's idea of a president, and this is why he still may win. He's polished and relentlessly on message. He has a little something for all slices of the Republican electorate. Deep Christian faith for the evangelicals. A hawk's view of the world for neoconservatives. A Club for Growth-approved plan for the economy.
And?
"He's handsome," said Toni LeNeave, a West Des Moines resident, with a laugh. "I have 36 great-grandkids, 24 grandkids and I'm gonna call everybody and get them on Rubio's side."
"The number one responsibility of the president of the United States is to protect the people, protect the citizens, protect them from invasion. We have to have strong borders," Kathryn Kinley, a licensed therapist from Waukee, jumped in. "Coming from an immigrant family himself, [Mr. Rubio] knows how important it is to allow immigrants, this is what America stands for. But at the same time he wants to protect us from those who want to do us harm."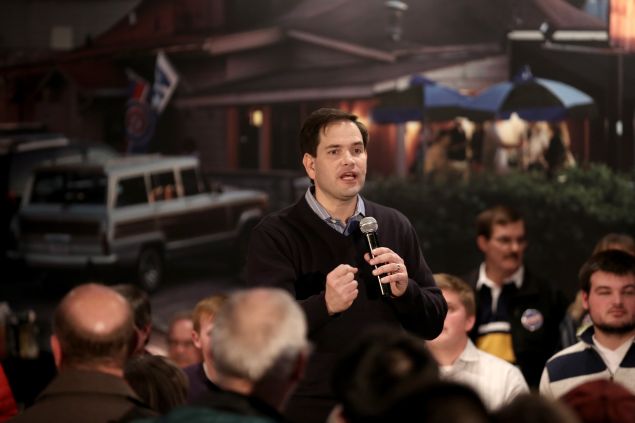 Another young senator who may run for president someday, Ben Sasse of Nebraska, introduced Mr. Rubio at the pub on January 27. It didn't take him long to land on the topic of Donald Trump.
"Right now, we have a front-runner in this race who says sort of strange things," Mr. Sasse said. "We do not need a Republican Barack Obama. We need a Constitutional recovery."
Mr. Rubio's Iowa strategy may be the most sound of all because he has played the expectations game very well. No one forecasts him to win, unlike Mr. Cruz or Mr. Trump. He can finish a strong third and take his campaign to New Hampshire and South Carolina on sound footing.
And if he finishes any higher, suddenly he's the It Boy of the campaign again. After an aide urged the few hundred onlookers to sign commit-to-caucus cards for Mr. Rubio, and Mr. Sasse heaped his praise, the Florida senator entered the bar, standing up on a small stage. Behind him—for effect?—campaign volunteers seemed to be on the phone, dialing voters.
"Our rights come from God. That is our creator who gave us those rights and it's the job of a limited government to protect those rights," Mr. Rubio said, running quickly through his usual pitch. "This is the greatest nation in the history of mankind. Never been a country like this."
But this great nation has a "really bad president."
"And we're gonna change that this year," the senator predicted. "Some people say, 'well, you know, you say he's a bad president because you're a Republican.' No, I say he's a bad president because I'm an American."
A half hour later, Mr. Cruz was going to be in West Des Moines, rallying the troops. I ducked out of Mr. Rubio's event early to see what this Iowa front-runner was all about.
The Cruz Revival
The woman in the Ted Cruz football jersey wanted to make sure I wasn't twisting her words around. I said I would write down what she said.
"I've known Ted since he and [his wife] Heidi were pretty young. He's a phenomenally, incredibly brilliant young man who listens well to people," said Rhonda Lacy, a retired teacher from Midland, Texas, as country music thrummed through the West Des Moines banquet hall. "And what's being said about him being nasty and mean is just not true. When something needs to be done, he'll stand up and do it."
Ted Cruz, reviled by all of his Senate colleagues, listens well?
"He's a great guy. They need to get to know him and not just the little 1o-second soundbites."
The rally, just a 15 minute drive away from Wellman's Pub, had the ambience of a 20th century revival meeting. Ms. Lacey, in her blue and red no. 45 jersey (Mr. Cruz would be our 45th president), sat rapt with the rest of the crowd as a parade of Cruz backers took turns explaining why he was the only Republican you could trust (TrusTED, of course, printed in large letters behind them) and why everyone else would lie to you.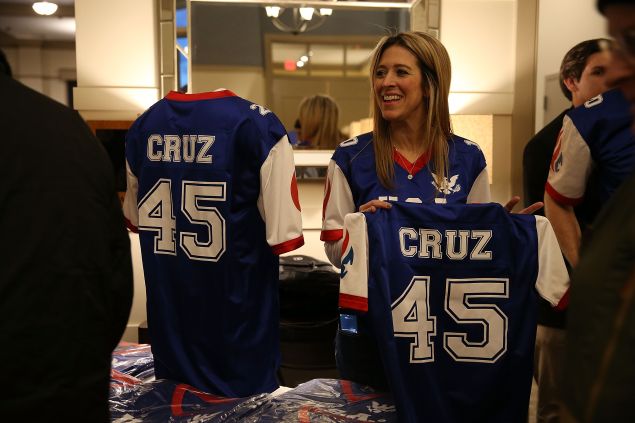 "How great would it be to have a president who cared about life?" asked Matt Schultz, Mr. Cruz's Iowa campaign chair, to shouts of "amen." "How great would it be to have a president who understood that life is a fundamental right given to us by our heavenly father?"
Mr. Schultz said he was driving around Iowa and saw a sign that said "put God back in the government." "And I thought about that. What does that really mean? Let me tell you what it means to me."
"It means," he said, "having a president who's willing to kneel down and ask God for guidance as he's leading our country."
Only Mr. Cruz, as Rick Perry said, knows the concept of "grace."
"He probably gets up every morning and asks God for forgiveness at least a couple of times, even before breakfast. It's my bet," the former Texas governor and presidential candidate said. "I want a man with humility. I want an individual of courage and I want someone who is grateful to God for where they find themselves in life."
The elephant in the room here, as elsewhere, was Mr. Trump. Bob Vander Plaats, the influential Christian leader in Iowa backing Mr. Cruz, thundered against a billionaire who couldn't be trusted to protect the sanctity of life and marriage. Mr. Cruz jabbed "gentle" and "fragile Donald" for wanting to skip a Fox debate.
Mr. Rubio and Mr. Cruz are making separate bets about what it takes to be president. Mr. Rubio wants to appeal to a little bit of every Republican faction, and eventually win over Democrats with a message of generational change. Mr. Cruz wants an American revival of fire-breathing conservatives just like him. He wants to the disciples of Barry Goldwater and Billy Graham to walk hand-in-hand.
"Why is this happening? Why are conservatives coming together like never before?" Mr. Cruz asked the crowd. "Because the stakes, the threats to our country, have never been greater."
"You're Wrong"
Let's at least note that Iowa's presidential track record has plenty of highlights. Barack Obama slayed Hillary Clinton here in 2008, beginning his historic ascent to the White House. Bernie Sanders, who is nothing like a youngish black man but is hoping to bottle that same energy tomorrow, buttered up Iowans with this fact a day later, on January 28.
"Your state of Iowa in terms of this process of overcoming discrimination played a historical role," the Vermont senator told a crowd of students and teachers. "Iowa is in the history book for taking this country forward against discrimination. What do I mean by that? Back in 2008, there was a guy who was running for president and the color of his skin was different than mine."
"And people all over the country were saying, well you know, this guy is black, and America is not ready to elect an African-American in a state that is almost all white," he added. "But you know what Iowa did? Iowa said, we are going to look at ideas and character, not the color of their skin."
Mr. Sanders was at Theodore Roosevelt High School, just off I-235 in Des Moines. The students treated him like the celebrities and pro athletes he likes to dismiss in his stump speeches, the shiny American objects distracting the public from what really matters: healthcare, inequality, the environment et cetera.
Enough has been written about the self-professed socialist's hold on progressives and the young. The Vermont independent is a President Obama who never forgot where he came from. He is the Howard Dean who's going to win. He is Eugene V. Debs back from the grave.
Seeing him in person, no matter your political persuasion, is exciting.
Before Mr. Sanders, 74, took the stage, where students sat in front of a banner that proclaimed a "Future We Can Believe In," a sly nod to Mr. Obama, the actor Justin Long introduced him. Mr. Long, a boyish 37, was a counterargument to Mr. Sanders' thesis that no one cares about politics. Students stared into their phones and texted as Mr. Long hurried through his spiel, something about inauthentic Hollywood and how Mr. Sanders is just like the fellow Brooklynite who impersonates him on Saturday Night Live, Larry David. When Mr. Sanders took over, the kids rose to their feet and cheered. After his opening remarks, his usual mix about the need for universal healthcare and getting money out of politics, he took questions.
Most of the questions were flattering. But one, from a girl who identified herself as a "17-year-old biracial female," questioned the validity of climate change.
"Thank you for the question. You're wrong," Mr. Sanders shot back.
Everyone clapped.
"Thank you very much for asking, because this is the kind of debate we have where millions of people agree with you."
About an hour from then, Mr. Sanders' campaign would release his medical records, and his physician would pronounce him "healthy," despite a history of gout and superficial skin tumors. On stage, he was battling a cold, trying to cough away from the microphone. No one seemed to mind.
"He's fighting for a lot of the younger people in this modern day and age," said Caleb Williams, a 16-year-old junior. "All the candidates, they're trying to get people who are like, all the seniors and the middle-aged people. Bernie Sanders, he's fighting for us young people too by trying to get us into college and set us up for the future, because we are the future."
Left-leaning millennials are staunchly behind Mr. Sanders, but these are usually not the kind of people who are reliable for something as archaic as a caucus.
If Mr. Sanders can somehow reach 2008 levels of turnout, he can defeat Ms. Clinton here, observers say. Give him Iowa and New Hampshire, and we have a race. Take one away, and we're one step closer to another Clinton in the White House.
Realpolitik
Why is Hillary Clinton running for president? It's a question I've asked myself and others in the political game many times.
The answer, at least from what I can tell, seems to be: I have experience, I will protect the Obama legacy, I'm the adult in the room and I'll shatter the glass ceiling.
But this mouthful isn't the sort of narrative that excites, and there's still a sense the Clinton machine is churning due to some unwritten law of politics or inertia. Running for president is about telling a story, and the Clinton story has, at the bare minimum, been told before.
I drove to Newton, a rural town about 35 miles outside of Des Moines, to see and hear Ms. Clinton, still the most likely winner of the Democratic nomination. There was a long line to get into Berg Middle School, where Ms. Clinton would speak, because she is, next to Mr. Trump, the most famous person in this race. After a security pat down, I was in the small basketball gym, where a row of television cameras and desks for reporters were set up behind seats for the general public. There is a lot of machinery to a Clinton event: secret service, swarms of journalists, piped-in Katy Perry and Taylor Swift.
Iowa has not been kind to the Clintons. Up against native son Tom Harkin in 1992, Bill Clinton skipped the state altogether, and watched his wife lose to Mr. Obama in 2008. The dovish, true-heart progressives will always be wary of the triangulating Clinton clan. If Mr. Sanders is to pull off the upset of the century, he'll start here.
Clinton voters, even those in her t-shirts, don't speak out of a love as much as realpolitik. We need a Democrat to win in November, and she's it.
"She's the most qualified person we've had to run for a long time," said Judith Dailey, a Democratic activist in Newton. "I think Hillary is the most electable, she can work across the aisle and she's ready to go. She's not going to have to be introduced."
Mr. Dailey, the former Jasper County chairman, was sitting with Ms. Dailey, his wife. He said their daughter was supporting Bernie Sanders.
"And that's okay," he added.
Ms. Clinton entered the gym to a soundtrack of her own voice. Clips of her career as first lady, senator and secretary of state played over a loudspeaker. There were enough cheers.
The Clinton stump speech is a pile of policy, rather bloodless, but delivered with some oompf. She will always lack the grand sweep; she is an incrementalist at heart. Maybe this will be her undoing. Maybe not.
"I want to defend it and make it better," Ms. Clinton said of Obamacare, noting she's laid out a comprehensive plan to reduce the cost of prescription drugs. "This is where I differ with my friend Senator Sanders. We share the same goal, we want to get to universal coverage, but he wants to start all over again and plunge our country back into a very divisive debate."
It's a lot easier, she argued, "to get from 90 percent to 100 percent coverage than to try to get from 0 to 100 percent coverage."
I left before she was done because I needed to drive back to Des Moines. Mr. Trump was on deck. It was showtime.
Greedy for the United States
Ethan Cromer can't vote for Donald Trump because he is 16-years-old.
He promised, however, to vote for him when he's eventually re-elected president of the United States.
"He appeals to the people, you know, he says what everyone's thinking. Everyone talks about how he's so this and that, but that's what the American people want. He's just so sincere and from the heart," Mr. Cromer, a Nebraska native, told me at the Trump rally on January 28, the night of the Fox debate. "He appeals to the people because that is just what he thinks. He is the people, like, he represents the people and that's why he's going to go all the way."
A little over a week ago, the National Review, the bastion of conservative intellectual thought, had declared all-out war against Mr. Trump, who is viewed by some as a liberal in Republican's clothing. Mr. Cromer, a former Rand Paul backer, sniffed at this.
"He's not a populist like the National Review said. Who even is the National Review? No one knows."
Despite predictions to the contrary from Mr. Bush and some members of the press, Mr. Trump skipped the final Fox debate before the caucuses, and we were all left to wonder whether this would somehow backfire on him.
Like everything else he's said and done in this race, it didn't seem to.
I had never attended a Donald Trump rally before, and I imagine no presidential candidate for the rest of our democratic existence will hold something quite like it. Hours before he was set to lead a fundraiser for veterans at Drake University's Sheslow Auditorium, a two-mile walk from the Iowa Events Center where the other Republicans would thrash at each other without him, hundreds of people lined up to get in. The journalists, standing in their own line not too far off, queued up in their own impressive numbers.
It had the feel of an apocalyptic carnival. What was inside, a chained-up King Kong ready to break from its shackles and smash us? A French journalist standing behind me wondered how this country could elect Donald Trump president.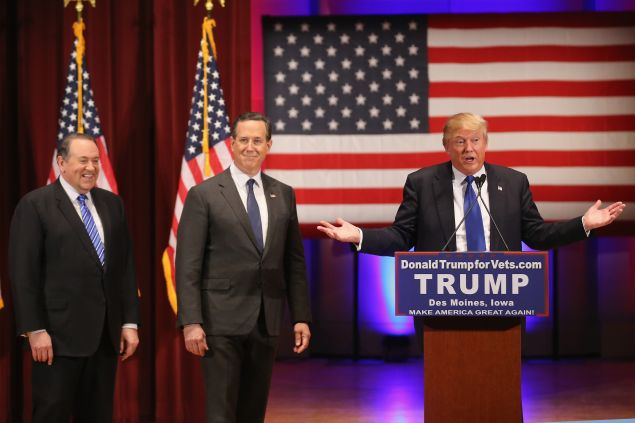 Like Ms. Clinton, Mr. Trump has secret service protection, so getting inside took about a half hour. A staffer directed me upstairs, to a filing room where reporters were supposed to watch Mr. Trump on a screen. I didn't come to Iowa to again see Mr. Trump on TV, so I sneaked downstairs and sat among the Trump faithful in the auditorium.
There I met Mr. Cromer and another Trump backer wearing a Trump sweatshirt and red Trump beanie, Rod Treimer, a farmer from Durant, Iowa.
"I think Rubio will change his mind on anything and Cruz will do the same thing based on what anyone wants to hear," Mr. Treimer said. "Economics is everything. Everything Trump knows and understands, not only about what he's told us, but a hell of a lot of what he's not told us, is about that. I mean, he's already told us about the manipulation of the yen and our currencies and everything about money that's held off shore, but there's so much more he doesn't have time, or we don't have the understanding of, that he knows of economics. We have to be educated through him."
What else is left to say about Mr. Trump? If he storms through Iowa and New Hampshire, as unreliable but reliably consistent polls say, he is on his way to becoming the Republican nominee and possibly our 45th president. This is a scenario once unfathomable, because no one like him has ever captured the nomination in either party.
In person, it's clear why Mr. Trump, in his own parlance, is winning—at least at building expectations. He is the consummate showman, the ringmaster in the big top of life itself. At the Drake University event, where he managed to somehow occupy the high ground in his feud with Roger Ailes while relentlessly promoting himself, he threw haymakers at his usual targets—Jeb Bush, liberal protesters, the media—and drew plenty of belly laughs, like a character actor in the vein of the old Stephen Colbert or Andy Kaufman.
"Is it for me personally a good thing, a bad thing, will I get more votes, will I get less votes? Nobody knows," Mr. Trump said of his decision to skip the debate, his shoulders dramatically shrugging. "Who the hell knows?"
Mr. Trump represents an intriguing duality. He insults, berates, and belittles, rubbing his success in your face. He has alienated Latinos and Muslims. After protesters interrupted him, shouting "Trump wants war," he bragged that cameras never panned to them.
"I love the protesters in the big arenas because the cameras never move. They're always on my face," he told the crowd. "All the other politicians no one cares, no one's covering them."
But he's also a champion of those he seemingly condescends to. He may be a bully, but he is their bully, a moneyed champion of an underclass wanting once again, in this still-frail economic recovery, to punch above its weight.
"You have to stick up for your rights. When you're treated badly, you have to stick up for your rights," Mr. Trump said, referring to his belief that Fox's Megyn Kelly never gave him a fair shake. "We have to stick up for ourselves as people and we have to stick up for our country if we're being mistreated." (Never mind this was a feud between a multibillion dollar corporation and a billionaire.)
He is a billionaire, he said, so he can't be bought. He's played the game, so he won't get played. The veterans, he reminded us, are truly courageous, though he is "financially courageous." If you let a few smart rich people solve your problems, you can raise $6 million for the veterans, including a cool half million from Carl Icahn.
"My whole life I've been greedy, greedy, greedy, I've grabbed all the money I can get, I'm so greedy but now I want to be greedy for the United States," he said to a wall of applause.
After long doubting his electoral strength, and maybe beginning to doubt my doubts, I'm starting to think that Mr. Trump, for his many blemishes, is charting a new course for the Republican Party, one that may have its genesis in Iowa. A recent piece in RealClearPolitics argued Mr. Trump, in his gleeful defiance of GOP orthodoxies, represents a blue collar, white and nativist insurgency that saw life in the candidacies of Pat Buchanan and Mr. Santorum, the former Pennsylvania senator, but was eventually crushed by a party establishment wedded to supply-side economics. This energy has now found its avatar in Mr. Trump, and perhaps it's ready to explode.
So it was apropos that Mr. Santorum and Mr. Huckabee sidled onto the stage with Mr. Trump on that surreal Thursday night. Here stood a potential future of the Republican Party in Iowa, a little messy laboratory of democracy. The three were nominal rivals, but they all seemed to understand they were united in the cause of redefining what their party will stand for in the coming years.
Or not. Is this a bubble waiting to spectacularly burst or, apologies to Mr. Sanders, a true political revolution? Should we just crown him President Trump?
As Mr. Trump himself put it, who the hell knows?
Disclosure: Donald Trump is the father-in-law of Jared Kushner, the publisher of Observer Media.