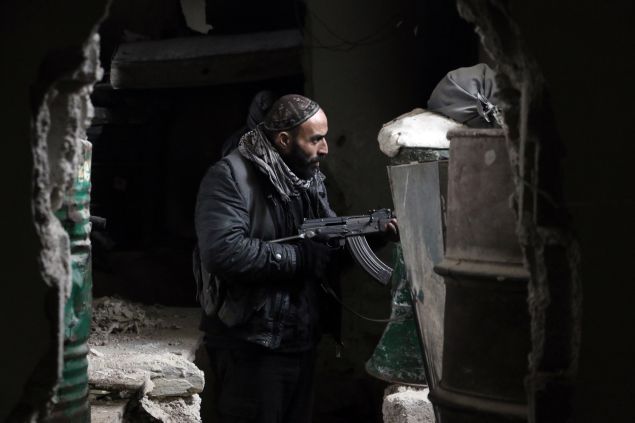 The Islamic State in the Levant's (ISIL) latest fatwas ought to enrage lefty American academics who claim to battle rape culture. Likewise, U.S. grievance industry tycoons like Al Sharpton should take to the streets and demand the head of ISIL slaver-in-chief Caliph Abu Bakr al-Baghdadi—at least his figurative noggin.
ISIL's sex and slave fatwas aren't the two hundred year old screed of a dead white European heterosexist male. They are 21st century edicts, and since they are blessed by the caliphate, it's fair to call them state-sponsored. 
The fatwas provide observant ISIL fighters and beheaders with spiritually-assessed instruction on taking slaves and sexually exploiting the enslaved. (Trigger warning to radical US campus feminists: affirmative consent of the slave is not required.) ISIL holy warriors also receive guidance on dividing other spoils of war plundered from a conquered territtory and its conquered people.
Yes, conquered. As in defeated, occupied and subjugated.
Conquest may strike media and academic elites as an archaic concept. It isn't. Conquest is essential to the declared goals of several violent Islamist organizations, including Al Qaeda.
In the 21st century plunder from conquest still matters.
ISIL's commandante clerics live to conquer. The conquest of territory—the Caliphate—distinguishes ISIL from Al Qaeda and other vicious also rans. As Abu Bakr sees it, ISIL's Syria-Iraq caliphate and Libyan, Sinai and Yemeni provinces are 21st century extensions of Islam's once glorious history of military conquest. Plus conquest draws recruits. Take note alienated young Muslim men who can't get chicks: for victorious warriors, slaves are Caliph-approved rewards. 
Islam is not the only religion to convert by the sword, by no means, but the sword was absolutely essential to the survival of Mohammed and earliest followers as they struggled with Arabian rivals.
The Arabian victories honed the military skills of the army that produced the great Muslim military breakout which began in 632 AD after Mohammed's death. Muslim forces ultimately conquered (that word) vast territories on three continents, extending from India to northern Spain.
The astonishing western advance took Muslim armies across North Africa then north to Europe. In 732 AD at Tours, Charles Martel's Frankish troops defeated a probe launched by the Umayyad Caliphate and led by its Governor-General of al-Andalus (Musliim Spain). Defeat by infidels, however, was rare. Muslim commanders believed that the land of the Franks would eventually accept Islam, or succumb to it.
Will 21st century France finally succumb? Charles Martel, meet Charlie Hebdo. ISIL thinks it's a long game.
Looting Byzantine cities in the Levant, sacking Persian provinces and plundering in general gave poor 7th century Muslim tribesmen sudden wealth. Newly conquered dominions also provided vast populations ripe for conversion—or enslavement. In raw 21st century parlance, a conquering 7th or 8th century Muslim warrior had access to cash and chicks, top notch payoffs for helping his Caliph bring God to the benighted infidel world.
In the 21st century plunder from conquest still matters. Fatwas and other information seized in Syria by US special operations forces (the raid occurred in May 2014) indicate ISIL has a a bureaucratic bent. Reuters reported that ISIL administrators manage revenue streams from "pillaged oil and antiquities."
A special ISIL government ministry handles slaves and other "war spoils." Campus feminists, grievance industry magnates and jaded media elites take note: the enslavement and mass rape of Yazidi women after ISIL tool the Iraqi Yazidi city of Sinjar was no one-off war crime, it is ISIL policy, rooted in what its evil leaders regard as glorious history.