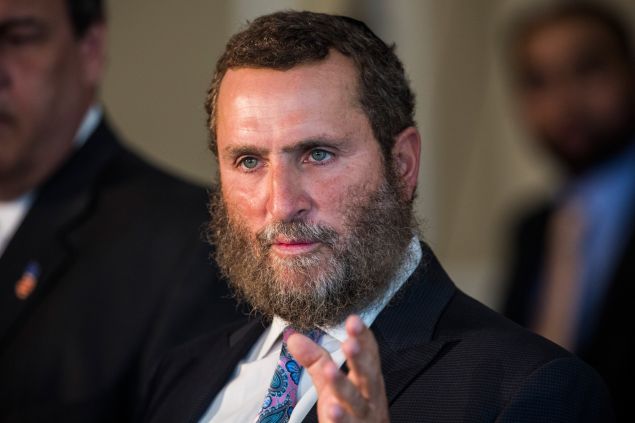 A spat that has developed between author and Rabbi Shmuley Boteach and writer and Israel critic Max Blumenthal took a more serious turn yesterday when the latter, the son of Hillary Clinton advisor Sidney Blumenthal, successfully pressured the fundraising platform GoFundMe into removing an effort by the former to raise money in support of pro-Israel newspaper advertisements, the Observer has learned.
After numerous critiques of his writing's allegedly anti-Semitic and anti-Israel views have appeared in a variety of media outlets over the years, it emerged from the dumping of Ms. Clinton's communications via her use of a private server while secretary of state that Mr. Blumenthal's writings had been read by presidential candidate Hillary Clinton.
Mr. Boteach has accused Ms. Clinton of taking advice from Mr. Blumenthal, the son of longtime Clinton advisor Sidney Blumenthal. In the recently released emails from Ms. Clinton's private servers, Blumenthal père sent his son's writings to the then-secretary of state, eliciting mainly positive responses.
A representative of Ms. Clinton's presidential campaign did not respond to a request for comment by press time.
Mr. Blumenthal's writings have been repeatedly criticized for being anti-Israeli—and even anti-Semitic. In a column published in The Huffington Post last week, Rabbi Boteach described Mr. Blumenthal's work as "crackpot anti-Israel theories," citing numerous critiques of his work from outlets including The Nation and Forward. Speaking to the Observer, Rabbi Boteach called Mr. Blumenthal's writings "disgusting, vile, stomach-turning, fraudulent, libelous accusations about the Jewish state that are utterly reprehensible and sickening."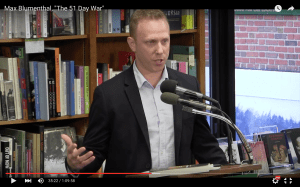 Mr. Blumenthal's public appearances have also drawn controversy. The notably anti-Israel German political party Die Linke (literally "The Left") cancelled an event at which Mr. Blumenthal was expected to speak, citing concerns about his views on the Jewish state.
"You're talking about the deranged rants of an extreme Israel hater who believes that Israel has no right to exist and that it should be dismantled," Rabbi Boteach, who writes often for the Observer, told this newspaper in an interview. "The secretary of state of the United States is getting advice from someone who believes that the Jews are Nazis? That is the craziest thing I have read in a long, long time."
Now, the crowd funding website GoFundMe has pulled from its website a campaign organized by Mr. Boteach to place an advertisement in The New York Times discussing the connection between Ms. Clinton and Mr. Blumenthal.
In a message to Mr. Boteach, a GoFundMe agent known as "Laura" informed the rabbi that his campaign would be taken down, citing unspecified "inflammatory or accusatory language" and "fraudulent, misleading, inaccurate or dishonest statements." Mr. Boteach told the Observer that he believes Mr. Blumenthal contacted GoFundMe, just as Mr. Blumenthal had contacted the Huffington Post. He also noted that the GoFundMe site had not mentioned Mr. Blumenthal or the content of the proposed advertisement.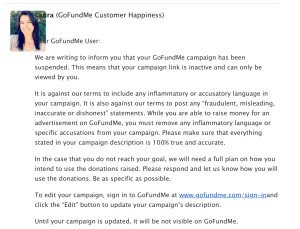 "It displays deep prejudice and bias on the part of GoFundMe, and it will undermine their credibility as a fair and balanced platform," Mr. Boteach said.
At the time of publication, Mr. Boteach had not received any communications from GoFundMe in response to an appeal that he sent to the company, claiming that the complaints cited in the email from "Laura" were not accurate.
"There was no language that could be inflammatory and they didn't cite any, they didn't give us an example of what they meant," he said.
Representatives of GoFundMe did not respond to a request seeking comment, despite a message on their webpage saying that most press inquiries would be answered within two hours. (They had over 20 hours to respond.)
GoFundMe has drawn criticism in the past for hosting fundraisers for an Indiana pizzeria that refused to serve gay or lesbian customers and Officer Darren Wilson, a Ferguson, Mo. police officer accused of killing the unarmed teen Michael Brown. The website has also refused to host fundraisers for abortion-related expenses. GoFundMe has even been called "the bigot's platform of choice."
"GoFundMe immediately capitulated to this Israel hatred, and it's very disturbing," Mr. Boteach said. "GoFundMe at this point really needs to give us an explanation before this escalates, because if they don't restore our page, we are going to escalate this situation."
Although Mr. Blumenthal did not respond to repeated requests seeking comment, a previously unpublished email he authored to Ryan Grim, the Huffington Post's Washington bureau chief, sheds some light on his responses to Rabbi Boteach. The column, Mr. Blumenthal wrote, demonstrated "malice and reckless disregard for facts that amounts to de facto libel."
"He clearly is a man with no heart, no soul, and no morality, but the constitution does not demand that people have soulfulness or humanity."
Mr. Blumenthal laid out numerous critiques of Mr. Boteach's column in his email, taking issue with the rabbi's characterization that Mr. Blumenthal's 2013 book Goliath: Life and Loathing in Greater Israel was "widely panned," claiming that he had not compared Jews to the Nazis, arguing that the book was not praised by white supremacist leader and former Louisiana Republican gubernatorial candidate David Duke and that he had not called for many Israeli Jews to be cleared from the Middle East to make way for a proposed Palestinian state.
Goliath was described by Eric Alterman—himself a critic of many Israeli policies—as "a propaganda tract" that "could have been published by the Hamas Book-of-the-Month Club (if it existed) without a single word change once it's translated into Arabic." Mr. Alterman also wrote that Goliath's "implicit equation of Israel with Nazis is also particularly distasteful to any fair-minded individual."
However, noted journalists including Glenn Greenwald have praised the book, calling it "eye-opening and stunningly insightful."
Mr. Grim then forwarded the email to Mr. Boteach and asked for references for his claims that had led to disagreement. In a response to Mr. Grim, Mr. Boteach cited work by J.J. Goldberg that discussed Mr. Blumenthal's 2013 appearance at the University of Pennsylvania, in which he called Zionism "an absolutely failed project" and stated that Israeli Jews must become "indigenized… and become a part of the Arab world" if they are to be allowed to remain in the Middle East.
Mr. Boteach's response formed the basis of a column in the Observer, published on Monday.
Mr. Boteach also conceded in his response that while Mr. Duke had not himself praised the book, he had implicitly praised it by allowing a positive review to be broadcast on a website he controls.
Presumably satisfied with Mr. Boteach's responses, the Huffington Post left the column on its website.
Mr. Boteach also criticized Mr. Blumenthal's techniques for responding to his post on the Huffington Post and the GoFundMe campaign, claiming that Mr. Blumenthal was attempting to "censor" opposing views rather than publicly responding.
"He reacted by writing to the Huffington Post to try to censor me, repudiating the First Amendment, and giving veiled threats to the Huffington Post of a libel lawsuit, and claiming that what I had written was fraudulent and misinformation and a pack of lies, he said all this," Rabbi Boteach said. "I have no problem with them running those views as long as we're allowed to counter them. That's what the First Amendment is all about. Mr. Blumenthal has a right to voice his disgusting, biased, anti-Semitic drivel. The Constitution gives him that right. He can call Jews Nazis all he wants. He clearly is a man with no heart, no soul, and no morality, but the constitution does not demand that people have soulfulness or humanity."
There has thus far been no public response from GoFundMe, Mr. Blumenthal or the Clinton campaign to any of Mr. Boteach's allegations. The rabbi said he will continue trying to place the advertisement tying Mr. Blumenthal to Clinton in the pages of The New York Times, possibly with funds acquired from individual donors rather than through GoFundMe, although the exact method is yet to be determined. He said he has had no direct contact with the Clinton campaign.