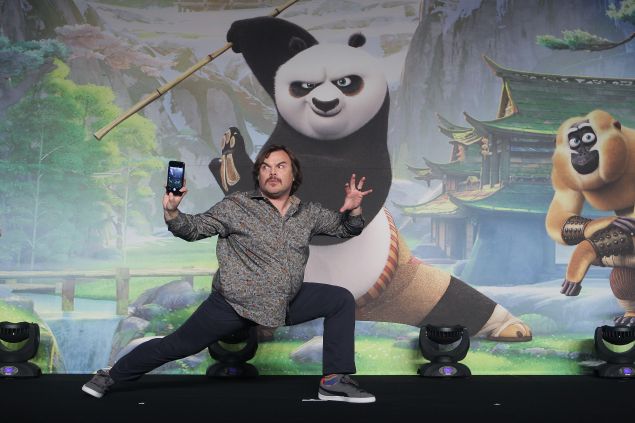 Six years ago, when Jack Black first voiced Po, the lovable, kick ass lead in Kung Fu Panda, he was in a very different place to the position he finds himself in now; both personally and professionally.
He was, undoubtedly, already a Hollywood success story: following his breakthrough as the sneering, obnoxious yet strangely likable record shop attendant in the John Cusack-starring High Fidelity, he was in demand to such an extent that his mischievous face was inescapable. Lead role after lead role ensued as he landed parts that were not only sought after, but seemingly designed with Mr. Black's personality in mind. Whether as the frustrated rocker teaching children the joys of rock'n'roll (School of Rock), the Gwyneth Paltrow-fixated superficial jock (Shallow Hal) or Will Ferrell's burrito nemesis (Anchorman), Mr. Black appeared from the outset to be having his cake and eating it. All the while, his comedy band Tenacious D had developed a cult fan following from those with an appreciation of 70's rawk riffs and frat boy gags.
But just as he was in danger of becoming typecast as Hollywood's bundle of furious fun—complete with an inimitable arched eyebrow—not only did Po hand him the chance to further his range, but his personal life changed his perspective. When it was announced in November 2005 that he had joined the Kung Fu Panda cast, Mr. Black had yet to start a family—by the time it was released, he was wedded to musician Tanya Haden and had two children: Sammy and Thomas (now 9 and 7-years-old respectively).
'The strength of a child is that they have this love and passion for whatever they're interested in. You don't want to lose that part of yourself—the kid that just wants to play and do things because they're fun.'
These simultaneous events were a significant turning point for Mr. Black. He lessened his workload—2011's Bernie aside, his immediately subsequent forays into movies were sporadic—in order to spend time with his new family, but also to take stock and evaluate. He began to choose his projects with more care: out went frat-boy comedy, and in came more measured roles including one in The Brink, a fine TV comedy-drama.
Yet there is something about the simple, silly joy of Kung Fu Panda which the actor finds irresistible. The $1 billion franchise has released its third installment, with Mr. Black delighted to be back on board once again.
"I guess he just keeps me in touch with my inner child," he says of Po, laughing heartily. "Oh God, that sounds so dorky! But he's like a younger version of me: naïve in a way, but also the strength of a child is that they have this love and passion for whatever they're interested in—and in this case Kung-Fu. Just playing him reminds me that that's what it's all about. You don't want to lose that part of yourself. The kid that just wants to play and do things because they're fun, because when you get older you can easily lose that."
Mr. Black is enthused—it is his default setting, after all—that there is "personal growth" for Po in the new film. "He's becoming an adult, he's growing up. He goes from being the student to the teacher – and he has to. If he doesn't he's going to die! The stakes are very high!" There is also a love interest—"it's inevitable when he meets a big village full of pandas—the first thing he's going to look for is a girl!"—as well as a storyline concerning Po's parentage.
Resembling his most famous personas—the funny man, minus the fury—he is always convivial company, but also a pro at batting away questions he'd rather not answer, or at the very least disarming them with humor.
"He does have father issues. He meets his biological father who he thought was dead and he also finds out that there's a whole village of friends and family that he has never met before that have a profound effect on him. The dynamic between his biological father and his adopted father is very spicy, there's a lot of friction and comedy there—because they're fighting over who's the real father!"
Has his own fatherhood changed his perspective on the Kung Fu Panda films?
"It didn't really change my approach to the performance," he says, "but it did change some things in my life and I definitely am always looking for ways to get them involved. My oldest boy Sammy got to play one of the bunny rabbits in this movie so he's really stoked about it. We had a little preview just for the boys and they got to invite all the other kids at their pre-school, about 20 kids. It's a fun thing to share with them."
Mr. Black's own childhood could not be further from the pleasant environment he provides for his own children. His scientist parents divorced when he was 10, while his older brother Howard died of AIDS in 1989, sending him spiraling into hard drug abuse while still at school.
He overcame his demons, but as a result, as anyone who has interviewed Mr. Black, or indeed as anyone who has seen him in full on promo mode, can attest, he is not the easiest man to extract a straight answer from. Closely resembling his most famous on screen personas—essentially the funny man, minus much of the scathing fury—he is always convivial company, but also a pro at batting away questions he'd rather not answer, or at the very least disarming them with humor.
So it means he will talk in animated fashion about his favorite things, be it food—"the best meal is a cheeseburger. It's the perfect sandwich, it's the only real American contribution to world cuisine"—or his beloved band, The Pixies—"Frank Black is a hero and he is like the Kung Fu Panda of rock because he is big and fat, but he's also very relaxed and he's very talented." But when he's asked if he fears his children could inherit his rebellious streak, he laughs it off. "Oh man, I'm in trouble! Knock on wood. I hope they're not going to be like I was but, I know they're probably going to be. We'll see."
The cartoonish side Mr. Black may suggest he is, to use his own vernacular, a constant rocking influence in his children's lives, but he insists that isn't the case. "I can be strict in terms of schedules. I like them to get to bed on time so they can get up in time and get to school on time. I like them to do the things they're supposed to—just to keep them on schedule with the rest of the kids in their school. I don't want them to fall behind. So I'm not the party dad! I'm not the rock 'n' roll dad that everybody wants me to be all the time!" He grins cheekily. "Ok, sometimes…"
But the actor does admit that raising a family is harder now that is juggling more projects—he recently worked on live action comedy horror Goosebumps—a reboot of the phenomenally successful 90s novels—as well as Kung Fu Panda, The Brink and of course, Tenacious D.
"Working with my band, we have this festival that we put on every year with music and comedy. But doing all these movies and raising the boys, I'm going a little bit crazy to be honest with you. It's a little too much. When I look at my Google calendar, I look for the next time there's nothing, which will be the time I will be in my little oasis of relaxation."
And if the calendar doesn't allow it, sometimes he'll make the time himself.
"Last night I was going to see a screening of Michael Moore's new documentary about invading other countries and who are we going to invade next; it sounds amazing, but then I was thinking as I was driving over there 'I am about to go promoting Goosebumps and then Kung Fu Panda and then I have got the Tenacious D and this other thing, and I was like, I would just like to go home and put my boys to bed, why am I going out to a movie?' And I just turned the car, did a U-Turn and got back and talked to the boys about their day at school. They just started school, they are a little stressed, so I talked to them for the few minutes at the end of the day and just talking to them, that's really what gives me the joy." He grins that famous grin again. "Although I do think, 'fuck, I wonder if that movie is amazing? It will have to wait.' I will watch it anyway, but like, Michael Moore was probably there, so I could have met him. So it was a tough decision, but I chose my boys."
Michael Moore, FOMO, Goosebumps and parenting dilemmas; welcome to the very 2016 existence of Jack Black: funnyman, family man and kick ass panda.