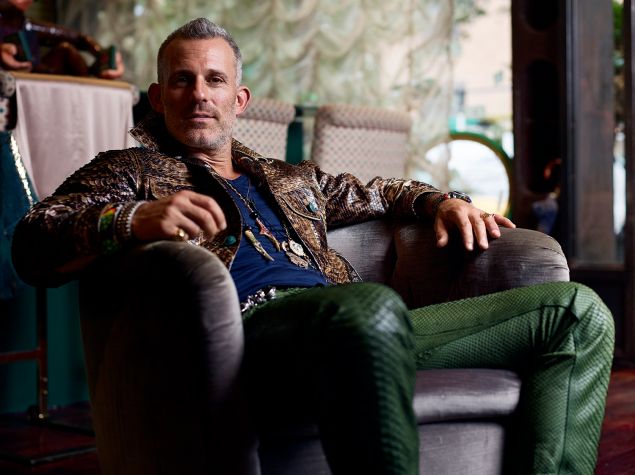 If an old school prepster, his son and an oil trading friend walk into a Nolita men's store and all emerge with something they want, they've likely happened upon Jay Kos' Mott Street shop. With everything from knit blazers to leather jeans and the most precisely cut mink coats, that at a glance have the visual weight of a sport coat and are all handmade, the outlet is a veritable toolbox for the world's most stylish men — Diddy and Andre 3000 are amongst them.
"I'm not selling style," Mr. Kos said in an interview at his green wallpapered boutique. In addition to being the founder of his own eponymous brand and accompanying store, the creative has previously served as a contributor for Observer. "People come to me to express their own style but you can't come into my store and purchase style."
That statement changes your view of the boutique. When one sees an armoire of coats with details like astrakhan-fur collars alongside luggage sets made of stingray, cowboy boots done in collaboration with Lucchese and distressed leather jeans, it's easy to try to style them all together. Sure, the multicolored, woven blazer could go with the burgundy leather jeans if that's your take. Or you could wear a head-to-toe print look with the blazer, snap button shirt and trouser he has available for purchase.
"I don't want a bunch of Jay Kos robots walking out of my shop," he firmly states.
The New Jersey-raised designer started his shop back in 1996. After being raised in the Stepford Wives-like trance of suburbia and getting his first taste of retail by tracking down a wholesaler who sold the wares of Ralph Lauren and J. Crew at flea markets, the Lexington Avenue shop was a bold step.
"I was the first person really doing purple, pink, really bold colored corduroys when we first opened uptown," Mr. Kos reminisced. He closed that location in 2011 in favor of this new one in Soho. "People thought I was nuts. But the prepsters on the Upper East Side were used to it from the old days and the Italians who were visiting were used to it because that's how they dressed in Italy."
"People who were walking by my windows were saying 'Who wears pink pants?'" Mr. Kos continued. "Now even J. Crew even does them." The creative went on to point to a similar happening with leather jeans, which he's been doing for about eight years and can now be snapped up in various iterations at most trendy retail outlets, plus higher end labels like Chanel and Ralph Lauren.
In our extended conversation, Mr. Kos used the word fashion sparingly. When he does bring it up, he thinks of it in terms of "them" instead of "us."
"[What I do] isn't the same as what I see with Pitti Uomo, with people walking around like peacocks," Mr Kos said. "With Pitti and fashion blogs it's a lot of people being dressed for the sake of being dressed; to me that is not style."
Instead of fashion, Mr. Kos devotees come to the brand for the fit, which the owner is neurotic about. For 20 years the label's suit jacket has been the same: natural shoulder, high arm hole, either half lined or unlined. The resulting blazers fit like a second skin and can prove to be an imposing silhouette when worn by toned types like Mr. Kos himself.
The father of three expects the leisure suit to go the way of those colorful cords and leather jean trends he hopped on before everyone else.
"The idea of being constricted in clothes is done," he said thumbing through racks for an example. "My trainer is into mixed martial arts and if he doesn't feel he can kick someone in what he's wearing, he's not going to wear it." While the designer doesn't exactly approve of the Lululemon approach to dressing, the same active function appears in the comfort of a tweed suit he's designed with a slightly roomy leg for movement and jogger-like hems.
The next project for Mr. Kos is bringing his spring collection to the floor with its Palm Beach-colored suiting and 30 hand painted, sport coats that, much like tuxedo shirts, have lapels painted on. By the end of spring, the brand hopes to launch its first fragrance and eventually open a location in Los Angeles. But as for whether Jay Kos is looking to get bought out, appointed to some legacy label or delve into a diffusion line, the designer says no.
"Right now, I'm selling to the superpowers of the world and I'd like to sell to the aspirational as well," Mr. Kos paused. "But I'm not going to go the corporate route."