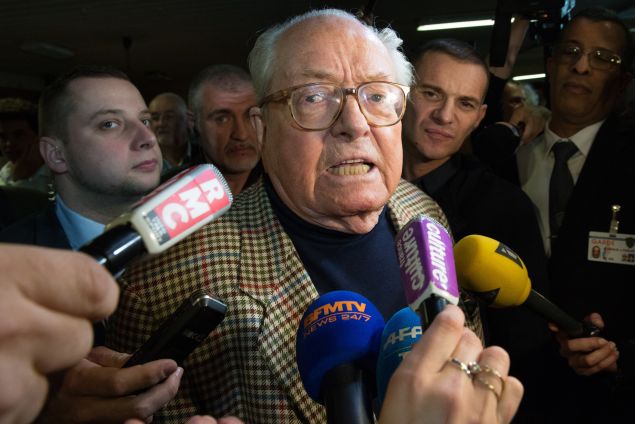 Politicians have long known to beware the Ides of March, but what of… the selfies of December? Right-wing French politician Jean-Marie Le Pen is suing Madonna's ex-boyfriend French dancer Brahim Zaibat, 29, for taking a selfie featuring the dozing Mr. Le Pen a day before the second round of voting in France's regional elections.
Mr. Le Pen was the leader of the National Front party he founded that has been described as "neo-fascist"—until 2011, when he was succeeded by his daughter, Marine Le Pen. The elder Le Pen was ejected from the National Front in August as part of his daughter's efforts to distance the party from her father's reputation as a xenophobe and Holocaust denier.
Still, Mr. Le Pen seems to bear some loyalty to the party he created. His suit against Mr. Zaibat alleges that the selfie, posted on Dec. 12 with the caption "knockout the [National Front] tomorrow by going to vote. To preserve our fraternal France," hurt the National Front's chances in the following day's election.  
To date, the selfie has been shared almost 33,000 times on Facebook and has garnered over 195,000 likes.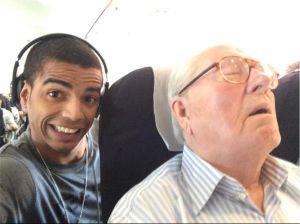 The party under Ms. Le Pen had grown in popularity and was widely expected to win the presidencies of at least two of France's regions following its incredibly strong showing in the first round of voting on Dec. 6, coming in first in six of France's 13 regions. Ms. Le Pen was widely believed to be all but unbeatable in the northern region of Nord-Pas-de-Calais-Picardy, while her niece, 26-year-old Marion Maréchal-Le Pen, was expected to waltz to victory in Provence-Alpes-Côte d'Azur on France's southern coast.
However, the Le Pens and their political organization suffered a major setback when candidates of the governing Socialist Party withdrew from close contests in favor of the center-right Republicans, lending their votes to their longtime rivals to combat the National Front. Ultimately, Ms. Le Pen only took in 42 percent of the vote in a head-to-head race.
Mr. Le Pen's lawsuit against Mr. Zaibat argues that, in posting the selfie, Mr. Zaibat violated French privacy laws that would have protected Mr. Le Pen from unwanted photographic documentation while he snoozed on an airplane.
Since France's civil code states that taking an individual's picture without prior permission is prohibited, Mr. Le Pen believes the statute can help him net the $54,248 for which he is suing Mr. Zaibat. However, the code also acknowledges that public figures like Mr. Le Pen—who was defeated in France's 2002 presidential election by Jacques Chirac, who took 82 percent of the vote to Mr. Le Pen's 18 percent—are subject to a greater degree of public interest than others.
The French news website Rue 89 first reported the lawsuit on Sunday.
While Mr. Zaibat and Madonna reportedly broke up in 2013, Mr. Zaibat is not alone in having legal issues with the Le Pen family. The younger Ms. Le Pen sued Madonna in 2012 for "public insult" after Madonna utilized an image of Ms. Le Pen with a swastika superimposed over her forehead as part of her MDNA tour.
After Madonna backed down and replaced the swastika with a question mark in an appearance in Nice—where the National Front is highly popular—major French newspapers accused her of "appeasement," referencing the placating doctrine employed by oft-ridiculed French, British and American politicians prior to World War II.
The Madonna-Marine Le Pen feud was not over yet, however. Last year, Madonna criticized Ms. Le Pen once again, calling her a "fascist" and likening her policies to those of Nazi Germany. "The level of intolerance is so enormous it's scary," Madonna said on the Europe 1 radio program.
The National Front promptly announced its intention to once again sue the singer before Madonna reached out to Ms. Le Pen, offering to settle their differences over drinks, an invitation Ms. Le Pen ultimately accepted.