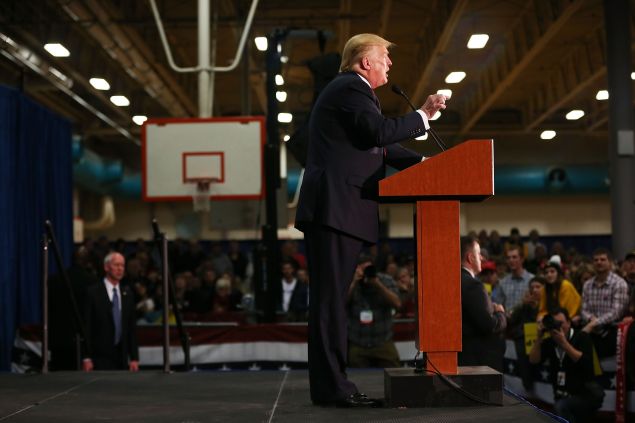 DES MOINES, IOWA—Continuing to lambaste Donald Trump, the Republican front-runner, Jeb Bush said this afternoon that he had bet $20 Mr. Trump would show up at the televised debate he said he was boycotting tomorrow.
Mr. Bush, mocking "poor little Donald," predicted the celebrity billionaire would relent and show up at the GOP debate on Fox, despite his feud with host Megyn Kelly and Roger Ailes, the mastermind of the network. Mr. Trump said he wouldn't be treated "fairly" by Ms. Kelly, and therefore wasn't interested in participating in the last debate before the Iowa caucuses on Monday.
"He'll show. I got a $20 bet on it," Mr. Bush told reporters as he left a question-and-answer at Nationwide Insurance's Civic Action Program.
The former Florida governor, fighting a cold, didn't elaborate as a press aide ushered him out of the venue.
But in response to a question from an employee from Nationwide earlier in the day, Mr. Bush teed off on Mr. Trump, attacking him as a false conservative unfit to lead. While Mr. Trump has led polls in Iowa and nationally, Mr. Bush has struggled to gain traction, despite the tens of millions of dollars his campaign and super PAC has spent on the race.
"He thinks he's not being treated fairly," Mr. Bush said. "Really? Donald Trump's not being treated fairly by the press? He consumes all the press."
Mr. Bush said the billionaire won't be able to deal with the challenges of being president if he can't face a Fox host.
"Look, I admire his entertainment value. He's drawn people towards the party which I admire a lot. Ratings on these debates have been significantly higher," the former governor said, adding that the politically incorrect front-runner makes a "contribution" by speaking his mind.
But, Mr. Bush added, "he's not a conservative and we need a conservative to be nominated for the conservative party because it just doesn't work any other way."
Disclosure: Donald Trump is the father-in-law of Jared Kushner, the publisher of Observer Media.