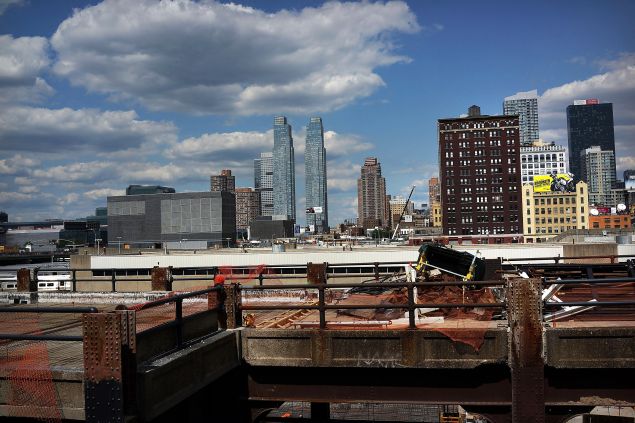 Jeremiah Moss, the pseudonymous blogger, spends a lot of time being disappointed by the city these days. On his website, Vanishing New York, which he updates almost daily, he laments what he sees as the sanitized state of the city, transformed, he says, by the preservationist's bugaboo, hypergentrification.
Mr. Moss has a lot to work with. In his 12 years as mayor, after all, Michael Bloomberg transformed nearly half the city for residential development, and small businesses like the Café Edison in Times Square, which Mr. Moss rallied unsuccessfully to save in the fall of 2014, are shuttering left and right. That experience led Mr. Moss to start #SaveNYC, a grassroots campaign he hopes will spur people to care more about how much the city has changed over the past couple of decades—and to take action about it.
Mr. Moss has been documenting the city's shifting landscape for about 10 years, and now he is putting his thoughts and observations into a book about gentrification in New York, tentatively set to be published by Dey Street in the spring of 2017. The title is, in keeping with Mr. Moss's blunt, irascible persona, Vanishing New York: How a Great City Lost Its Soul.
But don't mistake him for a fatalist. "A lot of people paint me as a pessimist," he says. "But I think that's a misreading of where I'm coming from. I'm a pessimist about the future of New York if we don't do something about it. There are some changes that need to be made, and if they're made, then I'm really hopeful."
Mr. Moss, no slouch when it comes to urban policy, says he's detailing those changes in his as-yet-uncompleted book, which will focus primarily on 21st century New York, with historical asides thrown in for context. A therapist from Massachusetts, Mr. Moss is in his mid-40s and has lived in the East Village for a little more than 20 years, though there aren't really any more details than that about his personal life.
In a recent telephone conversation—he declined to meet in person—we discussed the New York institutions he misses most, how he feels about Mayor Bill de Blasio's first term in office (not so great), and why he thinks Bernie Sanders should run the city.
Does it get depressing constantly writing about how the city ain't what it used to be?
It's incredibly depressing. At this point I'm keeping the blog going, but there are many times I'd like to stop. It takes a lot of time and emotional energy. Most of my righteous indignation is going into the book now, and it takes a lot to keep up your righteous indignation and not collapse in exhaustion. I hope the book is not depressing. I want people to read it. My editor is getting that balance between righteous indignation and sadness. Because we should be angry about what's happening to New York, and I hope to fire people up.
Are there any precedents you're looking to as you work on the book?
My New York bookcase is growing bigger and bigger. I just finished reading The Assassination of New York by Robert Fitch. He wrote this book in the early nineties, and it's about how New York was de-industrialized. He says it's not natural. New York didn't deindustrialize because things changed; it changed because people wanted to get rid of the middle class and put in real estate and finance. I just picked up this book called A City Destroying Itself, by an angry New Yorker named Richard Whalen. I'm attracted to these kinds of cranky characters who are waving their fists.
What bothers you most about change in the city?
What I hear from a lot of people is that New York City is always changing and therefore, what's happening now is what's always happened. It's true that New York is always changing, but what's happening now is really of a different magnitude; it's the changing of an epoch we're witnessing. When you talk to neoliberals, they say gentrification is just natural; it's just market forces doing what they do. But it's absolutely not. It's because of urban policy, and so the way to change it is to change urban policy.
Do you have any prescriptions?
The stuff I've developed through #SaveNYC, like rezoning the city to control the spread of chain businesses. Landlords are kicking out small businesses and jacking up the rents sometimes 8 or 10 times. New York used to have commercial rent control. So is that something we need to bring back? By preserving small businesses, we also preserve the diversity of the streetscape, which is about having a healthy economy.
What's your take on Bill de Blasio?
I've been disappointed, in terms of supporting small businesses, in terms of preserving what's left of what I think of the real New York, which is, of course, up for debate. One of things he promised was that he was going to stop the deal with Fresh Direct. No more corporate welfare—he completely backed off of that. So I don't see him standing up. Who I'd really like for mayor is Bernie Sanders. He's a brooklyn guy. He would be the greatest mayor of New York City since LaGuardia. That's the guy we need, someone who's going to go after Wall Street.
You're a New York transplant, though you've lived here for decades. Do you think that informs your view on the city, for better or for worse?
That informs a lot of writing on New York. While I think there are some natives who are unhappy with the state of the city, the lament of the loss of the city is perhaps more acute for transplants, because it has a lot to do with the idea of what New York should be. New York was always this organized chaos, and when you see people like Bloomberg and Giuliani coming in—they really hated the chaos of the city, and they did everything they could to control it. And that's just not what the city is. The city is wild.
Which New York institutions do you miss the most?
Right now, I'm thinking about Café Edison. I really fought hard for that place, and it was really the experience that made me realize we needed something like #SaveNYC or some coalition of organizations that were going to come together to change policies. This was a beautiful place; the people running it were wonderful; and the atmosphere was so warm. The combination of brusque and warm—that to me is New York. Right now I'd love to be able to go there and get a bowl of matzoh ball soup and sit at those booths and enjoy that atmosphere. I hate that I can't. It makes me sad, and it makes me very angry.