Yes, the world is an insane place right now. Thank God we have Jim Shaw to remind us that it always was.
Religious fanaticism, sexual depravity, rampant greed, outer space fantasies, and conspiracy theories weave their way through and around the artist's paintings, sculptures, drawings, installations and found ephemera, and they have since he began his career in Los Angeles in the 1970s.
But Mr. Shaw, a Cal Arts grad who (along with Mike Kelley) was a forerunner of working with vernacular styles, appropriation and found-object art in America, is not just a prophetic hoarder. He also happens to be a brilliant and hyper-talented craftsman who was long overdue for this show at the New Museum; his first retrospective in New York City.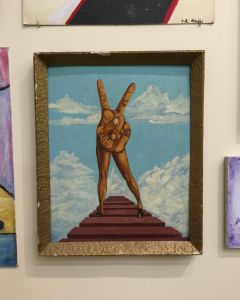 Curated by Massimiliano Gioni, Gary Carrion-Murayari, and with the help of Margot Norton, the show is a stunning three-floor array of curiosities, centered around a sprawling stage-set installation titled Labyrinth: I dreamed I was taller than Jonathan Borofsky, 2009. It's a phantasmic and room-filling tour de force that mixes Depression-era cartoons, Led Zeppelin album art, Italian restaurant faux-fresco painting and more in order to create the most rhythmically pleasing horror vacui of modern Americana you're sure to find.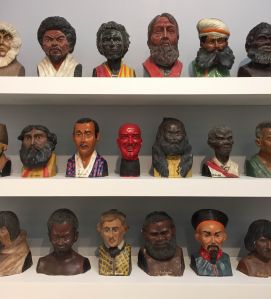 From there you get to browse the disturbed collective psyche of Mr. Shaw's accumulated "Thrift Store Paintings" as well as his eye-opening and ongoing collection of religious and corporate propaganda ephemera, simply called "The Hidden World."
As a finale, Mr. Shaw's meticulous drawings and operatic paintings leave you reeling from the sheer enormity of misbegotten—yet rapturous—images buried deep within the forgotten recesses of our shared American history. It's a trip that's a little bit scary and disconcerting, but wholly captivating.
You have four days left to see it, and if you do, try to find this monkey somewhere in the exhibition. It's utterly emblematic of the ages-old role the artist plays: that of the weary sage who's always dramatizing, embellishing and beautifying the muck of a world we've created for ourselves.