Huge copyright news today: apparently animals do not own the rights to their selfies.
At least that's what San Francisco U.S. District Judge William Orrick ruled this week when he dismissed a case brought by People for the Ethical Treatment of Animals against wildlife photographer David John Slater, reports Courthouse News.
The suit by PETA claimed that Mr. Slater unfairly profited from a crested macaque named Naruto's selfies. The animal took photos with Mr. Slater's camera in 2011, their suit said. PETA claimed that the Copyright Act of 1976 doesn't say animals can't own copyrights.
But at the hearing on Wednesday, Judge Orrick wasn't having any of that.
"If Congress and the president intended to take the extraordinary step of giving animals standing, they would do so plainly," he said. "I don't see that it can be read as broadly as to go beyond humans when I'm interpreting the Act."
PETA's suit indicated that any profits Mr. Slater earned from distributing the selfies should benefit the endangered crested macaque.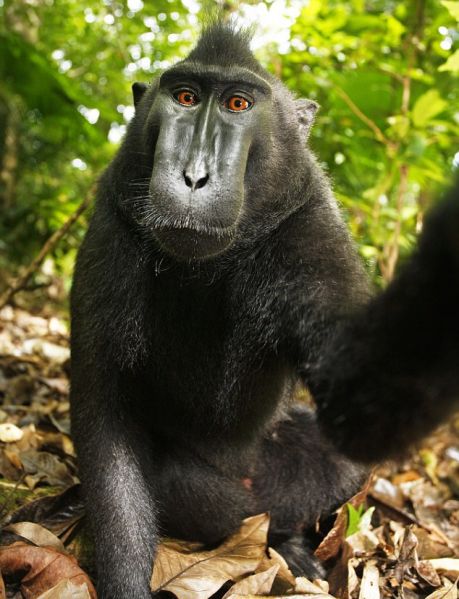 Unhappy with the ruling, PETA's lawyer David Schwarz argued that it was up to the court to decide the authorship of the photos.
"The more important concept here is to make sure there is a statutory framework in which those who are legitimately claimed as authors can seek protection," Mr. Schwarz said.
The claim by PETA—described as "novel" in the motion to dismiss—would have expanded the interpretation of copyright law to allow authorship by species other than humans.
"You are engaged in a sense in an interpretive act," Mr. Schwarz told the judge. "I wouldn't call it a policy act. I would call it giving new life to a statute that's been around for years."
Alas, the judge did not find that the macaque had standing to sue.
Copyright has been a hot button news topic recently, with artist Richard Prince once again making headlines and being sued for copyright infringement. However, Mr. Prince is being sued by a human.
The introduction to the motion to dismiss zeroes in on that seemingly pertinent fact as well, with the first sentence reading merely: "This is a copyright case filed on behalf of a monkey."
Updated: [4:00 p.m.]: The Observer was able to reach Mr. Slater by phone, who said, "The monkey [in the photo] is certainly not Naruto."
Mr. Slater explained that the monkey in the photo was a female, who he calls "Ella" after a young fan who wrote him a moving letter.
"It has always been a female," he said. "Even the president of PETA said it was female."
In an article for The Dodo from August 8, 2014, PETA president Ingrid Newkirk refers to the monkey as a "female crested black macaque."
In the motion to dismiss PETA's case against Mr. Slater the document states, "The Complaint describes Naruto as a six-year old male crested macaque monkey residing on the Tangkoko Reserve on the island of Sulawesi, Indonesia."
However, Mr. Slater told the Observer he "doesn't think Naruto exists at all."
A statement on Mr. Slater's website reads as follows:
Naruto the fraudulent monkey and impersonator of the monkey in my images (Ella) is lucky to be free from jail. Judge Orrick of the San Fransisco federal court allows the fraudster free and his monkey-backers another chance to make a revised claim in order to sue me for copyright infringement and strip me of what little earnings I make from the sale of these images.