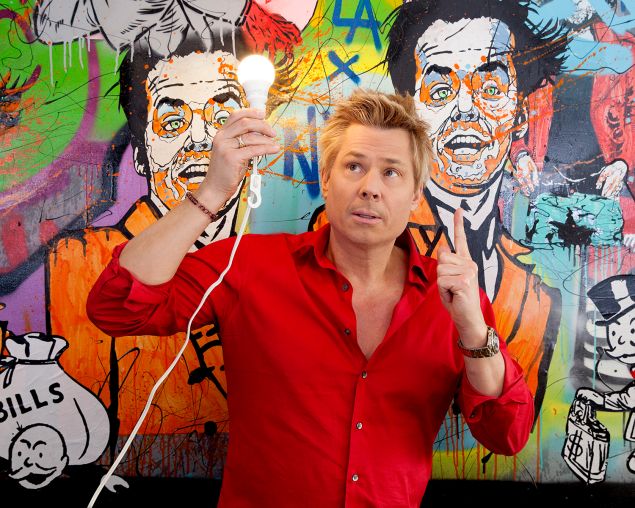 I'm sitting in a small, dark screening room on Canon Drive in Beverly Hills. To my left sits David Nussbaum, senior vice president of sales for Hologram USA, the nation's No. 1—and, it happens, only—distributor of hologram technology. Their CEO is Greek billionaire Coca-Cola heir and Hollywood bad boy Alki David. Directly in front of me are a parade of 3D-rendered performers: Tupac Shakur, Jimmy Kimmel, a T-Rex masquerading as Bernie Sanders and an elephant.
"Wait, can I go on stage?" To my right is Brian "Kato" Kaelin, the houseguest who became a household name during the O.J. Simpson trial in 1994. He's motioning to the stage where the holograms are projected through the floor.
Mr. Nussbaum shakes his head. "It wouldn't look real," he explains. Eventually, Hologram USA hopes to be able to build enough stages that can be designed for human-hologram interaction. But for right now, the result of putting a person on stage with a hologram would just highlight the differences between the flesh and blood person and the projection.
Mr. Kaelin pretends to pout, crossing his arms and slouching in the La-Z-Boy recliners, which furnish what is described several times during my visit as "the ultimate man-cave." At 56, he's got the clean-cut good looks of a Brad Pitt type mixed with a little Steve Zahn; gone is the long, iconic Cali surfer mane that he rocked twenty years ago, when his proximity to the murder of Nicole Brown Simpson and Ronald Goldman on Bundy Street transformed the aspiring actor into an early prototype for the current reality TV celebrity: a man famous—or infamous—simply for being himself.
"O.K.," Mr. Kaelin says, bounding back to his natural state of addled buoyancy. "But how cool would it be if you could get a Kato projection? I could perform all over!" Mr. Kaelin's spitballing here, but it's not that far-fetched. After all, he has 40 acting credits on his IMDB page, which is only trumped by his 56 appearances in his "As Self" section. On January 30, he will be launching a new show called Sports Haters with friend Will Stumpe on Dish Networks. Today, he's working on this hologram venture, which he invested in with Mr. David, who he describes as an "insane billionaire genius."
Mr. Kaelin is an also a shareholder in Mr. David's FilmOn Productions, owned under the umbrella corporation ofAnakando Media Group along with Hologram USA. FilmOn, not coincidentally, is the producer of Sports Haters. And through the help of their portfolio, Mr. Kaelin soon hopes to be back to being a household name…of some kind.
***
I have food poisoning to thank for my meeting  with Kato Kaelin. I found myself stuck indoors watching the screeners of Ryan Murphy's new FX miniseries, The People Versus O.J. Simpson: American Crime Story. (Not to be confused with Mr. Murphy's other FX anthology, American Horror Story, or ABC's American Crime.)
I tweet something about Billy Magnussen, the actor who plays Mr. Kaelin in the series, and am shortly thereafter contacted by an unverified twitter account, claiming to belong to O.J.'s infamous bud. The guy I hope is the actual Mr. Kaelin, and not someone running a parody account, sends me several direct messages about his upcoming projects, including Sports Haters ("Think ESPN Meets Real Time With Bill Maher"), and his boss, Mr. David.
I make plans to meet him the following week in Los Angeles, at the Beverly Hills studio of FilmOn. Fingers crossed. The last message I receive from his account before my plane takes off: "If u can't find me when we meet for coffee, I'll be the shirtless guy sitting at a table."
***
The relationship between Los Angeles and celebrities is no less strange than it was 20 years ago, when the O.J. trial began. The only difference is that today's cultural climate of non-stop reality programming, as well as the number of avenues available for A-Z list celebrities to profit off their infamy is so ubiquitous and pervasive that Mr. Kaelin's comeback seems inevitable instead of tasteless.
In New York, an informal office poll reveals that most employees under 30 just stare blankly at the mention of the name "Kato Kaelin."
Which, depending on how you look at it, could be the greatest blessing—or largest curse—to Mr. Kaelin's attempt at a comeback.
***
Mr. Kaelin met Mr. David through the show Celebrity Boxing, which Mr. Kaelin appeared on.
"He thought I was funny; he said I should come do a show with him," Mr. Kaelin says, leaning forward in the high-tech, aerodynamic chairs in FilmOn's conference room. He ruminates on Mr. David's successful enterprises. "Alki is like….he's not as big as Oprah, but he's getting there."
Mr. David, when asked for comment about Mr. Kaelin, responded in an emailed comment: "After over 100 hours of air time together I still can't believe I'm still working with this guy. How the hell did this happen????"
Mr. Kaelin's friendship with Mr. David has paid off in other projects: 140 episodes of FilmOn Presents Kato Kaelin," a 2012 series on FilmOn, Tailgating with Kato, where he accosts rich Beverly Hills pedestrians, Billy on the Street-style, and something called Eye for an Eye.
"It was a court show where people got revenge," Mr. Kaelin explains about Eye, which was syndicated for L.A. local station KTLA. "For example, a guy parked in the handicap spot, and the judge saw he wasn't handicapped, so the guy agreed to get an epidural to lose all sensation in his legs."
I do not know the appropriate facial reaction to this, especially since its not till I get home and Google the show that I find out that it was—thank god—a fake reality show.
Mr. Kaelin radiates a certain charm, punctuating a lot of sentences with clapping or table slaps or loud laughter. The analogy that comes to mind is "happy as a puppy," an assessment Mr. Kaelin can get behind. "I've been told that all my life," he says, practically bouncing in his seat. "That's why O.J.'s kids named the dog after me!"
Mr. Kaelin is hyper, gregarious and very Los Angeles: a big hugger, with a stand-up's running patter and sense of timing. He does, in fact, perform in comedy clubs, though he's more likely to be found at the Improv in suburban Irvine than the Laugh Factory in West Hollywood.
"L.A. is very tough on me; it's too close to home with the O.J. stuff," he says. "I don't make jokes about [the trial]. l only have this one joke: O.J. Simpson, I haven't seen him in 20 years, he's put on some weight. I remember when it was only the glove that didn't fit."
His greatest strength might be his complete unabashedness. An hour earlier, we had been up on the roof of FilmOn's offices when Mr. Kaelin spied Sylvester Stallone getting into his car, surrounded by a posse. "Up here!" he had yelled, waving his arms. "Creed! It's me, Kato!" Mr. Stallone waved and rode off. "He knows me," Mr. Kaelin said. "We've met."
Later, we go downstairs to where some of FilmOn's clients are having lunch, and Mr. Kaelin grabs the scarf of the restaurant's hostess and begins to perform some prop comedy. She looks terrified and confused, despite Mr. Kaelin shouting, "It's me, Kato!" several times during his routine. Finally, a shift manager comes over to apprise the situation.
"Just go with it," is her verdict, delivered while smiling. The hostess smiles at Mr. Kaelin. We all end up with selfies of the experience.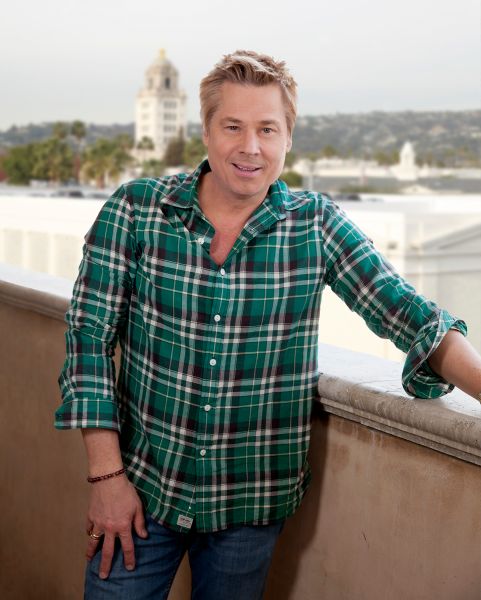 So here's the thing: Mr. Kaelin is pretty funny. He's actually developed a genuine, and hard-won, sense of humor about himself. "I tell audiences to go easy on me," he says, teeing up: "I'm not used to being judged by more than 12 people."
"I would say I've stayed on the same goal," he said when I asked whether he achieved the household name recognition he set out to find in Los Angeles. "Whether or not my blueprint was like, 'O.K., you're going to be famous, but you're going to be famous for a trial of a homicide case.' But like, I've embraced it."
Mr. Kaelin maintains he wasn't the freeloader the press made him out to be, an association that's come to haunt him. "It was just one of those things that someone said once, and then it got repeated and repeated, you know?"
No one can doubt Mr. Kaelin's entrepreneurial spirit now. Not only is he working with Mr. David, he's got his clothing line Slackerwear ("For men who need a little slack"). The line of "couch potato" clothes includes hoodie bathrobes ("with pockets for remotes!") and tees that boast phrases like "No Work Zone" and "Snailed It!"
"HSN…they have no men's clothing," Mr. Kaelin exclaims, practically bouncing in his seat. "There's so, so so much money in it." When I partially agree, he gets so excited that he demands that we fist bump and shows me how to do a "snail bump," which is when you bump fists and then make your index finger wiggle like a snail's antennae.
It's hard not to like Kato Kaelin. Then again, wasn't that kind of the point of him, 20 years ago? Sure, he was a national joke, but he also provided the few moments of levity during an overwrought national drama—Marcia Clark catching him reading a note from his lawyer while pleading the fifth during the Grand Jury testimony; his droll response to Ms. Clark's suggestion that he was hoping his proximity to O.J. would lead to more acting roles: "I don't think we were going for the same parts."
Charming though he is, there's still that tricky concept of branding. While being interviewed, Mr. Kaelin solicited my opinion: he'd been asked to be a guest on an upcoming episode of The View; but didn't know if he should take it. "How does a person, who feels like they've been used by the media for 20 years…how does a person like me take advantage of the media?" He's not speaking rhetorically.
I tell him that this is a tricky question: content is no longer confined to a single outlet or media story; that true crime and reality television and TMZ and "celebrity personalities" are all much more ubiquitous now than they were over two decades ago. That because the barrier of entry is so much higher now than it was when the Bronco chase was on every channel, it will be both harder and easier to make a living off of "being" celebrity personality Kato Kaelin.
"I want people to know that I'm the same, exact person," he tells me. "You know, people took a judgment at…a horrific situation that happened. It's hard to remove from their heads. But now there's a whole new crowd, who might not know that." Or for that matter, who Mr. Kaelin is.
He shakes his head and chuckles ruefully. "It's like, a catch-22."