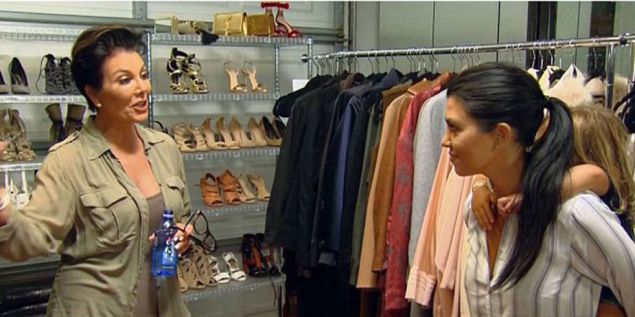 You know that feeling when you're launching your lifestyle app but you're also worried that your sister might be too much of a diva for your husband's fashion show? Turns out the Kardashians are just like us and went through the same thing on last night's episode!
We start off with some typical family discussions– should we buy a private plane from Tyler Perry? How do hoes type when they have such long nails? Apps, apps, apps.
All the sisters are going to New York City to launch their apps, but Kourtney feels left out because her app isn't ready yet. The omnipotent app people just don't "get her." But, uh oh, Khloe and Kim just think Kourtney slacked off!
Kim has this laptop cover that looks like a slab of marble that I'm interested in purchasing.
Next, we get to the B-plot. Kylie is walking in Kanye's fashion show, but Kim thinks she might be too much of a DIVA. Kim mentions this to Kylie and Kylie nods while texting and not making eye contact. I think she gets it!
Next we go to Kris just hanging out in Kim's closet, wearing one of her outfits, leaning into her "cool mom" brand. Kris then explains that Kim hires a body double who puts on a prosthetic ass to try on all her clothes and take pictures in them. Like, same? Why is this significant?
Back to the A-plot, Kourtney now doesn't want to go on the trip to New York. "I'm not going if it's not about me," she declares, which is exactly what I say when I get invited to my friends' weddings.
Kendall walks the Givenchy fashion show and afterward Kim and Kanye chat with Riccardo Tisci. Marina Abramović is also there talking to them. Her face is blurred out, but not effectively because I knew immediately who she was.
Kris gets dinner with her boyfriend, Corey. Corey deserves a Congressional Medal of Honor. He tells Kris she hasn't seen some great movies. Kris says all his movies star Eddie Murphy, while her movies are "classics." If that didn't seem racist enough, she cites "Gone With The Wind" as the first example! Kris scoffs at the idea of watching "Boyz in the Hood," a movie that was nominated for two Oscars and premiered at Cannes. I guess it's Fellini or nothing for her!
The good news is, Kourtney decided to go on the trip to New York! All the siblings are there together. Except he-who-must-not-be-named. He-who-must-not-be-named is gone and we must not speak of him again.
Kim goes to  see Jonathan Cheban (he's riding a hoverboard) and asks him to deliver her pee to the doctor and bring her cronuts. Pregnant Kim is exactly how I would behave while pregnant/just me, regularly.
Unfortunately the masseuse is gone by the time Jonathan gets back AND the cronuts have frosting on them which Kim did not expect! Everything's a mess over here.
Kim continues to be me by wearing a t-shirt and shorts with a fur coat to lunch in the middle of Summer. Kim and Khloe talk through Kylie's professionalism issues. I actually think Kim is right here, Kylie can't bring her entourage everywhere!
Kris is getting lunch with everyone's favorite reality guest star, "the morally corrupt Faye Resnick." Kris tells Faye that Scott is at the house with the kids and doing a pretty good job co-parenting with Kourtney. Faye tries to sell Kris an adjustable bed.
Kim expresses concerns about Kylie's diva behavior again. Kylie says she's always nice to everybody! If I were eighteen year-old Kylie, I would be the most demanding diva on the planet and complain about how I hate everyone in my LiveJournal, so I GET IT.
Kris and Corey visit an artist called MR. BRAINWASH, who seems like a Banksy ripoff. He shows Kris a painting he did of the Kardashian sisters in the style of Renoir and I take back everything I said and immediately want it.
The press conference for the apps goes well! All the siblings are on stage together for the first time. Except for he-who-must-not-be-named. He is gone but he will return one day, more powerful than ever.
Last up, Kanye's fashion show. I'm into the olive drab and baseball caps aesthetic. Kylie is nervous because she doesn't think of herself as a model. I would love to talk out how Kylie sees herself with her.
In the end, the show goes well and Kourtney is happy she went on the trip.
Not much happened this episode even though they covered A LOT of stuff. I still want Kim's phone case with the lights around it to take selfies. If someone could start a Kickstarter for that, I'd appreciate it.