"People don't give up their spaces on Gramercy," broker Jeff Adler informed the Observer. That isn't entirely true—after all, we were standing in the 50 Gramercy Park North condop he has listed with fellow Douglas Elliman broker Howard Margolis—but Mr. Adler's assertion reflects the fact that the sellers do hold something rather special, even in high-end Manhattan real estate: a coveted key to the private park.
The 15th-floor unit, listed for $11.95 million, comes with such privileges, though the sellers themselves won't be losing out. "They have several homes—they actually have two apartments in the building, and they aren't really using it that much, but they're keeping the other one for now," said Mr. Margolis as we passed by a large-scale painting in the living room, which included an image of designer John Galliano atop a horse, looking ready to charge into battle.
"Obviously, it's a New York refrigerator—a $20,000 fridge, with nothing in it," Mr. Adler noted of the empty Sub-Zero. Perhaps the kitchen was used solely to take in the sunken great room's double-height, 15-foot ceilings, though we imagine sitting by the fireplace to be cozier.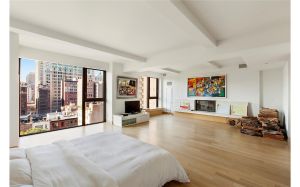 A second fireplace is in the master suite, and though the 3,809-square-foot home was a tad bare in other respects, there was enough firewood piled high to assure one of a warm winter. A shared bathroom connects two more bedrooms.
"You have full access to Gramercy Park Hotel services, the gym—room and maid service. They'll deliver food," Mr. Margolis told us.
The elusive park key didn't seem as high up on the list of amenities. "You never see anyone in the park," Mr. Margolis mused as we took one last look at (tellingly, entirely empty) Gramercy Park. "Most of the people who own in this building have three and four homes," he continued. "A lot are not here in the summer. But it's nice to know the park is there."
"Well, that's the whole thing," Mr. Adler interjected. "Everyone is dying for a key and no one uses it."