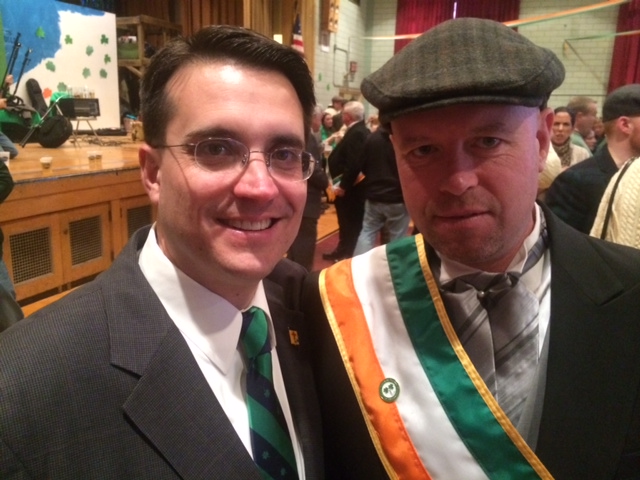 Public affairs firm Kivvit today announced the addition of several new members to their growing team, among them former Assemblyman Jason O'Donnell (D-31) of Bayonne.
The other new team members are Andrew Fries, Michael Blaustein, Geoff Mullings, Lauren McCaskill, and Shea Savaria.
"Our newest additions to the Kivvit family strengthen the team's ability to provide unique insights and strategic guidance on a variety of fronts," said Maggie Moran, Managing Partner at Kivvit.  "Jason, Andrew, Michael, Geoff, Lauren, and Shea bring with them years of experience in dealing with real estate, start-ups, campaign management, gaming, and labor unions. Their talents will allow us to further enhance our unique stakeholder engagement and build upon our diverse client portfolio."
According to a Kivvit release, O'Donnell will provide clients with strategic counsel in the areas of real estate, regulatory affairs, energy, transportation, and legislative issue advocacy campaigns. A six-year veteran of the New Jersey State Assembly who completed his run at the end of 2015 following the 2015 loss of his ally Mayor Mark Smith, O'Donnell served on the Labor Committee and Financial Institutions and Insurance Committee. A 20 year Bayonne firefighter who attained the rank of captain, O'Donnell in 2009 assumed the local job of first Director of Municipal Services in Bayonne.
The other new team members:
Andrew Fries' work spans a variety of sectors and objectives, ranging from technology start-ups to Fortune 500 corporations, according to Kivvit's release. Originally from Columbus, Ohio, Fries started as an aide to Congressman Ted Strickland (D-OH) in Washington, D.C., and followed Strickland back home to Ohio after his election as governor in 2006. After leaving Governor Strickland's Office in 2011, Fries co-founded a public affairs firm that took on a diverse set of clients working to help them employ modern, data-driven tactics and strategies within their operations. He will serve as a Principal and work out of the New York office.
Michael Blaustein will work with private and public sector clients to manage multi-faceted campaigns.  Prior to joining Kivvit, he served as a Policy Analyst to New York Senate Coalition Leader Jeffrey D. Klein, focusing on New York City matters. He worked on many of the Senator's investigative reports, including issues of dietary supplement safety, housing, labor, and childcare issues. Blaustein also spearheaded a joint report with the Bronx Borough President that documented the economic benefits of the Metro North's planned expansion in Bronx County. He will serve as an Associate and work out of the New York office.
Geoff Mullings will manage financial processes and implement administrative policies.  Prior to joining Kivvit, he independently studied Sociology and developed a specialization in Urban Economics, Poverty, and Public Policy. He holds an MBA in Economics and Marketing from Baruch College and previously earned a Bachelor of Science degree in Psychology from Fordham University, where he also studied Communications and Media. Mullings will serve as a Financial and Administrative Coordinator and work out of the New York office.
Lauren McCaskill will assist clients on researching and implementing various public affairs initiatives across a variety of sectors, such as gaming, labor unions, and not-for-profits. McCaskill comes to Kivvit with experience in advocacy, social media strategy, and research. Prior to joining the firm, she worked at the law office of a sole practitioner where she worked extensively with client casework and developed an innovative marketing strategy. Previously, she served as a trainee for LiUNA: NJ State Laborers' Political Action Committee, and worked on a variety of political campaigns. McCaskill will serve as an Associate and work out of the New Jersey office.
Shea Savaria will assist clients with immersive research, message development and social and digital media strategy.  Prior to joining Kivvit, she served as Project Lead for Sustainable Purchasing at the College of Charleston Office of Sustainability, heading a research initiative on digital signature software's impact on the College's campus.  She has also has conducted independent research on Sustainable Organic Urban Agriculture systems in Havana, Cuba. Previously, Savaria served as a campaign intern during the 2013 special election for South Carolina's 1st Congressional District. She will serve as an Associate and work out of the New Jersey office.
In addition to the newest members of the team, Kivvit also announced today the promotion of several individuals.  Laura Matos and Annie Lydgate will now serve as General Manager of the New Jersey and New York offices, respectively.  In the New Jersey office, Adam Steinberger will now serve as a Director and Jonathan Scharff as a Principal.  In New York, Ben Rubin will serve as a Principal, and Jackie LaBarbera, Alex Lewis, and Peter Mauric will each serve as a Senior Associate.