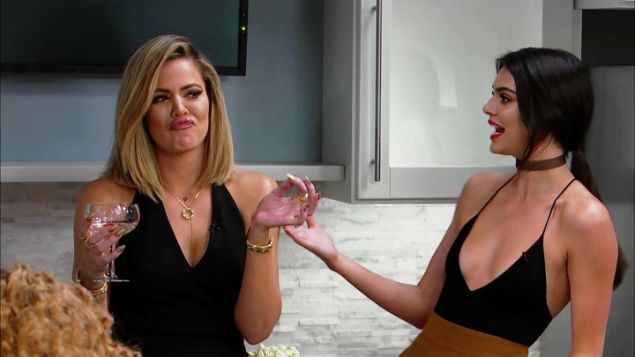 Youngest Kardashian girl Khloé Kardashian aka Khlo-money has expanded her brand beyond looking strong when naked. Her new talk show Kocktails with Khloé sees Kardashian invite some guests over for a pseudo-ladies night in the most luxe studio ever for signature kocktails, games, and gossip. Will this be a ratings disaster like mother Kris Jenner's foray into Bethenny Frankel territory with the aptly titled Kris or is Khloé here to steal the throne from the testosterone-filled late night scene?
Khloé introduces guests Kym Whitley, Brandi Glanville, Aisha Tyler, Kendall Jenner, and Snoop Dogg in a cold open.
Nellie Gayle: This array of guests is pretty wild.
Sarah Sahim: "Yes bitches, it's another Kardashian show. You love it." YES I DO LOVE IT.
Khloé is in her kitchen with bartender Sharone. Her guests come in one by one ringing a fake door bell.
Nellie: I'm most interested in the fact that there's a feminist/activist like Aisha Tyler seated next to Brandi Glanville. I'm loving the Real Housewives vs. Real Activists vibe.
Sarah: SHARONE IS HOT!
Nellie: DAMN SHARONE!
Sarah: I love that the kocktail of the day is named SMOKEY EYES and it's got fresh AND burnt rosemary. So fancy and so punny. Though Khloé is breaking the rules because she's not wearing a smokey eye.
Nellie: Same, I want every week's cocktail to be along these lines, like False Eyelashes.
Sarah: I also love this set, it's like Monica and Rachel's open plan apartment for rich people.
Nellie: SO REAL. How everything is a pastel grey fur?
In a shocking turn of events, Brandi Glanville denies the kocktail of the week and has a glass of wine instead.
Sarah: Brandi is such a buzzkill.
Nellie: "I should probably stick with wine." OK mom.
Sarah: Sharone went through ALL THIS TROUBLE to make this signature kocktail of the week.
Nellie: But it does make it feel like a real girls' party where there's always one woman who insists on cabernet or some shit.
Khloé and the girls start talking about double standards women face when going through divorce. She wants to date without being labeled a "jezebel."
Nellie: I love that Khloé calls this show her "safe haven" and it's basically an open bar. Same Khloé, same.
Sarah: Ooh, Khloé is getting PERSONAL!
Nellie: Right?! They're talking about divorces and the nature of marriage.
Sarah: She is having her FEMINIST MOMENT.
Nellie: "Women are so judged." OK PLEASE SLAP DOWN THOSE RESPECTABILITY POLITICS.
Sarah: "You're a Kardashian girl, you don't need to worry about no judge." OMG DID KYM JUST MAKE AN OJ JOKE?
Nellie: I see the point of Kym now: providing consistent, quality shade.
The girls play a game called Swiper where they decide whether they want to "bang" an actor or not by swiping left or right. It is definitely not based off the popular dating app Tinder.
Nellie: SWIPER. ARE YOU KIDDING ME?
Sarah: They should have called it Bang or No Bang.
Nellie: For women with bestselling game apps they should have known.
Sarah: I wonder if Khloé plays Swiper(tm) with her friends IRL.
Nellie: This choice of male celebs is very random.
Sarah: Then Cate Blanchett comes out of nowhere.
Nellie: I feel like that's how Khloé *actually* chooses her boyfriend — just pointing and being like "Him. He's next."
Khloé closes this portion of the show by noting that their "crazy party" is only just getting started.
Sarah: Khloé, this hasn't been a crazy party.
Nellie: This has been a weekday night for any woman over the age of 20.
Kym is hitting on Sharone to his discomfort.
Nellie: OKAY SHARONE: "THIS IS WHAT SEXUAL HARASSMENT FEELS LIKE."
Sarah: I hate Sharone now. I also just realised his hippy ass parents put an e on the end of Sharon.
Nellie: I have no time for Sharone's weirdly racist comments.
When asked what her favorite drinks were, Aisha goes into detail about her spirits collection.
Sarah: 250 bottles of booze is too much booze. I think Aisha Tyler is a Secret Hoarder.
Kendall tells a story about Khloé trying to hump her when she was wasted, leaving Kendall with scratch marks down her hand.
Sarah: Khloé is rough as shit. Don't hump your sister.
Nellie: This is exactly the type of weird shit the Kardashians think is normal.
Sarah: Remember the episode of KUWTK where she got a DUI and Kim took selfies on the way to the prison?
Nellie: Khloé is apparently a hot mess drunk.
Sharone throws the girls out his kitchen so they can play a game called Do Me! You have to do things like jumping jacks if you've done whatever Khloé states. Brandi is dancing around like a ballerina because she's had a threesome.
Sarah: Brandi eats pot brownies and has threesomes; she's living her best life.
Nellie: Chardonnay Mom is experiencing her renaissance.
They march around the room because they have butt preferences on guys.
Nellie: HOW DO PEOPLE CONTEMPLATE ASSES THIS MUCH?
Sarah: EVERYONE HAS BUTT PREFERENCES! I like a good butt I can spank and threaten their masculinity with.
Nellie: Let that be put on your tombstone, Sarah.
Khloé and Brandi pat their heads and rub their tummies because they're in the Mile High Club. When asked by Kym how they managed to fit in an airplane toilet, Khloé says her experience was on a private jet.
Sarah: Khloé is in the gentrified Mile High Club.
Nellie: Lessons learned so far: "Don't fuck in the air unless it's on a private jet."
Sarah: I feel sorry for the pilot.
Nellie: That's probably included in the Kardashian pilots' contract: You must never speak of the Mile High Club.
Kendall prank calls Kim Kardashian to tell her she's pregnant. She's surprisingly calm and handles the situation well.
Sarah: OMG, THIS IS THE WORLD PREMIER OF SAINT WEST'S GURGLE!
Nellie: I KNOW THE GURGLE HEARD ROUND THE WORLD.
Sarah: Kim is not buying this shit.
Nellie: "What have you done now?" is her automatic response to this familial bullshit.
Sarah: She really is the new Kris.
Nellie: The new matriarch.
Sarah: This has been the opposite of a prank call.
Nellie: If anything this has only solidified my diehard love for Kim.
Sarah: This call was endearing but not really a good prank call.
Nellie: That's pretty much everything Kim does: not really hitting the mark but endearing nonetheless.
Snoop Dogg enters the house.
Sarah: Snoop Dogg is READY for this ladies night.
Nellie: Out of all the men they could invite into this wine mom's club, I'm extremely happy they chose him.
Sarah: The collar on his Polo sweater is adorable. His glasses are equally adorable.
Nellie: His dreads are greying, I'm crying at how adorable this all is.
Snoop announces his intentions to launch a site for potheads who have yet to come out of the closet.
Sarah: MARY-JANE DOT COM.
Nellie: Sign me the fuck up.
Sarah: Wait, marijuana smokers are in the closet?
Nellie: How he is advocating this as a serious social issue?
Sarah: This is evidently equivalent to being gay.
Nellie: [Aisha Tyler:] "You operate on such a high level as an artist." That's maybe a stretch.
Sarah: I think it's a pun.
Nellie: HOW DID I MISS THAT?
Sarah: SMH. But Snoop didn't sign away his life rights [for the NWA biopic] and he doesn't care. What a chill dude.
Nellie: I'm gonna say that the variety of conversation topics here is superb: marijuana, legal rights to likenesses, threesomes.
Sarah: And there's plenty of non-sequiturs like IRL conversation. Kym's just announced that she's gone for a pee like it's nothing; this is an actual ladies night.
Nellie: EXACTLY and when Brandi steps on Khloé as she's coming in the door.
Sarah: It's really raw and disoriented, I love it.
 The gang are sat around the table for some #RealTalk. Khloé starts off the conversation.
Sarah: "Who killed Pac?" THE MOST IMPORTANT QUESTION.
Nellie: HOW SHE BRINGS IT UP SO CAVALIERLY.
Sarah: CASUAL LADIES NIGHT CONVO.
Snoop asks Kendall whether she feels pressured to be like her sisters and praises Kris Jenner's mothering skills.
Sarah: Man, Snoop understands the pressures of society on women.
Nellie: Snoop giving credits to Kris Jenner as a mother and her womanly powers makes me feel more empowered.
Sarah: Snoop is literally woke.
Khloé says that she always wanted to be a social worker or nursery school teacher and Sharone starts praising Khloé as a person.
Sarah: Does "SUGAR SHARONE" really know Khloé?
Nellie: Yeah OK, who is Sugar Sharone?
Sarah: I thought they hired some random bartender.
Snoop tells Brandi he believes the Real Housewives producers lifted from her personality and used it on every spinoff show and that it's ridiculous that she was only hired part-time on this season. She had told a producer to fuck off on every social medium possible. Snoop then segues the conversation into a discussion about diversity in the entertainment industry – the whitewashed Oscars in particular.
Nellie: There is always a Brandi Glanville at every party.
Sarah: SNOOP IS RECOGNISING THE EXPLOITATION OF BRANDI. OMG NOW HE'S TALKING ABOUT EQUAL REPRESENTATION IN MEDIA.
Nellie: "Did you see my Facebook post"? Snoop is essentially a woke Facebook dad. I feel really shocked by what's happening: this is a Kardashian talk show.
Sarah: It's topical AND it's addressed feminism and racism. This show is MIND-BLOWING.
Nellie: How Brandi is actively listening and nodding along?!
Khloe interrupts Aisha and Snoop's learning session on the politics of representation to announce it's time for another game.
Sarah: KHLOÉ. A NON SEQUITUR FROM RACE ISSUES TO A GAME IS BULLSHIT.
Nellie: I KNOW I FEEL SO SLIGHTED AND LIKE SHE JUST WHITEWASHED THIS SHIT.
The next game is called Khloé's Cocktail Theater.
 Sarah: OK so they're playing charades for twitter beefs?
Snoop talks about his Twitter beef with Iggy Azalea.
 Sarah: "I let the bitch slide." OMG!
Nellie: Snoop either puts you on blast or sings your praises. When will he adopt us?
Snoop and Kym have to act out Nicki Minaj and Farrah Abraham's recent beef. Kym is Minaj and Snoop is Abraham.
Nellie: WAIT, Snoop is trying a British accent.
Sarah: WHAT IS THIS? I'M DYING.
Nellie: Snoop sounds like a Harry Potter character.
Sarah: They censored the c word to cupcake, holy shit.
Nellie: #BIGCUPCAKE
Sarah: NOW SNOOP DOGG IS JAMAICAN.
Nellie: He sounds like a Jamaican granny "GO TO CHURCH!" I'm crying.
Sarah: This is way funnier than I thought it would be. Wait… is he German now?
Nellie: The wig looks really good on Snoop too.
Sarah: They deserve that standing ovation.
Nellie: Sharone's started showering them in dollar bills, maybe my Magic Mike theory isn't so inaccurate.
Sarah: Who's gonna go topless?
Nellie: My money's on Kym.
And now, it's time for the coveted Best Drunk award.
Sarah: I don't think anyone was drunk, which disappointed me. Kym was magical though.
Nellie: I'm going to say it is hardcore Kym on this episode.
Sarah: I loved Snoop though, he was definitely a close second. He's drunk with wokeness, even if he thinks pot smokers need to come out of the closet.
Nellie: Snoop transcended the booze and brought this convo to a whole other level.
Sarah: She set the bar very high but I don't wanna be hasty with our rating so I'm gonna be conservative and give her a solid 8/10 kocktail umbrellas.
Nellie: Agreed, a solid B grade. I was really counting on Brandi here, but hopefully more Housewives will frequent the show and then we'll really be throwing kocktail umbrellas.
Sarah: Just like when Aviva Drescher threw her prosthetic leg on RHONY.