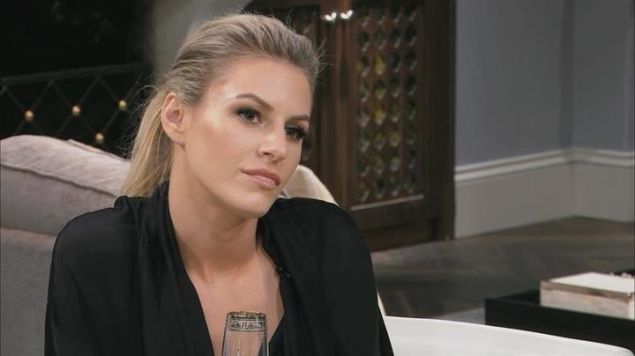 Khlo-money returns for her second attempt at winning over the hearts of Americans through kocktails and awkward sex talk. After winning solid ratings with her first episode, this time Khloe chooses to stir the pot with a more varied and uncomfortable set of guests than even we could have imagined. Will she manage to offend family friends, in-laws, and One Direction fans within 45 minutes? Read on.
Khloe introduces Scott Disick, professional BFF Malika Haqq, Tyga, Rich Kids of Beverly Hills' Morgan Grant, and YouTube's Jenna Marbles as her guests in a cold open, while wearing a spectacular Balmain romper.
Nellie Gayle: Ok can we talk about this outfit?
Sarah Sahim: God bless Balmain.
Nellie: I like the drawstring thingy around the waist. It sort of looks like a Juicy tracksuit repurposed into a romper.
Sarah: If there's anything a Kardashian looks amazing in, it's a jersey jumpsuit. Remember when Kim wore those Lanvin ones with the gold chain detailing a couple of years ago? That was BEAUTIFUL.
"Sugar Sharone," Khloe's hired bartender, unveils the drink of the night – the "Tingle." Meanwhile, Morgan and Malika participate in Koko's Kupcakes, in which they answer a philosophical question written on the bottom of a kupcake Khloe has had specially made for the occasion. (Note: much to Sarah and Nellie's mutual disapproval, the kupcakes go uneaten).
Sarah: SUGAR SHARONE AGAIN?
Nellie: THE TINGLE?
Sarah: God I hate this drink name.
Nellie: Do you think Sharone comes up with these drink names himself? I think I see him releasing his own line of KY products in the future.
Sarah: Those kupcakes look like shit.
Nellie: Agreed those sprinkles look tacky as hell.
Sarah: THEY JUST USE ANY EXCUSE TO USE A K.
Morgan begins to expound on her theories about friendship and life as an engaged woman.
Sarah: What is this rich kid's name?
Nellie: I have no clue. I thought she was Brandi Glanville from the last episode for a second. Literally can't tell reality TV blonde wives apart anymore.
Sugar Sharone begins shucking oysters, much to Khloe's delight, while Morgan and Malika exchange info on what turns them on.
Nellie: Sharone is shucking oysters AND created a cocktail called the Tingle.
Sarah: I never trusted him.
Nellie: "Shucking oysters" is definitely the new innuendo.
Sarah: Morgan says she's turned on by "someone that can talk and know what they're saying." So like anyone, rich kid?
Nellie: "Someone who can speak." Well, since you only date men I guess it's good to keep your standards low.
Malika admits to enjoying the Mile High Club and having sex on top of cash. However, she also vehemently denounces stripping.
Sarah: Fucking on money will most definitely rip the money. Also Malika will not be a stripper but is down for free sex on money. Such a philanthropist.
Nellie: I'm in love with her because her main concern here was getting a papercut from the dollar bills.
Jenna Marbles appears at the door and settles in for a drink.
Nellie: AAAAND A MARBLE JUST ROLLED IN.
Sarah: She just followed me on Twitter and I felt old when I didn't know who she is and I'm 21.
Nellie: Sarah I'm basically your grandma and I know who she is.
Sarah: Khloe's fake laugh is too much.
Nellie: Something about her fake laugh plus that specific shade of lip gloss just works so well.
Sarah: She's a full on bad bitch.
Nellie: I want her to do a range of lip glosses and call that one Fake Laugh.
Sarah: JENNA MARBLES CALLED HER THE QUEEN OF FLEEK.
Khloe introduces a game called "Hollywood Spades," in which the guests are shown a picture of a celebrity and then must defend their character. She misguidedly uses Bill Cosby as an example, then flips to Steve Harvey.
Sarah: Hollywood Spades?? Something without a K? This is unbearable.
Nellie: Did she just propose a hypothetical where someone defends Bill Cosby on air?
Sarah: STEVE HARVEY IS AN ARSEWIPE.
Nellie: "When you take full accountability you get brownie points" is a really philosophical answer from Khlo.
Sharone presents the shucked oysters.
Sarah: I TOLD YOU. THE INNUENDO.
Nellie: Sharone is trying to figure out whose oyster he wants to shuck.
Tyga and Scott join the party for a game of "Marry, Fuck, Kill."
Sarah: Tyga is a Grade A asshole.
Nellie: I'm pretty eyes emoji at Khloe's full embrace of Tyga dating her infant fetus sister.
Sarah: Even though Khloe's of age this fuckboy has a CHILD and BAGGAGE. Mentioning that Tyga is Grammy nominated means nothing.
Nellie: This just confirms that the Grammys mean NOTHING.
Scott elects to fuck Khloe, kill Kim, and marry Kourtney – who Tyga chooses to kill.
Sarah: Of course Scott would kill Kim.
Nellie: Scott wanting to kill Kim is basically because she's the voice of reason.
Sarah: She shuts him DOWN.
Nellie: EXACTLY she won't have any of his bullshit like Khloe is doing here.
Khloe coyly asks Tyga if he wants to marry Kylie in the future, which he apparently does. Malika thinks it's cute (?!).
Sarah: Gross Kylie better not marry Tyga.
Nellie: "So sweet" REALLY MALIKA?! SINCE WHEN DOES MALIKA DEFECT TO THE DARK SIDE?
Sarah: This episode is DEPRESSING.
Nellie: It's essentially a reminder of how many fuckboys the Kardashians have let into their lives.
Sarah: People say the men the Kardashians touch are fucked but I legit think they have terrible taste in men.
Nellie: Scott was one thing, but now Kris allows Tyga to join the clan.
Khloe introduces a game at the kitchen table called "Slangin' Susan." A lazy susan poses philosophical questions to the guests, starting with Jenna Marbles. The question is about the danger of not acknowledging your privilege, and she responds surprisingly well.
Nellie: HOLY SHIT. JENNA FUCKING MARBLES.
Sarah: THEY READ OUR LAST RECAP. SHE ACKNOWLEDGES HER WHITE PRIVILEGE. And Morgan looks embarrassed.
Nellie: Morgan looks pretty bamboozled by this question.
Sarah: Because she's a DUMB RICH KID.
Tyga is asked "Have you ever hurt someone?" to which he replies in the negative.
Nellie: Is this Oprah's lazy Susan? These questions are fucking deep.
Sarah: Tyga is so perfect he's never hurt anyone, eh?
Nellie: Stop. This is enough. This is so typical fuckboy.
It is revealed Tyga once sent Khloe dick pics as a prank.
Sarah: I think Tyga sent Khloe those dick pics on purpose.
Nellie: Can we bring back Snoop? He probably would have listed the name of every person he hurt plus the exact grievance.
They transition into Khloe's Kocktail Theatre, reenacting a Twitter battle between Zayn and someone irrelevant. Malika chooses to act out Zayn's part.
Sarah: She says "theatre" so weirdly.
Nellie: Has she ever met a British person in her whole life?
Sarah: OH NO SHE DID NOT PICK ZAYN. SMDH HOW DARE SHE CALL THE PAKISTANI RAJA A WHITE BOY?
Nellie: This is offensive. You don't understand –  my ranking goes 1) Zayn 2) Kardashians 3) God 4) everyone else. Also Tyga's face is so transfixed, like this is Masterpiece Theatre or something.
Sarah: Tyga is blown away by these thespians.
Khloe ends the night by toasting to a night "full of love and non-judgement."
Sarah: Shall we do best drunk of the evening?
Nellie: Let shall.
Sarah: No one was as endearing as Kym Whiteley, our reigning champion.
Nellie: In this case, I'm going to give it to Jenna Marbles. Even though she was painfully sober, she made everyone else seem blacked out in comparison
Sarah: Plus that white privilege check. We didn't have a lot to work with in this episode. Feels like a 5.5/10.
Nellie: I think we did our best. We disassembled the Kardashian boyfriend patriarchy to the best of our ability.