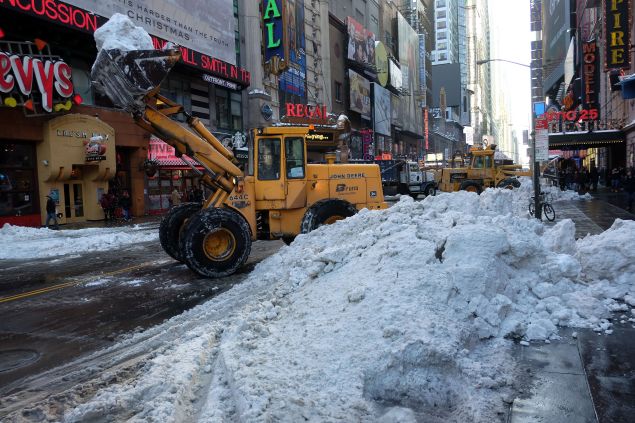 New York City didn't dodge the bullet known as Snowstorm Jonas, which dumped up to 34 inches of snow on parts of the city, most dramatically on Queens. But we recovered remarkably quickly. The city's superhero was Sanitation Commissioner Kathryn Garcia's analytically derived and newly deployed snowplow routes. And her much-respected management style.
The Department of Sanitation, which employs nearly 10,000 people—7,200 of them uniformed and unionized—had over 900 trucks equipped with snowplows and 500 snow/sand spreaders ready for the storm. It also hired day workers to shovel, by hand, hundreds of critical intersections.
The results were as obvious as they were surprising. Barely 36 hours after the snow stopped falling, the city was almost fully functional. Yes, there were still delays on some subway and commuter rail lines, but schools were open and business virtually back to normal. Yes, there were complaints from residents in Queens, but overall, it was a full and speedy recovery.
The Department's computer models predicted that it made more sense to deploy resources in sectors—plowing large and small streets in succession.
When Mayor de Blasio appointed Ms. Garcia commissioner, she had already shown her chops as an operational powerhouse and effective manager as chief operating officer at the NYC Department of Environmental Protection. In that job she was often Mayor Michael Bloomberg's point person on serious water main breaks and crises. She was responsible for getting the DEP's backlog of repairs down to 300 from 3,000, and for getting a major waste treatment plant restarted within days of being knocked out by Hurricane Sandy.
Ms. Garcia took charge of the Sanitation Department in March 2014, inheriting a department with an unusually strong analytic bent but a challenging management tradition. (She took over as commissioner from John Doherty, who started as a trash collector in 1960, and rose up through the ranks to the top job.) With the support of Deputy Mayor Anthony Shorris, Ms. Garcia brought in even greater analytic rigor and technology tools to the Department. For example, she equipped every Sanitation truck with a GPS tracker so that supervisors would know in real-time where resources were and could redeploy them as necessary.
This week's success against Jonas was not by chance: it was the result of new computer models that Ms. Garcia pioneered soon after taking office. For decades, snowplows followed routes that had them plowing large thoroughfares first, followed by mid-sized roads and smaller streets last. That seems logical. But the Department's computer models predicted that it made more sense to deploy resources in sectors—plowing large and small streets in succession. The result was that more streets could be cleared in less time with fewer trucks, with the entire city made passable sooner, something not necessarily obvious to those of us not as open to, or comfortable with, rigorous analytics as Commissioner Garcia.
As the city got back to business, there were, not surprisingly, some complaints—mostly from residents of Queens. We wouldn't be New Yorkers if we weren't quick and vocal with our gripes. But Commissioner Garcia's new sector approach to snow clearing isn't fully implemented: there are parts of Brooklyn and the Bronx still operating under the old system. It should be city-wide before the end of the year. Until then, Commissioner Garcia and her team still deserve our thanks for a job well done.