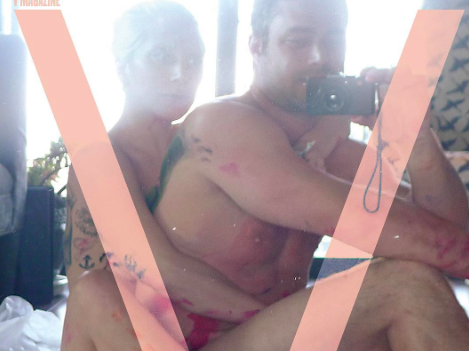 Lady Gaga has often been hailed as an artist, and even pals around with art-world heavies like MoMA curator Klaus Biesenbach and performance art queen Marina Abramović. But now she's trying her hand (and other parts) as a painter.
In what is technically a collaboration with her actor-fiance Taylor Kinney, Ms. Gaga seems to have mastered a new style that she herself dubs "adult finger painting", where the couple slathers each other's naked bodies in paint and proceed to have sex on a canvas. True story.
Evidence of this can be seen on a recent cover leak of the latest V magazine, which presents the heady art duo in the buff, clad only by the standard millennial tattoos and some smeared-on paint. It's just one of 16 covers—many flat-out gorgeous—of the singer's "Fashion Guard," as photographed by Steven Klein.
The artist explained her process to Yahoo Style, who broke the news, thusly:
A painting/baby birthed from Gaga/Kinney intercourse.

"Since we first met, Taylor's been painting and drawing all over me. Years ago, when we were secretly living in San Diego and crashing on the floor of a beach shack, we never wore shoes. He told me he wanted to make love to me on a canvas. And though he made many murals on my body in the wee, small hours of our stoked, gypsy mornings with our friends, for whatever reason we never got around to it."
These abstractions will forever be enhanced by this quote, which should furnish Ms. Gaga a secure space in the annals of art history:
"We made a galaxy of endless colors with only brief, black holes of emptiness that are then filled by each other."
And there's more good news: All the proceeds from Lady Gaga's highly collectible V issue will go towards Gaga's Born This Way Foundation.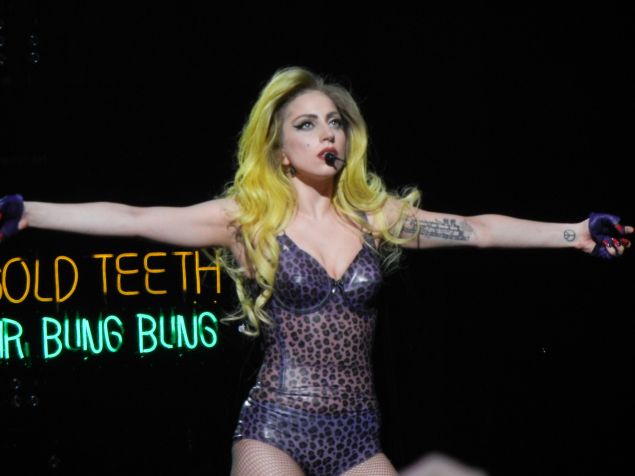 There are actually 16 different covers for the issue, which Ms. Gaga edited, and copies can be purchased at vmagazineshop.com.