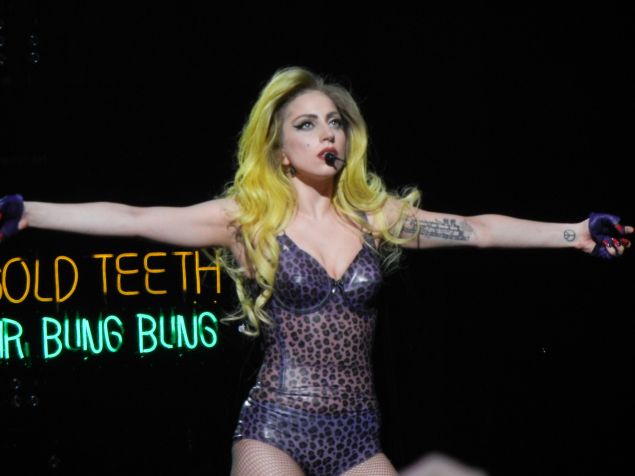 She's one of the world's most popular recording artists, a newly minted Golden Globe winner and Oscar nominee. But as a sophomore at NYU in 2004, Lady Gaga (then Stefani Germanotta) was a victim of cyberbullying.
Lauren Bohn, a Middle East correspondent for The GroundTruth Project in Istanbul who attended NYU at the same time as Gaga, revealed the online vitriol in a Facebook post over the weekend. She recounted coming across a Facebook (META) group called "Stefani Germanotta, you will never be famous" (which has since been removed from the site), featuring pictures of a young Gaga playing piano at local bars, along with comments calling her an "attention whore" and pictures of flyers for her gigs that had been stomped on and covered in mud.
"I couldn't shake the raw feeling of filth while scrolling down that Facebook page," Ms. Bohn wrote.
That could've been the end of the story—but a few years later Ms. Bohn was reading a New York magazine profile of Lady Gaga that revealed that her given name was Stefani Germanotta. Ms. Bohn was filled with both pride and regret.
"I was overcome with a dizzying emotional cocktail of stage-mom-at-a-beauty-pageant and nerd-revenge triumph," Ms. Bohn wrote.  "But also shame…that I never wrote on that group."
Once again, though, the feelings faded—until last week, when Ms. Bohn, like the rest of the world, saw Gaga's viral encounter with Leonardo DiCaprio at the Golden Globes. Though she flashed back to "the muddy sole eclipsing her name," Ms. Bohn had one overarching message for her classmate.
"Stefani, thank you," Ms. Bohn wrote. "Thank you for always thinking you're a superstar, for using your cracks to let the light come out more brightly."
Ms. Bohn told the Observer that Lady Gaga's approach to cyberbullies is a compelling example for others to follow.
"In Gaga's case, and in life, I wanted to try to convey what might be possible if we just keep going," Ms. Bohn said in an email. "If we keep walking toward that literal or metaphorical stage unapologetically and proudly, no matter who's laughing at us/getting in our ways as we walk by."
Ms. Bohn also said that she could draw parallels between the online bullying she witnessed in college and the cruelty she has experienced in the Middle East.
"We're just all so damn mean to each other, and mean to ourselves," Ms. Bohn said . "We need a lot more humanizing and less Otherizing and fear of what we don't understand."
Lady Gaga has not yet publicly responded to Ms. Bohn's virtual round of applause.