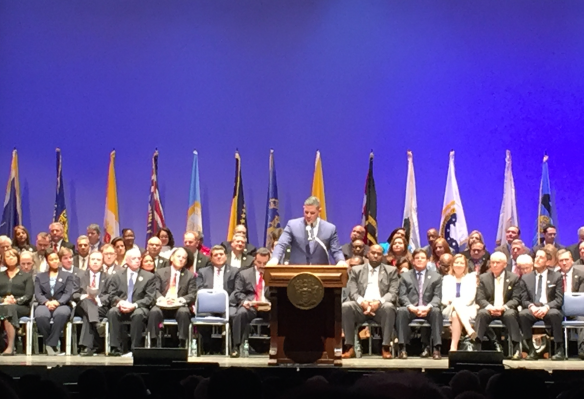 TRENTON – At the reorganization of the state Assembly for the new legislative session, the leaders of the historic Democratic majority touted its early morning compromise on casino gaming expansion, while Minority Leader Jon Bramnick (R-21) reiterated his criticisms of the Democrats' suite of proposed constitutional amendments.
After a general call for civility and non-partisanship in Trenton, Bramnick laid into the Assembly Democrats' efforts to dedicate gas tax revenues to the Transportation Trust Fund, require quarterly payments into the state pension fund, and effect new redistricting standards. The first two are widely seen as swipes at Governor Chris Christie, while experts have said that the Democrats' redistricting bill would be all but guaranteed to favor their own caucus.
"We will stand up against using the constitution as a legislative tool to avoid a veto from the governor," said Bramnick. "We will stand opposed to unfair redistricting plans that would make New Jersey a one-party state.
"If you are a Republican and you hate all Democrats, or you're a Democrat that despises all Republicans, you have no business to be in public office," Bramnick added to applause. "Our job is to address serious policy issues, and if your vision is so clouded with partisanship you stand in the way of solving the most pressing facing the sate, then you should go."
Prieto came out for his own proposal to raise the gas tax, adding that he would raise the estate tax as well. There have been talks of a tit-for-tat deal between the caucuses for a higher gas tax in exchange for changes to the inheritance and estate taxes, an exchange that Bramnick has said he would support.
"I've made the difficult call for a gas tax increase to fund transportation because it's the right thing to do for our state," Prieto said. "No one wants to pay more at the pump, but the alternative is much more costly. And I support coupling it with ideas such as phasing New Jersey's estate tax to match the national level, and finding ways to exempt retirement income from the income tax.  I've been ready to compromise. Let's get it done."
Speaker Vince Prieto (D-32) and Majority Leader Lou Greenwald (D-6) said that they had been at bargaining table until two o'clock Tuesday morning over what form a new casino gaming expansion bill will take when it is posted in the Assembly this session.
Greenwald, for his part, snuck in what may have been a surreptitious jab at Chris Christie's rightward drift on gun control during his campaign for the Republican presidential nomination.
"While I know the discussion of gun reform legislation creates anxiety within our political circles, I also know that each of us watch the anguish in the streets and communities that look just like ours," said Greenwald. "As we watch another memorial service with a grieving father clutching his fallen son, we are all united in our sorrow and our desire to ensure these tragedies are never repeated."
Eric Houghtaling and Joann Downey of the eleventh district, former Rahway Mayor Jim Kennedy of the twenty-second, Bruce Land of the first, Arthur Barclay of the fifth, and Andrew Zwicker of the sixteenth were all sworn in during Tuesday's ceremony at the Trenton War Memorial.