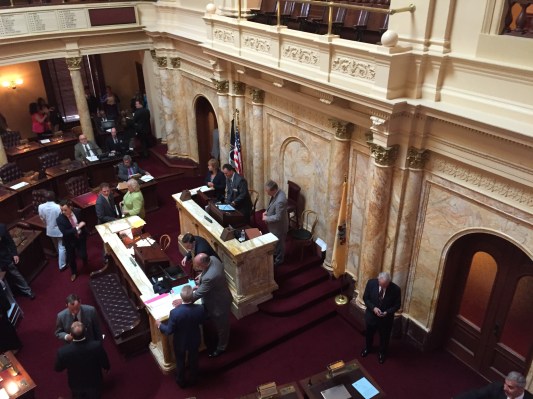 Tomorrow is a session day in Trenton, and the agenda will be topped by committee hearings on the raft of constitutional amendments proposed by the Democrats. Amendments on gaming expansion, quarterly pension payments, the gas tax and new redistricting guidelines will all be getting public hearings as the Assembly and Senate approach the end of lame duck.
Keep an eye out for developments as competing bills to bring casino gaming to North Jersey go back to committee and all sides of the debate come out in force.
Tomorrow's Senate session will see bills from Senator Jim Whelan (D-2) and Assemblyman Vince Mazzeo's (D-2) Atlantic City rescue package go on to another post-veto reading on the floor.
See times, committee rooms and synopses below. See the full schedule here, or listen to live proceedings tomorrow.
Senate State Government, Wagering, Tourism & Historic Preservation – 10AM in Committee Room 7
SCR184 – Steve Sweeney's bill to amend the state constitution to require quarterly pension payments. Widely seen as a swipe at Christie.
SCR188 – Nick Scutari's controversial bill to bar legislators from the legislative Apportionment Commission, the state agency responsible for redistricting after each census. Would also make apportionments hinge on averaged polling data and require that twenty percent of the state's districts be competitive, changes that Republicans say would benefit Democrats.
Assembly Education – 10AM in Committee Room 16
A-4832 – Introduced requirements for high schools that would limit "redshirting," the practice of holding students back to gain an advantage in interscholastic sports.
Senate Law and Public Safety – 10:30AM in Committee Room 10
S2399 – Shirley Turner and Linda Greenstein's bill to require police body cameras.
S2623 – Shirley Turner Ray Lesniak's bill to establish diversity and reporting requirements for police departments.
Senate Budget and Appropriations – 11AM in Committee Room 4
SCR185 – Sweeney and Paul Sarlo's bill to amend the constitution and allow casino gaming in North Jersey, with one of the two new casinos operated by an existing Atlantic City casino owner. The thorn in Vince Prieto's (and Steve Fulop's) side.
Assembly Judiciary – 11AM in Committee Room 12
ACR-1 – Vince Prieto's Assembly bill to require quarterly pension payments by constitutional amendment.
ACR-2 – Prieto and Ralph Caputo's bill to allow the North Jersey casinos, with both new sites going on the open market and less of the revenue diverted back to Atlantic City. The thorn in Sweeney's.
ACR-3 – Prieto's Assembly bill for the quarterly pension payment amendment.
ACR-4 – Greenwald's Assembly bill to change the legislative Apportionment Commission.
Senate Session – 2PM in the Senate Chambers
A3981 – Jim Whelan's "Casino Property Taxation Stabilization Act," the lynchpin of his payment in lieu of taxes plan for Atlantic City casinos.
A3984 – Redirects casino investment alternative tax to Atlantic City to repay debts.
A3985 – Takes away provisions relating to Atlantic City Alliance from of the rescue package.