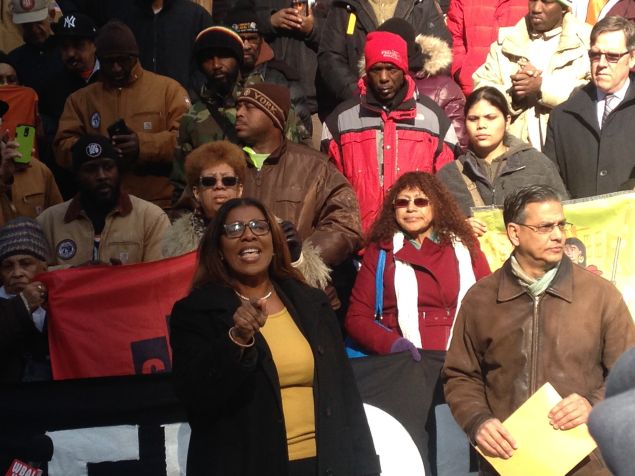 Public Advocate Letitia James and Comptroller Scott Stringer joined community groups and organized labor to lambaste Mayor Bill de Blasio's affordable housing plan from two sides today—claiming it excludes both the lowest income New Yorkers and construction unions.
The pair cited a report by the union-led coalition Real Affordability for All that showed 84 percent of the "affordable" housing built in Mr. de Blasio's first two years in office was allocated to people making between 51 and 180 percent of the area median income of the New York metro area—that is, between $43,000 and $155,000 a year for a family of four. This, they argued, was little different from the ratios produced under former Mayor Michael Bloomberg, and failed to create apartments for the poorest New Yorkers.
"The question is, 'affordable for who?'" Ms. James said to applause. "We have an opportunity to shape the housing landscape in our city for generations to come. And we have to get this right. We cannot settle for anything less."
Ms. James also lashed out at the administration for its reluctance to require prevailing wages and union labor. The mayor's office has claimed such provisions would result in 17,000 below-market apartments never getting built.
"We need to make sure that if we're going to build more housing, then we also need ensure good jobs, with strict labor standards, and safety standards," Ms. James said, pointing to a recent rash of fatal accidents on mainly non-union sites, where most workers are nonwhite and are often recently arrived immigrants. "I am unabashedly a friend of labor. And I believe we should build union."
Ms. James was a longtime ally of the mayor going back to their time in the City Council together, but she has more recently become one of his critics from the left. Mr. Stringer, on the other hand, has battered Mr. de Blasio from a technocratic standpoint from the beginning of his administration, arguing many of the mayor's programs are inefficient or ineffective—including his affordable housing plan, which he has argued could result in the displacement of 50,000 New Yorkers.
"Suddenly, you have housing for the very, very wealthy, enclaves for the poor, and you've displaced the community," he said, arguing that the mayor's plan could worsen the city's homelessness crisis.
The comptroller also cited his recent partnership with Ms. James and the AFL-CIO's Housing Investment Trust to combine city and union pension funds to renovate or create 20,000 apartments.
"We have seen labor leaders invest in and build affordable housing. So we've got to bring them to the table because they've done it for generations," he said.
Mr. de Blasio's office responded that it had overseen the construction more than 1,900 apartments for the poor, exceeding the number built for the lowest brackets in Mr. Bloomberg's final five years in office. It also insisted that most unions supported its housing plan.
"This is a plan for working people," said spokesman Wiley Norvell. "It's delivering for the very poorest New Yorkers and the middle class alike, and it has deep support from hardworking men and women in organized labor."
Real estate industry critics of organized labor have attacked the Building and Construction Trades Council of New York for its disproportionately white membership, and have sought to depict themselves as the champions of minorities.