Five years ago, Rae Tutera (then Rachel Tutera) had a fitting for a made-to-measure suit. "At the time it was very difficult or me to explain to the tailor what I wanted from him," the Bindle & Keep clothier told Observer via phone Sunday. "I think he had a really hard time because I wasn't really legible to him. It was both disorienting because I didn't know about custom suits, but on top of that, I had to explain to him over and over again that even though he thought I was beautiful, which was nice, I still wanted a men's suit. I wanted him to make me handsome." It was that experience in a Midtown East tailoring shop that was a foundation for Mx. Tutera—who identifies as trans-masculine and prefers neutral pronouns like they—to get into tailoring.
"That was the perfect groundwork for me to approach fittings with certain sensitivities and even more open-mindedness than I already possessed," Mx. Tutera explained.
Now, at 30, Mx. Tutera is in Salt Lake City, Utah for Sundance to watch the world debut of Suited, a feature-length documentary revolving around Bindle & Keep, a Clinton Hill-based tailoring business that caters to the LGBTQ community. The film, which has been in the works for a little over two years, is being produced by Lena Dunham's company A Casual Romance. Ms. Dunham's team is rounded out by the likes of director Jason Benjamin (Orange Is the New Black, Girls) and cinematographer Bob Richman (The September Issue, An Inconvenient Truth).
In 2011, Daniel Friedman started Bindle & Keep after abandoning a career in architecture. Other than doing fittings in the homes and offices of clients, as opposed to in a studio (because the company was operating out of Mr. Friedman's living room) it was a typical made-to-measure tailoring company. Well, as typical as you can get with fittings happening in unorthodox locations such as Nowhere Bar in the East Village and a dominatrix dungeon in Stuyvesant town.
Mr. Friedman explained an average day on the job: "This client, a woman, warned me: 'Before we go into my closet, so I can show you all of my clothes, I need to warn you that I have a lot of sex toys.' So I go in and she's actually a dominatrix and she has all of these cages. We actually used one of the cages to do the fitting in."
Not long after the company's founding, Mx. Tutera came on board as an apprentice and then finally became a clothier, bringing in a cadre of LGBTQ-identified clients.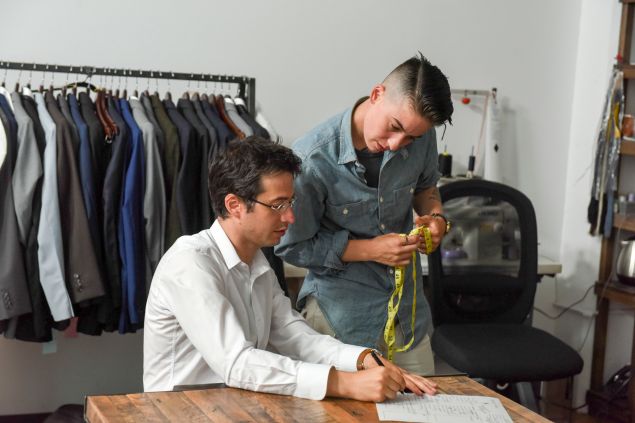 "When I joined Daniel, people were not talking about trans people," Mx.Tutera said. "That wasn't part of the consciousness, but marriage equality was. So back in 2012, that was on everyone's mind [and] that was the first wave for us. Our first real client base was gay men and women getting married." That wave leant itself to an in-depth New York Times profile. In the profile, the Times noted that women and transgendered men made up one-quarter of the company's clientele. Now, Mr. Friedman says the community makes up about 90 percent of the business.
"We talk about LGBTQ as if it's one community, but it's made up of infinite communities," he pointed out. According to the founder, most of the company's employees are heterosexual. "At this point, we're even getting some people who don't need to [specifically] come to us, but do for the simple fact that we're open [to the LGBTQ community]."
"I think our success has become a bellwether for what constitutes community, safety and shopping habits."
After that first wave, came a second. Mx. Tutera characterizes this latter influx as trans, queer or non-binary people who want clothing made that can reflect our culture's sensitivity to their mere existence. It's this group that receives the focus in the HBO documentary. Among the five clients the film follows, both Mx. Tutera and Mr. Friedman point to the story of 12-year-old Aiden as particularly moving. "I've never had a client as young as Aiden," Mx. Tutera admitted. "He had a suit made for his bar mitzvah. [Fitting him] would have been a real curveball even if had we even just fit him in private." Mx. Tutera was referring not only to the intimidating nature of custom suiting but also the intimate and sometimes confusing space of gender.
According to Mr. Friedman, it wasn't just Mx. Tutera that took notice, even Aiden's father was affected by the process. "You know at first his father wasn't super encouraging," Mr. Friedman said. Aiden, who is from Tucson, Ariz., was connected to the company through his grandmother who had heard a podcast about Bindle & Keep. "[The father] was this tough looking, Harley Davidson-riding, tattooed guy. He said to me, 'You know what? I spent my whole life trying to not be afraid and the way that I finally learned was my child teaching me not to be afraid. And now my child I have opportunities I would have never had because he wasn't afraid.' "
When Suited has its mass debut on HBO in July 2016, viewers will be pulled into more than just the fittings of Aiden, Mel, Jillian and the company's other clients. "Suits really aren't the story here, at all," Mx. Tutera said.
"Suits are really just the lens through which we get a glimpse at people's lives. All of [our clients] are just trying to lead full lives and they are all just trying to do their things. We are just here to help."