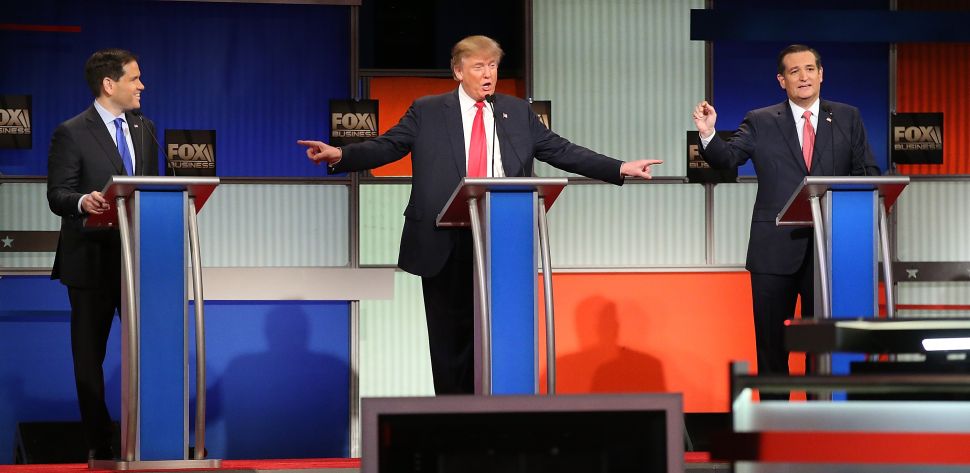 Fox News confirmed in a statement today that it will live stream Thursday night's GOP Debate to all, without authentication. Those with an Internet connection but no TV can watch online on Fox News' website.
Viewers also have other options to tune in, including FOX News Radio (find your station), FOX News Mobile and the FOX News Go app.
The main debate will broadcast live on Thursday, January 28 at 9 PM ET, broadcasting from Iowa. The network announced its criteria for candidates in both the main debate and the 7 PM also-ran debate prior. Based on the criteria, final line-ups should be announced tomorrow night. Thursday's will be the last debate before the Iowa Caucuses.
The hashtag for the debate is #GOPDebate.
Fox News is partnering with Google. Live data from Google will help to inform which questions get asked. For a second screen experience, viewers can watch the Internet respond to the conversation live, on Google Trends (in fact, it already has a page tracking how interested the Internet is in each candidate already).
Donald Trump's Wikipedia page sees a lot of edits; Hillary Clinton's—not so much
A selection of YouTube celebrities have also been invited to submit questions, according to a statement from Fox News, which could be… interesting.
The next Democratic debate on February 11 will follow Iowa and New Hampshire, and it will also be live streamed openly, as the Observer previously reported.
Fox News declined to comment on what the network has done to prepare its servers for what could be record viewership online.