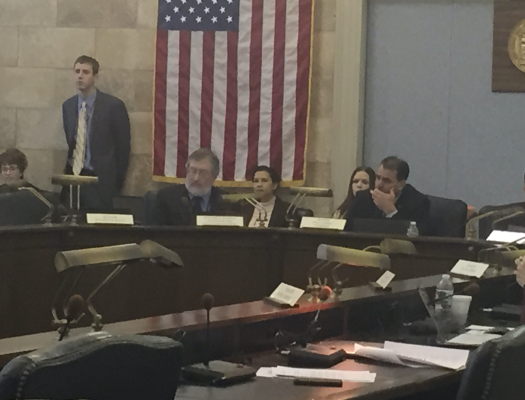 The Senate Budget and Approprations Committee debates SCR1 this afternoon, with Alantic City legislators taking the floor to present their case to sponsor and committee chairman Paul Sarlo (D-36). The bill would clear the path for new casinos in North Jersey through a ballot question and subsequent constitutional amendment. It passed in the Senate Monday, but has yet to be posted in the Assembly. Atlantic City senator Jim Whelan (D-2) and South Jersey's Van Drew (D-1) will offer testimony, as well as Assemblyman Chris Brown (R-2).
Check back for live updates:
SCR1  – "Proposes constitutional amendment to authorize Legislature to permit by law establishment and operation of casinos in certain counties." 
Whelan (D-2) takes the floor first, beginning by pointing to his negotiations with Hard Rock to take over a shuttered casino property. Whelan says the amendment would take away Atlantic City's leverage in luring a new Hard Rock location or other buyers to the city.
"How long is it going to take for New York City to do the same?" Whelan asks of future competition from Manhattan for the new casinos in North Jersey. "It won't be twenty, it won't be ten, it'll be less than five."
"North Jersey is flourishing after the 2009 recession there is a lot of folks who work in Manhattan who live in North Jersey," says Sarlo, countering the southern delegation's consistent claim that demand would be lackluster.
Brown (R-2) takes the floor.
"A single casino in the Meadowlands would siphon of 45% of the gaming revenue from Atlantic City," Brown says to Sarlo.
Brown claims that North Jersey travelers constitute 42% of Atlantic City's market, saying that unemployment would nearly double in the area.
"All you're doing is shuffling the deck," Brown says, saying that there aren't enough gamblers to compensate for the job losses in the Atlantic City area, and the cost of those losses for the state. "You're not expanding."
"Manhattan's going to open regardless, whether we build in North Jersey or not," says Sarlo.
"You're getting beat up, quite frankly," says Sarlo, but quickly adds that he's getting heat from his own colleagues in Bergen. "My own Bergen County Chairman said I was selling out to Atlantic City," he says of Bergen freeholder Steve Tanelli, who came out in support of the Assembly version of the bill last week.
Van Drew begins his remarks as the only 'no' vote on the committee so far.
"They are going to. There's no question," Van Drew says of South Jersey residents losing jobs.
"It is going to be an economic dustbowl if this happens, and nobody knows if the plan is going to work," he says, detailing the lack of industry apart from Atlantic City tourism.
"I hope I'm wrong but I don't think I am. This is life and death for our area."
Senator Peter Barnes (D-18) qualifies his 'yes' vote by pointing to Sweeney's stabilization act from two years ago.
"We don't get this type of aid," Barnes says of Atlantic City school aid, its marketing fund and the investment fund that SCR1 would create to share revenues from the new locations with the city. Barnes says that many of North Jersey's counties with high foreclosure rates could use that revenue.
Barnes votes 'yes.'
"None of us are walking out of this statehouse unscathed," says Sarlo in his closing remarks. "This is our way to recapture revenues and help Atlantic City once and for all."
The bill passes committee 9-2.