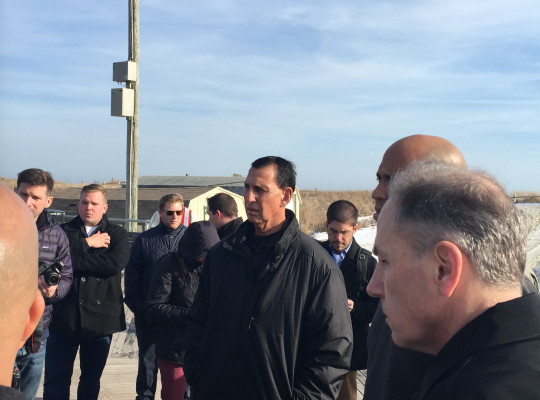 ATLANTIC CITY — Touring the city with U.S. Senators Cory Booker and Bob Menendez after the weekend's record-breaking blizzard brought extensive flooding and property damage to the region, U.S. Representative Frank LoBiondo said Tuesday that he has been pleased with the state's emergency response efforts. Despite the controversy surrounding Governor Chris Christie, his flat-out denial of flooding in Cape May, and his laying into North Wildwood Mayor Patrick Rosenello, LoBiondo said that he still supports Christie's presidential campaign despite the tension.
"Each of the communities had a lot of practice with Sandy," LoBiondo said, praising "the emergency managers, the coordination they brought to it, the planning that they brought to it, the advance notice, how they brought it all together."
"Unfortunately, when you've got a storm of this magnitude, with the high winds and the sustained pressure that the storm brings, you've got a serious consequence," he added.
On Senator Jeff Van Drew (D-1) and his call for Christie to request federal relief funds to help his home county of Cape May, which saw some of the state's most severe flooding with 9.4 feet of water inundating its shore towns, LoBiondo said that Van Drew had jumped the gun. Citing the lengthy county and state assessment process that will have to precede any help from the federal government, LoBiondo said that South Jersey will have to wait and see.
Assemblyman Vince Mazzeo (D-2) and state Senator Jim Whelan (D-2) joined Booker, Menendez and LoBiondo on Tuesday's tour, where they saw the damage to homes and businesses firsthand. When asked whether he would support a request from Christie for the emergency funds, LoBiondo allowed that he would but objected to Van Drew's timing.
"That's not Christie's call," he said. "I'm sure Senator Van Drew means well, but it's driven by a specific formula and if the criteria is not met Christie does not have the option to call for federal help if the formula isn't met.
"I talked to the governor today, I've talked to the emergency manager in each of the counties, they're collecting the data from the storm damage," he continued. "Absolutely Senator Booker, Senator Menendez and I would be at warp ten to support the application. Governor Christie would absolutely be submitting the application, if we can meet the criteria."
On the storm's political consequences for Christie, LoBiondo chose not to slap the governor for his comments. Christie's trademark abrasiveness drew an outraged reaction from the press and the public when he asked a town hall-goer ""Want me to go down there with a mop?" That incident followed Christie's strange insistence during an MSNBC interview that South Jersey had seen no flooding at all.
"I'm just all about trying to make sure that the peopIe I represent are getting the help from the state that they need," LoBiondo said.