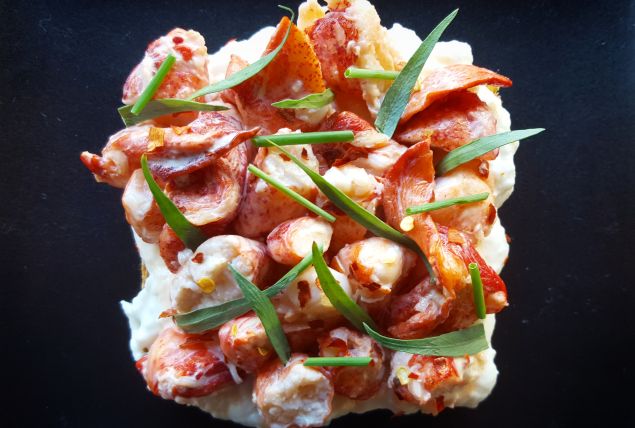 Who needs an East Coast-style lobster roll when you can have lobster toast in L.A.? That's the question you might find yourself asking when you try chef Andrew Kirschner's wondrous lobster and burrata toast at Santa Monica Yacht Club. Served with lemon, tarragon and chili flakes, it's a dish that's balanced in that it's both elegant and macho. It's for those of us who appreciate that avocado toast exists but wouldn't go so far as to consider it a meal.
I first heard about Mr. Kirschner, who also just reopened his beloved Tar & Roses restaurant after damage from a fire shuttered it for months, from New York chef Chris Santos a few years ago. That's fitting because Mr. Santos (who's debuting Vandal on the Bowery and opening outposts of Beauty & Essex in Hollywood and at The Cosmopolitan of Las Vegas) and Mr. Kirschner are both dudes who share an affinity for multicultural flavors and tattoos. They both look like tough guys but cook with finesse.
Mr. Kirschner, a Southern California native who cooked and snowboarded in Aspen, is total adventure. He's long appreciated bold Asian flavors, and they show up at Santa Monica Yacht Club in dishes like a splendid skin-on Spanish mackerel with lemongrass risotto, sambal and lime shiso. There's heat and acid and funk that wouldn't feel out of place at Cassia down the street.
Another showstopper at the nine-month-old SMYC is the whole roasted turbot. Pick off the herbs with your hands and scoop out the fish with a spoon. A side of lobster rice with avocado and chives is highly recommended.
For those days, though, when you actually do want a East Coast-style lobster roll without leaving L.A., your best bet is heading to Silver Lake. That's where Chloe Dahl and Nikki Booth are slinging stellar seafood sandwiches at Knuckle & Claw. You can guess a lot of the menu. There are Maine lobster rolls bursting with big, firm, chunks of crustacean, perfectly dressed with lemon, butter and a secret spice blend. There's New England clam chowder. There are Maine shrimp rolls and both blue crab and Dungeness crab rolls, too.
Beyond this 10-month-old restaurant, Ms. Dahl and Ms. Booth are also committed to bringing a taste of Maine all over L.A. and even throughout the country. They're using Postmates for delivery in L.A. and have just launched nationwide delivery of DIY lobster roll kits. It's never been easier to enjoy the best of boat worlds.