If you're looking for a new guilty pleasure, NBC's deliciously dramatic Telenovela has all of the necessary ingredients. The surprisingly charming Eva Longoria stars as Ana Sofia Calderon, who plays Pasión on (you guessed it) a telenovela. Injecting humor and drama is an appearance from Ana's ex-husband who unexpectedly joins the cast, and the slight complication that Ana doesn't actually speak a word of Spanish, making for television hijinks galore.
For fans of kitschy classics like Ugly Betty and Desperate Housewives, Ms. Longoria's antics are a must-see. The show is truly necessary viewing for the costumes, which are completely redesigned prom dresses and pageant wear with big, bright statement jewelry. Janie Bryant, the supremely talented costume designer best known for her Mad Men creations, puts Ana's character in gorgeous gowns that are entirely enviable.
Ms. Bryant is also busy pulling period pieces for the top-secret pilot for Sony and Amazon, The Last Tycoon, based on Fitzgerald's final unfinished novel set in the 1930s. Ms. Bryant chatted with the Observer by phone to explain how Miami 'it' girls have inspired her and how she dresses Ms. Longoria, who plays two completely different characters on one show.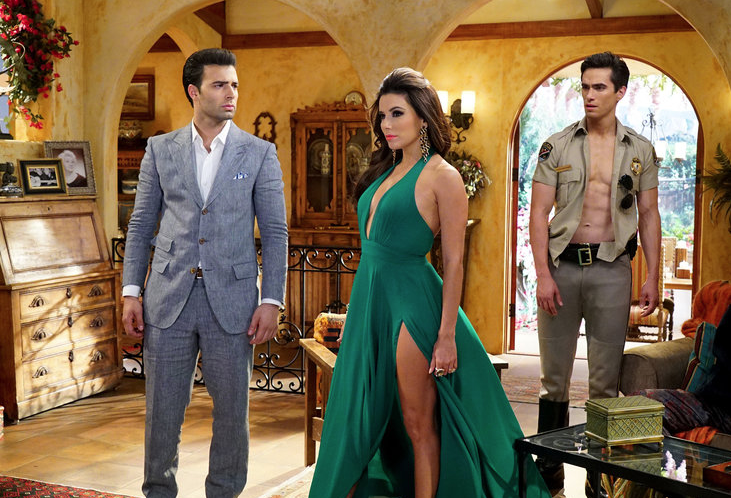 What are your favorite brands to use for Ana's everyday outfits and Pasión's gowns? For Ana's everyday costume design I really loved Ronny Kobo, anything from Intermix, [which] was a great resource for us. For her gowns, I designed some of them, like the pink gown with the feathers. For Pasión's other gowns, there were a couple of Mac Duggal gowns that were great. I used a few Jovani gowns that were so beautiful, and the orange beaded gown was a Sherri Hill couture gown.
How did you customize pieces for Pasión's look? I would design and build matching panties to go with the gowns. For almost all of her gowns I designed her shoes [which] are Shoes of Prey by Jamie Bryant.
When you're dressing Ana and Pasión, what was your biggest inspiration? I was inspired by Miami 'it' girls, for sure. I was doing a lot of research in fashion magazines, specifically Vogue España and Vogue México, to pad the true design of the character and really get immersed in the telenovela culture in Miami. I watched so many telenovelas, which are amazing for drama and being over the top—the statement necklaces and the huge earrings. I often do a lot of color with her accessories to match the gowns.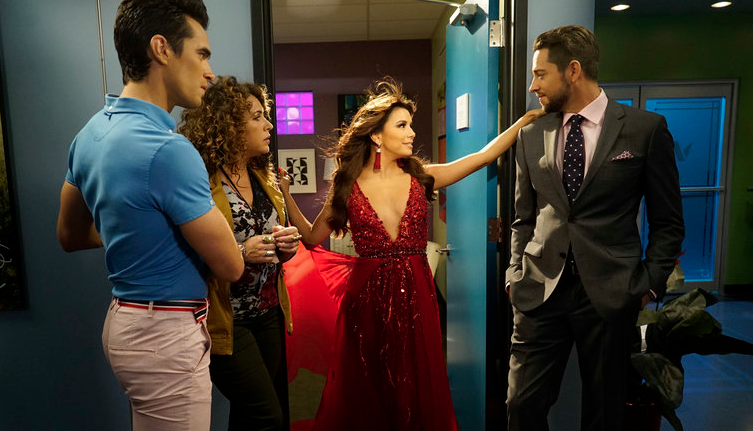 How do you make sure that Pasión and Ana have such separate styles? When designing [for] the two characters, I really see them as two different people. It's not just Eva the person, it's about Eva the actress being transformed into Ana Sofia and then being transformed into Pasión. They're two completely different storylines, they're two completely different characters.
How would you describe Ana Sofia's look? For Ana Sofia in her everyday life as an actress, I wanted to create a totally different palate for her that was all about nudes, pastels, creams, ivories and whites. The silhouette is very French. The colors, the grand glamour and gown silhouette is Pasión.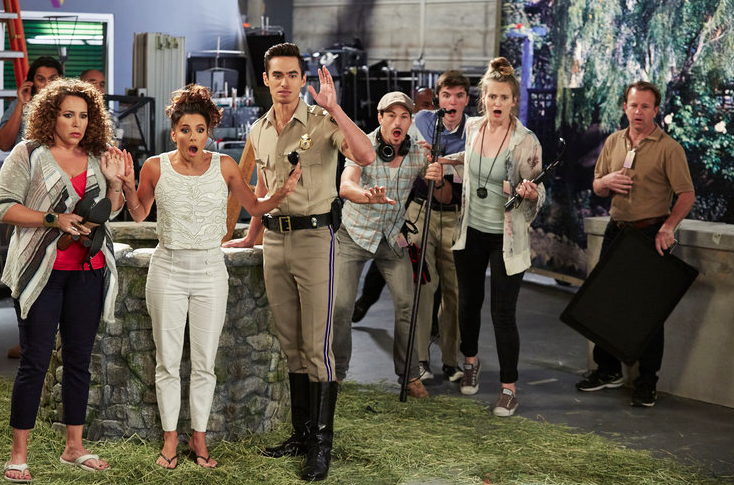 The viewer could definitely see the difference in "The Kiss," the episode where Ana wore her character's gown out on a date in an effort to channel Pasión. Well, Pasión is all color and sparkle. Everything is big and over the top. It's all about how much glamour there can possibly be. Ana in her real life is a totally different character; it's a different palate and different silhouette.
When you start working on a new show, what kind of research goes into it? It really starts with the script. That's the first point of inspiration to understand the characters, to read the dialogue and understand what the characters are saying to each other—how they're saying it to each other, the tone, the feel and the mood. The script is a map of what the costume design is going to be. I'll start imagining the color palates of the characters and what they're going to look like, and their costume design and all of these elements. Then, I start my research process, and it will be different for every single project.