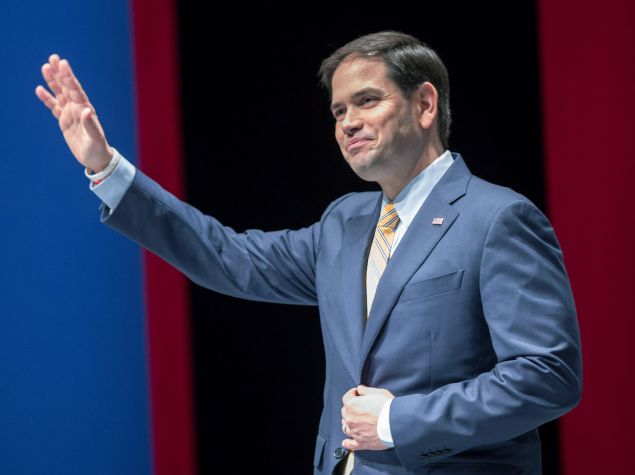 Reaffirming his role as one of the preeminent national security hawks in the presidential race, Sen. Marco Rubio of Florida declared this morning that President Barack Obama "has deliberately weakened America" by making an effort to "humble" the nation on the world stage.
Mr. Rubio, delivering a foreign policy address in New Hampshire, also lashed out again at the Democratic front-runner, Hillary Clinton, Mr. Obama's former secretary of state.
"On one side of this race we have, of all people, Obama's former Secretary of State. The very person who stood by while the conflict in Syria became the worst humanitarian crisis in a generation, who pushed the 'reset' button with Russia even as Putin assaulted the sovereignty of his neighbors, and who resorted to half-measures in Libya instead of doing what it would take to prevent terrorists from taking hold—terrorists who ultimately took the lives of four Americans in Benghazi," he declared. "Not only is Hillary Clinton incompetent, she's also a liar."
On the other side, the Republican said, "is the party of Reagan, the party of strong national defense and moral clarity, yet we have Republican candidates who propose that rulers like Assad and Putin should be partners of the United States, and who have voted with Barack Obama and [Senate Minority Leader] Harry Reid rather than with our men and women in uniform."
Taking aim at some of his rivals, including Sen. Rand Paul of Kentucky and Sen. Ted Cruz of Texas, he charged that we "have isolationist candidates who are apparently more passionate about weakening our military and intelligence capabilities than about destroying our enemies. They talk tough, yet they would strip us of the ability to keep our people safe."
Mr. Rubio, a member of the Senate foreign relations committee, has been an outspoken voice for the traditional, neoconservative wing of the party, which was ascendant under George W. Bush. He is an interventionist, like his mentor and rival Jeb Bush, calling for a bolstered military to protect American interests abroad. In a direct shot at Mr. Cruz, as well as Mr. Obama, he said that "ISIS cannot be filibustered. While some claim they would destroy ISIS, that they would make the sands of the Middle East 'glow in the dark,' my question is: with what?"
"Because they certainly can't do it with the oldest and smallest Air Force in the history of this country, or with the smallest Army we've had since World War II, or with the smallest and oldest Navy we've had since 1915. Yet these are what we will have thanks to the cuts these candidates have supported and even tried to deepen," Mr. Rubio added.
Mr. Cruz, who worked on the 2000 Bush campaign, has been equally critical of the Obama administration's foreign policy, though from a slightly different perspective. While Mr. Rubio has called for the removal of Middle Eastern dictators to allow democracy to flower, Mr. Cruz has criticized Mr. Obama for forcing Egypt's former president, Hosni Mubarak, from power, arguing the strongman brought stability to the region that has since been lost.
Donald Trump, the billionaire front-runner in the polls, has also been less of an unabashed hawk, opposing the war in Iraq and even, at times, military intervention against ISIS.
But the role for America abroad, Mr. Rubio contended today, is "not to do everything or solve every problem."
"That role is to do absolutely everything required to keep this country safe, and it is to lead and be an example to an afflicted world. We are the only nation capable of bringing others together to confront global challenges, and when I am president, we will do so."
Disclosure: Jared Kushner, the publisher of Observer Media, is Donald Trump's son-in-law