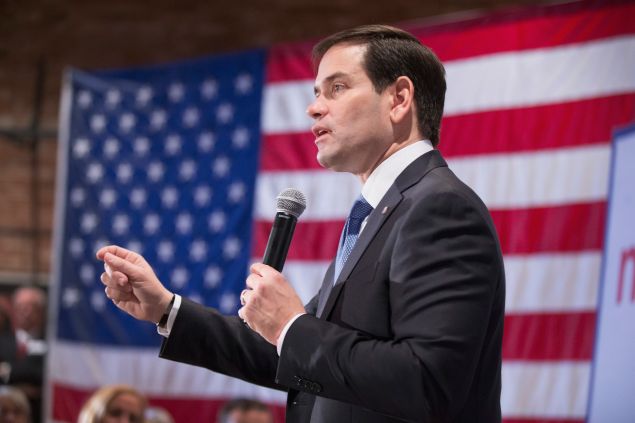 Marco Rubio, rocking his new retro footwear, took a walk on the wild side last week. In an essay in USA Today he says he supports a constitutional convention because of "Washington's refusal to place restrictions on itself."
"As president," he writes, "I will promote a convention of states to amend the Constitution and restore limited government."
As the Iowa and New Hampshire primaries draw near, Mr. Rubio appears to be trying to step away from the growing reputation he has acquired of being the Establishment candidate most likely to win the nomination. Maybe his problem has been all along that he has attempted to straddle Establishment karma and express Tea Party chops as well, and is convincing in neither.
It cannot be good news for the conservative Establishment in general that Mr. Rubio is setting the new standard. Endorsing the precarious idea of a constitutional convention might help him escape from the Establishment label. But it won't.
In this as in other issues, Mr. Rubio does not run with the big dogs.
Advancing the proposed convention is really the job for governors and state legislators and this convention is likely to have a central theme of states rights. The president might stand aside. That is the intention: To get the president, who represents to some conspicuous degree the federal apparatus, to stay out of the state's business.
This idea will now likely bleed into the presidential race and everyone will be asked how they feel about a constitutional convention. The thinking has been around for a while, and today there are two approaches which might be called the Establishment approach and the more freewheeling state-focused approach. Mr. Rubio's feeble endorsement in committee-burdened prose well defines the Establishment approach:
The amendment process must be approached with caution, which is why I believe the agenda should be limited to ideas that reduce the size and scope of the federal government, such as imposing term limits on Congress and the Supreme Court and forcing fiscal responsibility through a balanced budget requirement. Limiting the agenda will prevent the convention from being overtaken by special interests.
What specifically does he mean by "special interests"? The states? Tenth Amendment advocates? All the vague, noncommittal, institutional buzz words are there but they add up to very little.
In this as in other issues, Mr. Rubio does not run with the big dogs. But look what the big dogs are putting together.
Texas Gov. Greg Abbott is also supporting a constitutional convention but to "spark a national conversation about states rights." Mr. Abbott calls for a convention to amend the U.S. Constitution and "wrest power from a federal government 'run amok.'" says the Dallas Morning News.
"Abbott released a nearly 70-page plan—part American civics lesson, part anti-Obama diatribe—detailing nine proposed constitutional amendments that he said would unravel the federal government's decades-long power grab and restore authority over economic regulation and other matters to the states," they write.
Some of Mr. Abbott's proposals: Prohibit congress from regulating activity that occurs wholly within one state. Prohibit administrative agencies from creating federal law. Prohibit administrative agencies from pre-empting state law. Allow a two-thirds majority of the states to override a federal law or regulation. And my favorite: Allow a two-thirds majority of the states to override a U.S. Supreme Court decision.
I want to know how former Hewlett-Packard CEO Carly Fiorina feels about that last one. I want to know how New Jersey Gov. Chris Christie feels.
Mr. Abbott's approach brings a historic departure. He declares Texas has become a mature and responsible state, able to make better decisions for Texas and Texans than Washington, D.C. Mr. Abbott today suggests Texas equates with "city state" or "nation state" as Arnold Schwarzenegger said of California in his fourth annual state-of-the-state address.
"We are the modern equivalent of the ancient city-states of Athens and Sparta. We have the economic strength, we have the population and the technological force of a nation-state." Mr. Schwarzenegger proclaimed, "We are a good and global commonwealth."
So is the great state of Texas. And Texas today is taking off the training wheels.
The idea of allowing a two-thirds majority of the states to override a U.S. Supreme Court decision is inspired. The time has come for mature American states and sympathetic regions. The time is right for this innovative thinking. Rising next-generation Israeli politician Ayelet Shaked, currently Minister of Justice, not long ago made a similar proposal in Israel, which in many ways might be looked to today as a model for best practices solutions for states like Texas.
Let's see if Mr. Rubio would agree with Mr. Abbott on that one. I have my doubts.