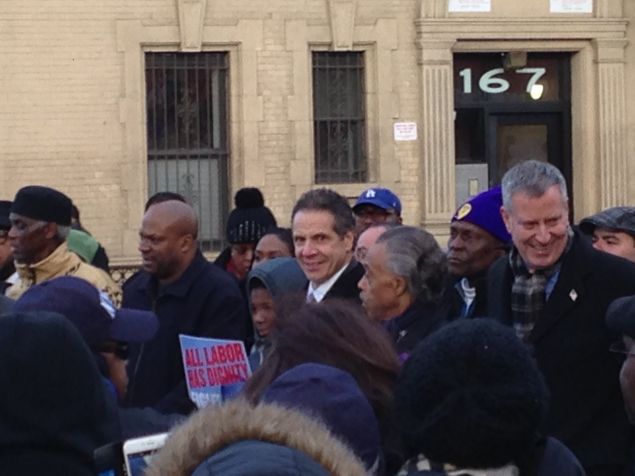 Gov. Andrew Cuomo and Mayor Bill de Blasio seemed to briefly make peace on Dr. Martin Luther King Day, and together led a union march through Harlem on either side of Rev. Al Sharpton to support a $15 an hour minimum wage.
The cavalcade capped a tribute to Dr. King at Mr. Sharpton's National Action Network headquarters on 145th Street. The forever feuding Democrats seemed to speak little to one another as they headed toward and down Adam Clayton Powell Boulevard, but did make occasional remarks to the man walking between them.
Both pols had earlier addressed a hundreds-strong crowd at the NAN building with a similar message of racial and economic liberalism, though they did not appear on the dais together, as Mr. de Blasio ducked backstage moments before Mr. Cuomo emerged. The governor told reporters shortly before the march that the two had been "chatting" in the interlude, mostly about the cold weather, and claimed the media was overhyping their rivalry.
"Historically, governors and mayors do clash, because institutionally, you have a different agenda, you have a different portfolio," he said, even as he acknowledged their dispute had perhaps become more personal because of their years working together at the federal Department of Housing and Urban Development during the Clinton administration. "Because the mayor and I know each other so well for so long, maybe there is more personality to it."
Mr. Cuomo continued to downplay their most recent confrontation over his proposal to have the city take on more of the costs of administering Medicaid and running the City University system—a plan that last week had the mayor quoting Malcolm X as he vowed to stop the governor "by any means necessary," and which Mr. Cuomo later seemed to walk back. The governor today again pledged to cooperate with the mayor in finding savings in both programs to avoid the city paying more, and to create a new affordable housing stimulus to replace the 421a tax abatement for developers, which expired last Friday.
"There are no two people better equipped to work through tough issues than the mayor and myself," he said.
Mr. Sharpton praised both men before each spoke, lauding Mr. de Blasio for his support for police reform and success in keeping down the general crime rate, and presenting Mr. Cuomo with NAN's "Dr. Martin Luther King Jr. Crusader for Social Justice Award." The latter plaque recognized the governor for signing an executive order last June that made state Attorney General Eric Schneiderman the special prosecutor for all cases where a police officer kills a possibly unarmed civilian, which Mr. Sharpton called "the only national model" for handling deaths at the hands of local law enforcement.
Both men decried gaps between the rich and poor, and between blacks and whites, a situation they claimed had worsened in many ways since Dr. King's death in 1968.
"Reverend Dr. King would say we've gone backwards. Highest income inequality in the nation today, not in the 60s. And work does not pay a decent wage, so that you can live, and support your family, in any kind of decency," said Mr. Cuomo, vowing greater investment in low-income schools, in job-training programs and an effort to lower the minority-heavy prison population and reduce recidivism.
Mr. de Blasio praised the Black Lives Matter movement against police killings of African-Americans, a cause with which he has had a complicated relationship.
"Dr. King, I think if he were here today, would reflect upon all of the movements, all of the movements today, he would see something kindred," he said, noting the civil rights leader's commitment to economic issues late in life. "How is the economic condition of African-Americans in some ways even worse today, than it was in 1968? The disparities, education, mass incarceration."
The march, which carried the banner of the governor's "Mario Cuomo Campaign for Economic Justice," consisted mostly of members of healthcare workers union 1199 SEIU. The union was an ally of Dr. King in the late 1960s, and its president, George Gresham, is an ally to both Mr. de Blasio and Mr. Cuomo.