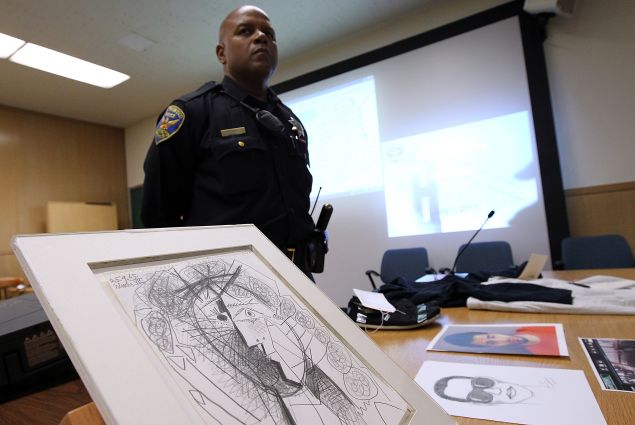 The Los Angeles Police Department is in search of a tractor trailer carrying $250,000 in stolen artworks by Miro, Keith Haring, Leroy Neiman, Chagall and Matisse.
The trailer, a 24-foot 2005 Haulmark with license plate 4MB3828, was discovered near the intersection of Nordhoff Street and Alabama Avenue, in November, but was just now reported by the Los Angeles Daily News.
The police told the paper the vehicle contains various paintings, prints and sculptures stolen from a Chatsworth industrial park, but police are still taking inventory of all missing artworks. The LAPD has not revealed the name of the rightful owner.
Art thievery is certainly not unheard of, yet artworks are rarely recovered.
Just two years ago, undercover FBI agents busted a Raul Espinoza for attempting to sell $10 million worth of paintings by Chagall and Diego Rivera that were stolen from an Encino, Calif., home in 2008. Assuming the role of potential art buyers, the agents followed the lead of a fixer named "Darko" who ultimately lead them to the peddler. Nine out of the 12 stolen paintings, collectively valued at $23 million, were ultimately returned to the elderly couple that owned them. Espinoza was sentenced to four years in prison.
Two years earlier, Mark Lugo served time after swiping a $275,000 Picasso called Tete de Femme from San Francisco's Weinstein Gallery. His intent? Not to sell it, but to hang it on the living room wall of his New Jersey abode.