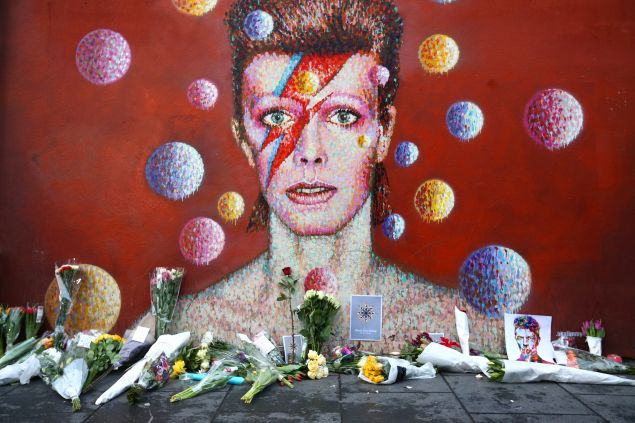 Just days after his 28th studio album Blackstar reached US. number 1, January 20 officially became David Bowie Day in New York City. At the final performance of Bowie's musical Lazarus at the New York Theater Workshop Wednesday night, a proclamation from Mayor Bill de Blasio was read announcing the new celebratory day.
Mr. de Blasio dubbed Jan. 20, 2016 as David Bowie Day in honor of the musician, performer and British expat who had lived in New York for decades—over the years he could be spotted grocery shopping at Dean & DeLuca, browsing in McNally Jackson Books or even sporting cargo shorts on a SoHo street. While it remains unclear if the honor will be a one-time event, or if Jan. 20 will forever be known as David Bowie Day in New York, the holiday will also compete with Chicago's David Bowie Day, which took place Sept. 23, 2014.
The announcement was read by acting commissioner of the Mayor's Office of Media and Entertainment Luis Castro and was accepted by NYTW managing director Jeremy Blocker.
Bowie, who died two days both his 69th birthday, has received tributes across the world for his influence on music, fashion and popular culture over the past half century.
Tributes to Mr. Bowie have sprung up across the city as well, including a mounting heap of flowers outside his Soho apartment. Supermodel Kate Moss, a friend of the Thin White Duke, even threw herself a party themed in his honor, calling on guests to dress in '80s attire. (Ms. Moss donned a sequined catsuit for the night.)
Now, in addition to his (albeit fictional) constellation, fans can enjoy an official Bowie to boot.