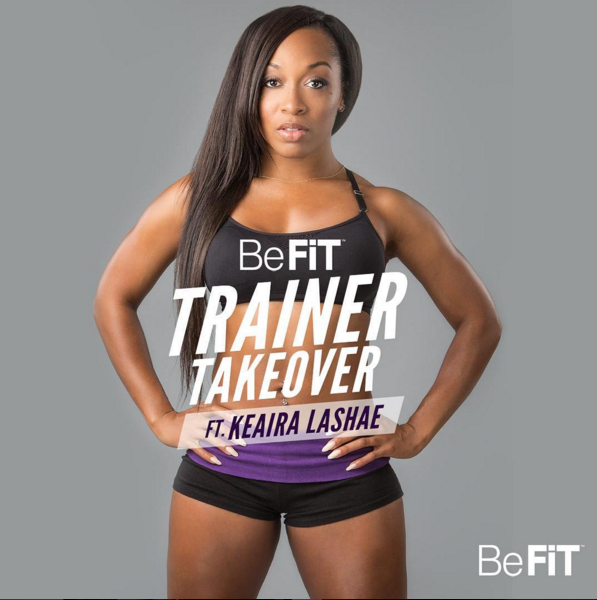 More and more, people are opting out of their local gyms in favor of turning their own living rooms into personal fitness havens. They're not doing it alone, though—guiding them are YouTube fitness stars providing motivation and fun, professional in-home training.
One of the leaders in this space is Kearia LaShae, a professional singer and dancer turned certified trainer who used her top-notch dance résumé to launch a booming online fitness career.  She used to choreograph for Usher, Nicki Minaj, Rick Ross and Jay-Z, as well as for TV shows like America's Best Dance Crew and So You Think You Can Dance?, but now she whips up muscle building and fat-burning routines for viewers at home. On YouTube, she has over 40 million views, and she's also produced dance workout series for Daily Burn and now her new site IfYouCanMove.com.
The Observer chatted with Ms. LaShae to learn more about her digital dance fitness empire.
You came into the spotlight as a dancer and singer. How did you shift your career to become more fitness focused?
I've personally been into fitness since I was a teenager, but I was mostly about dancing since I've been doing that since age 5. People would always ask me how I stay in such good shape, and I would say I just dance all day long between rehearsals and tours and stuff. So I did a video online about why my body looks the way it looks from dancing and it got popular. People wanted more, so I started doing more as a way to help people stay in shape. That was four years ago. I didn't take it as seriously at first, and I didn't know anything about social media or building a fan base, but I started getting serious about three years ago.
Do you get enough of a workout from doing your classes and videos? Or do you work out on your own as well?
They keep me fit because I'm filming all the time. I had to realize that. I used to think, "I have to go to the gym..but my body hurts." I eventually realized I don't have to hit the gym. Dancing is so much fun that I don't feel like I'm working out.
What's your personal favorite way to exercise? What's one go-to move you find especially effective?
There's not necessarily a go-to move that I do, but anything with squats is a full body workout. I always try to make a dance move out of a workout move, so I'll do something like add some booty shaking, and I do a lot of freestyling. Dancing is just the best workout because you don't realize you're working out until you're done and dripping sweat and all of your muscles are sore. And I think that's why people keep coming back to watch more of my videos; they just feel like they're dancing with their homegirls.
Your 31-day challenge has gotten rave reviews. How'd you come up with the exercises to include and how did you order them? What's the method behind it?
I think variety is key, but really the order you do it in. You don't want to plateau, so I design the workouts with the previous and next day in mind so you don't get bored and your body doesn't get bored. I love the challenges. It gives people something to do every day, and it gives them guidance and help. People have lost five to 105 pounds dancing with me.
What's that been like? Do you communicate with your fans a lot?
It's really inspiring to hear this. People email me and they tweet me and Facebook me—all of that stuff. I see stories from everywhere. One lady who lost 117 pounds dancing with me emailed me, saying she was going to be in Las Vegas soon (where I'm based) and wanted to have lunch with me. "I know it might be far-fetched, but want to have lunch with the woman who changed my life," she said. So I had lunch with her and that was really cool. I meet with women all over the country when I do workshops, and sometimes I see people at gas stations and they tell me how much weight I helped them lose.
What are your thoughts on the Internet as a tool for becoming more healthy?
I absolutely love it. For me, when I was younger, I thought gyms were only for rich people. We weren't rich. This is when I was 14, so I would come up with at-home workouts for myself. So when I started doing YouTube and seeing the impact, I started taking it more seriously. It's amazing because people all over the world have access to you and your training, which is something they'd never have otherwise. I love that it helps people get active and get motivated. They can even look at Instagram and get motivated by quotes and photos. It's a lifesaver for some people.
What's your best piece of advice for those looking to become more active?

People ask me this all of the time, and my advice is to start by doing something you actually enjoy, this way you'll keep doing it. If you do something you hate, something you dread, you won't stick with it. You can swim if you like water, or play basketball, or even go out dancing with your friends. I do that until 3 or 4 AM and my body is hurting after. Who wants to wake up and do something dreadful?
Head over to IfYouCanMove.com for a free trial and learn more about Ms. LaShae's latest workout routines, fitness challenges and nutrition plans. "This is a supportive community, and you don't have to eat cardboard to eat healthy," she said.