Climate change may not seem like an obvious subject for a hip hop show, but rapper and playwright Dirk "Baba" Brinkman wants to change that.
"If you bring up climate change as a subject, peoples' responses are overwhelmingly negative," Mr. Brinkman told the Observer. "People think it's hopeless and they don't know what to do, but I want people to be inspired to learn more."
To that end, Mr. Brinkman, a native of British Columbia, has written Rap Guide to Climate Chaos, an hourlong one-man show which he will perform Off Broadway at the Soho Playhouse beginning Feb. 25, following a successful run at the Edinburgh Fringe Festival.
Explaining complex topics through rap is something of a specialty for Mr. Brinkman, who first became well known for his "lit-hop" adaptations of iconic stories, such as Rap Canterbury Tales (2004). He then started giving scientific topics the hip hop treatment in shows like Rap Guide to Evolution (2008) and Rap Guide to Religion (2014).
Mr. Brinkman's interest in literature and science was fostered while taking classes at Simon Fraser University and the University of Victoria in Canada, where he also developed a passion for hip hop.
"I got into hip hop because I loved the craft of it," Mr. Brinkman said. "It was a potent art form that I wanted to master.  My dilemma was what to rap about. I spent all my time in classes reading dead poets, and taking courses on evolution and biology, so I decided to use rap as a vehicle to make them accessible to people."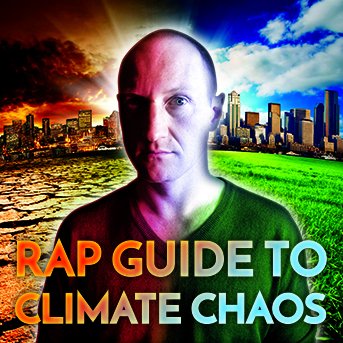 Climate change in particular has been an important concept in Mr. Brinkman's life—his father Dirk is the founder of Brinkman & Associates Reforestation Ltd, which has planted over one billion trees, and his mother Joyce Murray is a member of the Canadian Parliament who focuses on environmental causes.
"It (climate change) has been part of the dinner party conversation since I was 13," Mr. Brinkman said. "After 20 years of being interested and exposed to it, I was gonna do it sooner or later. I was building up to climate change, because everybody lost interest in it and had forgotten about it. "
The straw that broke the camel's back was the recent COP 21 climate conference in Paris—Mr. Brinkman began writing Climate Chaos so he could "contribute to the momentum."
He ended up doing much more than that when the Coalition for Rainforest Nations invited him to take part in several panels during the second week of the conference. At the end of each meeting, he performed original raps summarizing what had been discussed. These raps are now part of Climate Chaos. Below are some sample videos and rhymes:
"Fossil fuel has been hurtin' us, but air travel is about to get a lot more virtuous."- from a forum on how

The Aviation Industry Can Protect the World's Forests

"It's time for an ecological conversion, I'm as sure of that as I am that the Lord was born of a virgin." – from Mr. Brinkman's

rap adaptation

of Pope Francis' encyclical

Laudato Si

"I make it hot, so hot even climate change skeptics will believe me, I make it hot like the temperature it needs to be before the Tea Party will believe the IPCC"- from "

Make It Hot

," Mr. Brinkman's plea for carbon pricing
Paris audiences were taken aback at first, but eventually they got hip to Mr. Brinkman's message.
"You couldn't imagine a roomful of more surprised people to see a rap at a government meeting," Mr. Brinkman said. "But I've done my homework. I'm not approaching it in a shallow way, saying 'Save the earth, y'all.' I'm approaching the academic side of it."
Mr. Brinkman hopes to get a similarly positive response during Climate Chaos' New York run.
"People feel exhausted and baffled, but I want to infuse climate change with hope and excitement," Mr. Brinkman said. "You can't change the world, but you may be able to change a roomful of people."