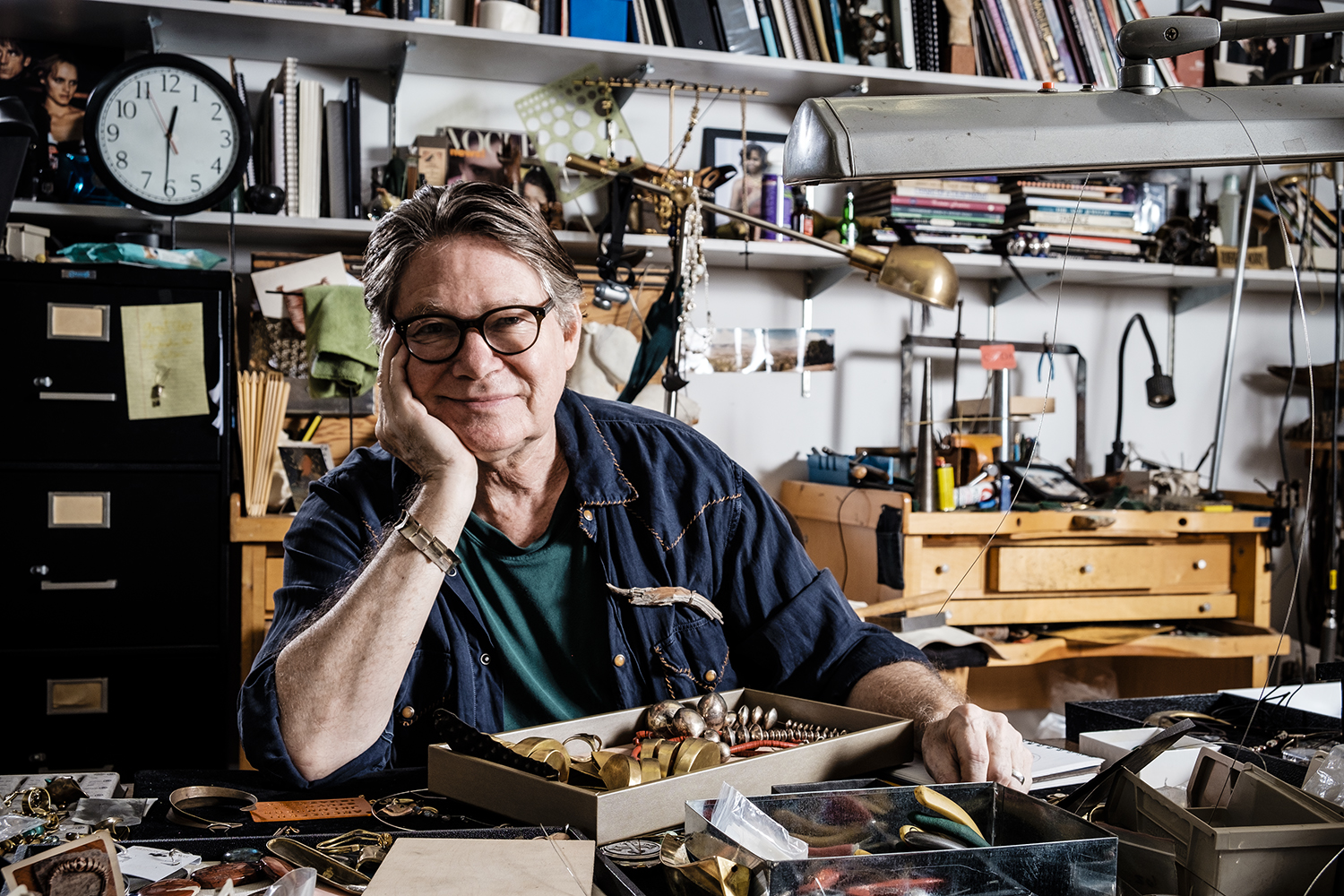 What was your first New York workshop like? It was on the corner of Lafayette and Grand, where I lived on the second floor of a loft that had a chicken butcher on the ground floor. I had my workbench near the open window in the summertime, but then, when they would pour the remains of the chickens in the street at the end of the day, the smell was so strong I'd have to leave my bench!
Tell us about your creative process amongst all your eclectic finds. All I have to do is walk into this studio and look down, and I just start. The day goes by very quickly when you're doing what you love. I spend a lot of time sorting through the trays, discovering things. This room is like my being exploded. I surround myself with objects that are inspirational—a lot of Egyptian imagery and a piece by my college mentor George Garner. Then there is my jewelry bench, set up so that I can do all kinds of drilling. I clean, grind, carve here and do anything that doesn't have to do with soldering, which is done on the fifth floor where we have ventilation.   
Do you find inspiration comes easily? For the most part I have blasts of ideas that just come to me. It's a matter of quickly jotting down the idea so I don't forget it by the time I get to work. I'm a real idea man; I'm not a jeweler. I have no interest in stones, in setting stones. I love color, but I am a metal sculptor and when I work it's all about form and flow and how it works on the human body. 
How did your career get started? Was there a turning point? I was living in Vermont and sold a necklace to a woman at a local fair for $75 and the next day I got a call from her saying that she's shown the necklace to her employers and they want to see me immediately. They were Harcus Krakow Rosen Sonnabend, the leading gallery in Boston, and Joan Sonnaband was the wife of the man who owned the Plaza Hotel. They were building a store with jewelry by the likes of Picasso, Man Ray and Nevelson. They were so intimidating—so wealthy and polished! They offered to represent me exclusively and wanted me to do a one-man show at the Plaza. They said they'd make me famous. I was like, "Is this some kind of Candid Camera joke?" I was shaking. I didn't get it. What were they seeing that I didn't?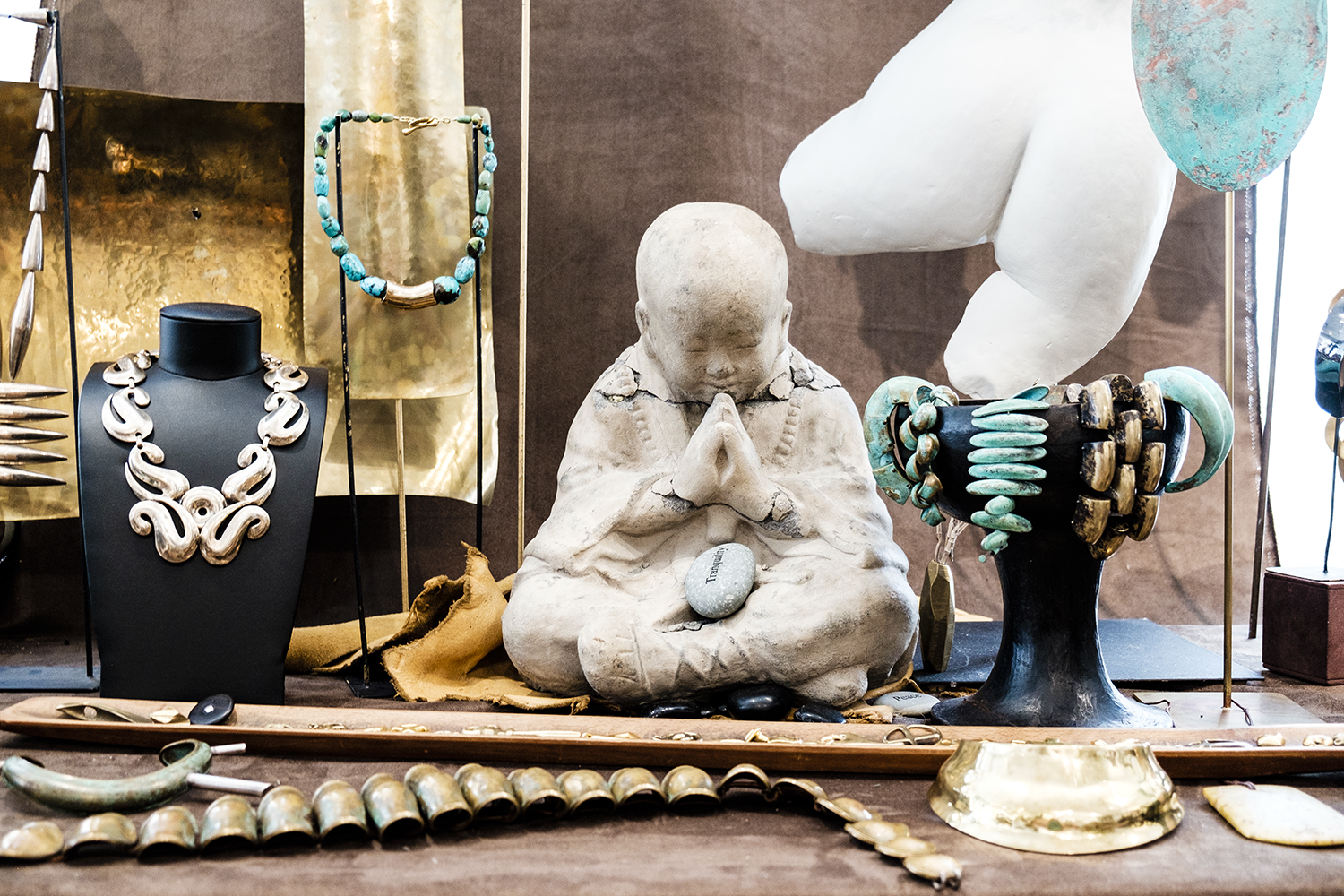 What would you say is your most iconic piece? The knuckle ring. It's my brand driver. This one piece says it all about my theory, my soul and my interior direction. It's about creating something that is soft and organic, looks like it was for the body or from the body, and is the perfect marriage of form and function. It is formed this way so that it can function as a knuckle ring. It was launched in around '74 and spawned a huge family of other shapes based on the same construction technique. I just took it and created multiples, linking things together and making them flow as belts, necklaces, bracelets. 
You've had so many incredible collaborations with fashion designers. Which have been the most notable? Scott Barrie, Bill Kaiserman. After them I worked with Geoffrey Beene who guided me to making some amazing pieces. Then Calvin Klein and Donna Karan. Donna and I were like the black and the gold. We became the new Ginger Rogers and Fred Astaire. Another incredible designer I worked with was Kansai Yamamoto, who did many of David Bowie's costumes. We became like brothers.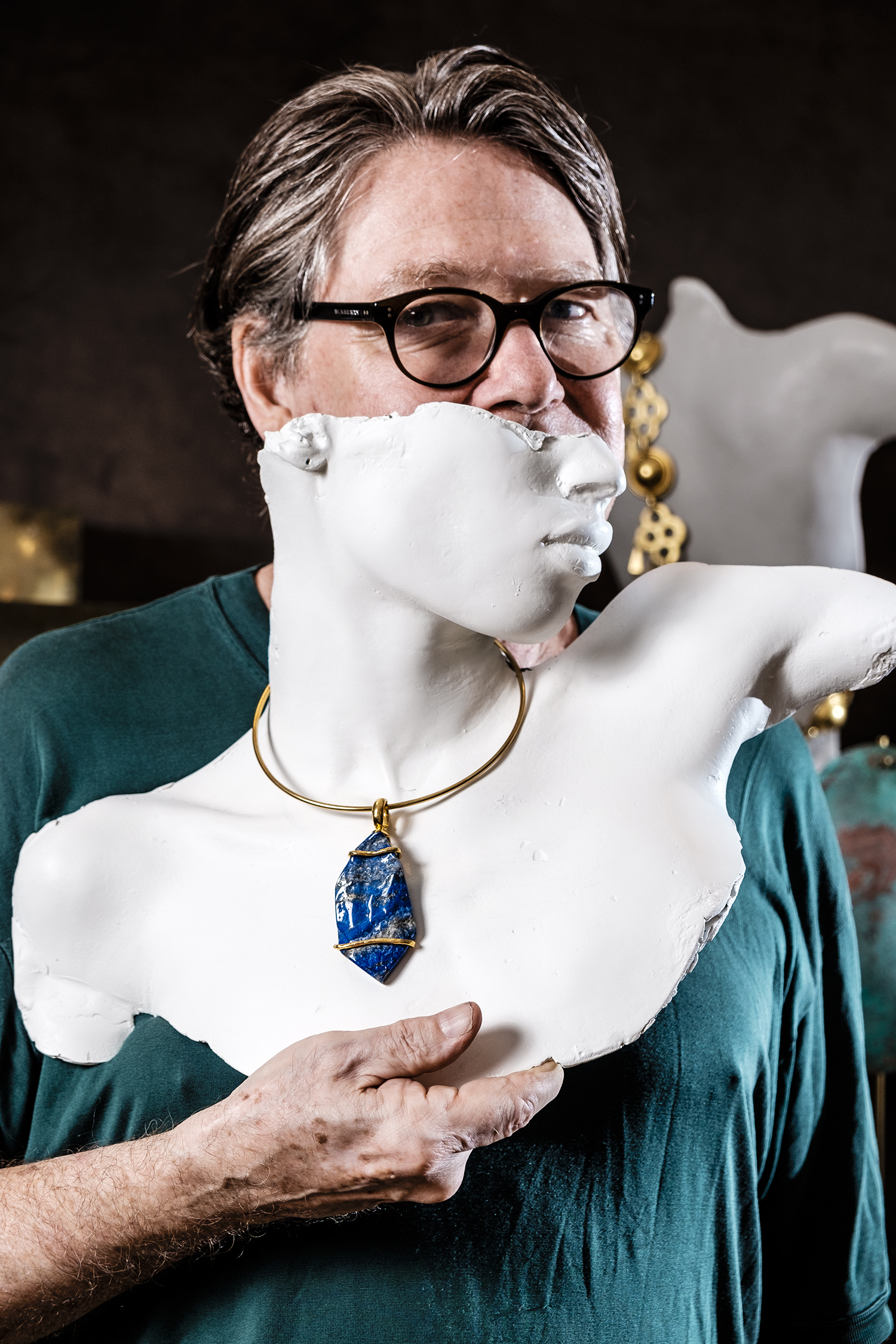 What are some exciting new projects we can look forward to? I just had an exhibition at the Wright Gallery. It was a curated selection of my archive pieces shown among incredible designers such as Cartier, Tiffany & Co, Van Cleef and Arpels, Boucheron, Pekka Piekainen, Andrew Grima and Sondra Yunis. The exhibition was then auctioned in Chicago on December 17. Nowadays I am concentrating on making everything myself out of precious metals, limited edition, signed and numbered in the mode of collectibles—a couture collection.